Wednesday, September 22, 2010
9/30: Alameda North Valley Association Hosts Candidate Forum
From ANVA: The Alameda North Valley Association (ANVA) would like to invite you to attend a North Valley Candidate Forum. The forum will be co-sponsored by the Northeast Valley Neighborhood Association, the Wildflower Neighborhood Association and the Vista Del Norte Alliance. This is your best opportunity to talk with and hear our local candidates for office.
The forum will take places on Thursday, September 30, 2010, from 7:00 PM to 9:00 PM at the Raymond G. Sanchez Community Center located at 9800 Fourth Street NW -- just north of Alameda Blvd. on the east side of Fourth. The invited candidates include:
Bernalillo County Assessor
Karen Montoya – (incumbent)
Christie Humphrey
Bernalillo County Commission – District One
Michelle Lujan Grisham
Simon Kubiak
Bernalillo County Sheriff
Manuel Gonzales – (incumbent)
Dan Houston
State Representative District 15
Bill O'Neill – (incumbent)
Justin Horwitz
We will allow the Candidates 2 minutes each for introductions and then the candidates will be asked a series of questions followed by closing statements.
We encourage the community to send us questions for the candidates. Is there something that you are concerned about or is there an item you think the candidates need to know about? Please understand that we can only take written questions. If you have any questions for the candidates please send them to: anvanews@aol.com.
The media will be invited and the meeting is open to the public.
We hope you can attend this important meeting. Please share this information with your neighbor. Thanks! Visit our website at www.anvanews.com .
September 22, 2010 at 11:35 AM in 2010 Bernaillo County Assessor Race, 2010 Bernalillo County Commission Races, 2010 Bernalillo County Sheriff Race, 2010 General Election, 2010 NM Legislature Races, Events | Permalink | Comments (0)
Monday, September 20, 2010
9/22: Meet and Greet with Brian Colón, Alex Russell in Albuquerque
Please Join Lieutenant Governor Candidate Brian Colón and District 29 State House Candidate Alex Russell, along with other Albuquerque residents for a candidate meet and greet at:
The Home of
Andrew, Ashley & Aiden Ortega & Theresa Watson
4531 Agate Hills Rd NW, Albuquerque NM, 87114 (map)
From 6:30 PM to 8:00 PM
on Wednesday, September 22nd
Click for Flyer (pdf)
Don't miss this opportunity to meet Lieutenant Governor Candidate Brian Colón and State House Candidate Alex Russell and talk to them about the upcoming November elections. If you have questions or to RSVP (505) 830-2811.
September 20, 2010 at 09:17 PM in 2010 NM Governor's Race, 2010 NM Legislature Races, 2010 NM Lt. Governor Race, Brian Colon, Events | Permalink | Comments (1)
Friday, September 03, 2010
9/9: Fundraiser for Alex Russell for State Rep at Chama River Brewing Company
Campaign Fundraiser for
Alex Russell
for State Representative
District 29
Thursday, September 9
5:30 PM - 7:30 PM
Chama River Brewing Company
4939 Pan American Freeway, Albuquerque (map)
Hosted By
Amy Creasman, Felicia Castillo
If you can't make it, or would like to make a contribution to help our campaign now, please visit the campaign's ActBlue page. Thank you for your support.
September 3, 2010 at 03:20 PM in 2010 NM Legislature Races, Events | Permalink | Comments (0)
Tuesday, August 31, 2010
9/2 at Kelly's: ABQ Dem Leaders Fundraiser for Stephanie Richard for NM House
From Stephanie Richard for State Representative, District 43:
Please Join Albuquerque Democratic Leaders
Senators Cisco McSorley, Tim Keller, Dede Feldman,
Eric Griego, Jerry Ortiz y Pino
and Representatives
Mimi Stewart and Gail Chasey
and Bernalillo County Democratic Party Chair
Ana Canales

Let's Elect New Leaders Fundraiser!
for Stephanie Richard
Thursday, September 2, 5:00 to 7:00 PM
Kelly's Pub
3222 Central Avenue SE, Albuquerque
$50 suggested contribution, all contributions appreciated
Light refreshments
Please call Diane Door for more information at 660-9365
August 31, 2010 at 04:10 PM in 2010 NM Legislature Races, Events | Permalink | Comments (0)
Monday, August 30, 2010
9/1: Santa Fe Fundraiser for Stephanie Richard for State Rep
From Stephanie Richard for State Representative:
From the School-House to the Round-House,
Let's Get a Strong, Pro-Choice Woman to Santa Fe!
Please Join
Diane Wood, Liz Stefanics, Linda Siegle, Charlotte Roybal, Ocean Munds-Dry, Edie Nunez, Anne Watkins, Viki Elkey,
Kathy Keith, Kate Ferlic, Reena Szcezpanski,
Ruth Kovnat and DeAnza Sapien
Fundraiser for Stephanie Richard
Democratic Candidate
State Representative, District 43
Wednesday, September 1st, 4:30-6:00 PM
Strong Schenck Gallery
200 Canyon Rd #C, Santa Fe, NM
$50 suggested contribution
Light refreshments served
Click for Flyer With Complete Info
August 30, 2010 at 06:06 PM in 2010 NM Legislature Races, Events, Women's Issues | Permalink | Comments (0)
Thursday, August 26, 2010
Congratulations to Rep. Ben Rodefer For Being Voted DFA's New Mexico All-Star
The national group Democracy for America has endorsed Democratic State Rep. Ben Rodefer for his re-election bid in New Mexico House District 23 in Corrales. DFA Chair Jim Dean, the brother of Howard Dean who originally founded the organization, announced yesterday that Rep. Rodefer has been named the DFA New Mexico All-Star based on the votes of members. Go Ben!
Albuquerque's DFA-Democracy for New Mexico Meetup group (DFA-DFNM) is loosely affiliated with Democracy for America, and has been since 2003. On behalf of the group, Mary Ellen and I would like to congratulate Rep. Rodefer on being voted DFA's New Mexico All-Star and urge everyone to contribute or volunteer for Ben's campaign. Rep. Rodefer is in a hotly contested race this year and it's important that we help him keep his seat. 
In an email, Dean had this to say about the endorsement:
DFA endorsements have always been driven by our members on the ground across the country -- that's what makes Democracy for America the country's only people-powered PAC. But the New Mexico All-Star endorsement is different because it's chosen entirely by DFA members in New Mexico.

All the votes have been cast and I'm honored to announce DFA's New Mexico All-Star -- Benjamin Rodefer. Join the campaign -- Contribute or Volunteer right now.

It's not difficult to see why Benjamin won this hard-fought endorsement. Just look at how he describes the grassroots campaign he's running:

"We need state leaders who are not afraid to stand up for the working people, leaders who will not be swayed by those with great wealth or influence, but will stick to tirelessly advocating for democratic values and positions."
Democracy for America is committed to electing progressives up and down the ballot -- to school boards, city councils and state legislatures. These offices have a huge impact on local communities and help build a bench of progressive talent that will grow and sustain a long-term progressive movement.

Every campaign we run, every candidate we support is powered by you -- our members on the ground. Join me today in support of the New Mexico All-Star. Sign up to volunteer or contribute right now to help elect a progressive fighter.

Thank you for all that you do.

-Jim
Jim Dean, Chair
Democracy for America
August 26, 2010 at 08:06 AM in 2010 NM Legislature Races, DFA, DFNM - Albq, MeetUp | Permalink | Comments (0)
Tuesday, August 24, 2010
8/27: Reception Honoring Rep. Jeff Steinborn at Slate Street Cafe in ABQ
A Very Special Reception
Honoring a Conservation Champion
Rep. Jeff Steinborn
Friday, August 27th , 4:30 - 5:45 PM
Slate Street Cafe, 515 Slate Avenue NW, Albuquerque

$100 donation requested, or whatever can be afforded. RSVP to Terri @ 575-541-0106.
Since being elected in 2006, Rep. Steinborn has been an ardent defender of our environment. He has helped pass important conservation measures into law and been instrumental in defeating numerous bad environmental bills. He is a 100% Conservation Voter! Jeff is in a tough re-election and needs our support. With conservation issues under assault, we all need to help re-elect this conservation champion.
If you cannot attend, please make a contribution online at www.jeffsteinborn.com/, or mail a check to PO Box 562, Las Cruces NM 88004. Checks should be made out to: Jeff Steinborn for State Representative.
August 24, 2010 at 10:28 PM in 2010 NM Legislature Races, Environment, Events | Permalink | Comments (1)
Monday, August 23, 2010
8/25: Campaign Fundraiser at O'Niell's Pub for Rep. Karen Giannini

Heed the message: Rep. Giannini at a DPBC event
From Campaign to Re-Elect Rep. Karen Giannini:
Come show your Support for our
District 30 Democratic State Representative
Karen Giannini
With hosts State Senator Cisco McSorley and
State Representative Eleanor Chavez!
Wednesday, August 25th, 5:30-7:30 PM
O'Niell's Irish Pub, 4310 Central Avenue SE, ABQ
Suggested contributions: $100, $50, $25
State Rep. Karen Giannini won a tough race in a Republican-leaning district in 2008. She is the first Democrat to ever hold this seat, and a victory in 2010 is within our reach! This is a grassroots effort and we'll need your help to be successful! Join us on Wednesday the 25th at O'Niell's Irish Pub, meet Rep. Giannini and join the conversation about what we can do to hold the ground we've gained!
If you can't make the event, you can send a check to Karen Giannini at 2270-D Wyoming Boulevard NE #411, Albuquerque, NM 87112 or contribute online at her ActBlue page.
August 23, 2010 at 06:28 PM in 2010 NM Legislature Races, Events | Permalink | Comments (2)
Thursday, August 12, 2010
8/16: Grand Opening/Rent Party for Rep. Jeff Steinborn's Re-Election Campaign
The Campaign to Re-Elect Democrat Jeff Steinborn as State Representative in District 37 invites you to attend:
Grand Opening/Rent Party
Monday, August 16, 2010 at 5:30 – 7:30 PM
250 Downtown Mall, Las Cruces, NM
$20.00/donation
Come have a chat and a nosh. Help Jeff celebrate the grand opening of his new headquarters. There will be grilled hot dogs, soft drinks, snacks, good conversation and most importantly Jeff!
Jeff's headquarters are located at 250 Downtown Mall (old Steinborn building) at the far south end of the downtown mall on the west side (map).
August 12, 2010 at 10:29 AM in 2010 NM Legislature Races, Events, Las Cruces | Permalink | Comments (0)
Tuesday, August 03, 2010
8/5: Fundraiser in Support of Joel Davis for State Rep at Corrales Bistro Brewery
From Joel A. Davis for State Representative:
Please Join
Fritz Allen, Melissa Hill, Rebecca Jolin,
Dan Sutton and Stephanie Warriner
For a Fundraiser
In support of
Joel A. Davis for NM
to benefit his campaign for State Representative
House District 44
Thursday, August 5, 2010, 6:30 PM to 8:00 PM
Corrales Bistro Brewery
4908 Corrales Road
IN THE HEART OF CORRALES, NM
Suggested Contribution: $50.00 Per Person
Music, Refreshments and Hors D'oeuvres Provided
Please RSVP to: Stephanie C. Warriner (505) 843-7303 or swarriner@newmexicolegalgroup.com. Contributions may be brought to the event or be made payable and sent to: Joel A. Davis for NM, PO Box 45318, Rio Rancho, NM 87174. You may also contribute online at www.JoelDavis.org
August 3, 2010 at 09:38 AM in 2010 NM Legislature Races, Events | Permalink | Comments (0)
Friday, July 30, 2010
8/5: Mimi Stewart Re-Election Campaign Fundraiser, Chama River Brewing Co.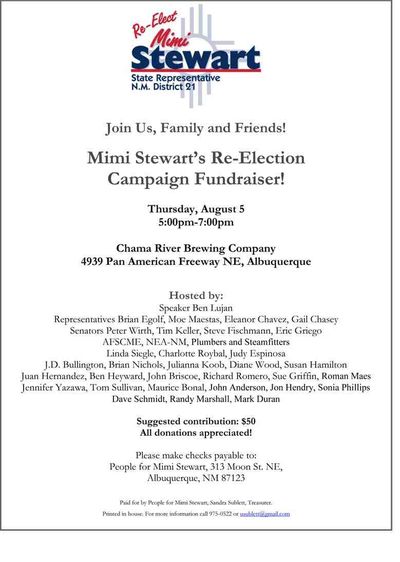 Click above image for larger version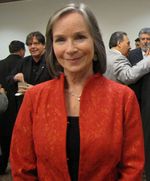 Let's give Rep. Mimi Stewart -- one of our best progressive legislators and a real champion for education, health care and civil liberties for all -- the support she needs to keep her seat in the New Mexico House in District 21. Rep. Stewart again has a Republican challenger, and in a tough mid-term election year we need to make sure Mimi wins in November.
Come on down and see Democratic Rep. Stewart and lots of other folks at the fundraiser on Thursday, August 5, from 5:00 to 7:00 PM at Chama River Brewing Company, 4939 Pan American Freeway NE, in Albuquerque (map). $50 suggested donation, but any and all donations are appreciated.
If you can't make it, please consider donating a few bucks via ActBlue at www.mimistewart.org/.
July 30, 2010 at 03:23 PM in 2010 NM Legislature Races, Events | Permalink | Comments (0)
Friday, July 23, 2010
Photos: Otero County Democrats Gather for Candidate Meet & Greet, Lemonade Social

Click for larger version or photo album
Contributing writer Stephen Jones checks in with another report from Southern New Mexico.
An upbeat crowd braved intermittent ribbons of desert rains to meet and greet Democratic candidates in Otero County in south central New Mexico on Thursday. The event was held at the Sgt. Willie Estrada Civic Center on 1st Street in Alamogordo. The lemonade social brought together Otero County voters with state and local candidates seeking election in the upcoming General Election to be held on Tuesday, November 2. The event stressed direct conversation between voters and candidates rather than formal speeches.
Headlining the event were two statewide public officials, Attorney General Gary K. King and New Mexico State Auditor Hector Balderas. King and Balderas were on hand to meet local residents, discuss issues and concerns with voters, and to outline accomplishments from their first terms in their respective State constitutional offices. Both King and Balderas are seeking re-election. Also in attendance was State Representative Nate Cote (NM-53), whose district includes parts of Otero County.
Also on hand were Stephanie L. Dubois, seeking election to the Public Regulation Commission, District 2, and Bill McCamley, who is running for the Public Regulation Commission in District 5. The three incumbents and the two Democratic nominees for PRC stressed their ongoing work to achieve stronger ethics in New Mexico government.
Among the other candidates Ellen Wedum and Sue Medina, running for State Representative in District 59 and 51 respectively, hope to join Representative Cote in the next session of the New Mexico State Legislature. Otero County includes parts of five districts.
Local candidates present included L.C. Marshall, running for Otero County Commissioner, Wally Anderson, seeking the office of County Sheriff, and Sheldon Compton, who is making his second run for County Assessor. While Otero County has traditionally been dominated by Republicans, Compton received 49% of the vote in his first try for public office four years ago.
Others on hand to meet with the candidates were the Alamogordo Mayor's Commission on Youth, a group of local high school students working to inform and bring young people into the civic process. Otero County Democratic Chair Dawn Provencer and Nola Jones, who coordinated Thursday's event, reminded the audience to register to vote for the General Election. Jones reminded the younger members of the audience that anyone whose 18th birthday falls on or before November 2 is eligible to register now.
All potential New Mexico voters must be registered by October 5, 2010 in order to vote in the upcoming election. You can learn more here.
All photos by Stephen Jones. To see more of his posts, visit our archive.
July 23, 2010 at 11:52 AM in 2010 General Election, 2010 NM Attorney General Race, 2010 NM Legislature Races, 2010 NM State Auditor Race, By Stephen Jones, Contributing Writer, Democratic Party | Permalink | Comments (1)