« 12/2: Albuquerque Prayer Vigil for Copenhagen Climate Change Meeting | Main | Governor Bill Richardson Announces Plans for Hispanic Education Act »
Tuesday, December 01, 2009
1Sky New Mexico Pushes for Obama to Fight for Fair, Ambitious, Binding International Climate Deal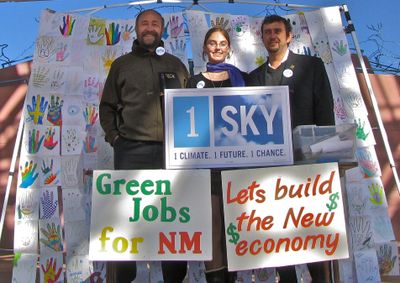 Civic Plaza: Ray Powell, Akilah Sanders-Reed, Andrew Padilla
Local leaders representing 1Sky New Mexico today gathered at a media conference at the Civic Plaza in Albuquerque to urge President Obama to fight for a fair, ambitious and binding international treaty on climate change when he attends the United Nations Climate Change Conference in Copenhagen, Denmark on December 9. Furthermore, youth and labor leaders called on President Obama to bring home a new clean energy economy through the international climate treaty, according to a statement released by the group.
"President Obama can use his international prestige to be the driving force behind true progress on climate change," said Akilah Sanders Reed, a sophomore in high school and a leader in the 1Sky NM campaign. "The rest of the world will follow if America leads, and President Obama campaigned -- and won -- on a platform of domestic and international leadership to fight climate change."
Andrew Padilla, the AFSCME Council President of New Mexico, also spoke at the media conference and urged President Obama to call for a bold international climate treaty to generate jobs in the state. "As public employees, an international treaty and national legislation will usher in new green jobs in water, power, energy audits on buildings and much more. We fully support a bold international climate treaty and urge President Obama to push for one in Copenhagen in the coming week."
In addition, Ray Powell, the former New Mexico Land Commissioner, spoke at the media conference. "New Mexico has the opportunity to help create a bright new energy future for our nation and planet. Our state is blessed with an enormous supply of renewable energy resources. In addition, our national laboratories and universities have the knowledge, expertise and talent to optimize these resources and create good jobs for New Mexicans. A bold international treaty in Copenhagen and domestic legislation would create the ideal framework for our natural resources and talent to be used."
The Media Conference was part of more than 30 1Sky events nationwide this week. Many of the events highlighted art work made by activists in the 1Sky network who participated in over 200 "art gatherings" during November, where participants created murals and other works of art that expressed the urgency of the climate crisis. The artwork was designed to push the Obama administration to take a strong stance in Copenhagen, where representatives of most world nations will discuss an international treaty to stop the greenhouse gas pollution that causes global warming. A culminating event is scheduled to take place in front of the White House in Washington D.C. on December 4 that will incorporate works of art from all over the country.
The Copenhagen conference is expected to run from December 7 to December 19. 1Sky and other groups dedicated to fighting climate change are calling for a fair, ambitious and binding treaty, and warning that failure to generate an effective, working agreement soon could have disastrous consequences for the planet, which is already suffering from the effects of climate change.
Specifically 1Sky is calling on the Obama administration to:
Push for stronger action on short term targets for greenhouse gas emission cuts than the 17 percent currently offered by the United States since 17 percent is simply not enough to stave off the worst effects of global warming.
Acknowledge a degree of U.S. responsibility for climate change by making financial investments in the transition
Use the Copenhagen trip to pressure the U.S. Senate to build the political will to pass a strong bill in the Senate this spring.
"Unfortunately the planet cannot wait," said 1Sky Campaign Director Gillian Caldwell. "We need to see serious progress in Copenhagen and from the United States Senate over the next few months. The economic benefits to acting are very clear and the result of no action is also, unfortunately, very clear."
Click to see a full list of planned events (pdf) throughout the country.
December 1, 2009 at 12:55 PM in Climate, Energy, Environment, Obama Clean Energy Reform | Permalink
Comments