« Interior Dept. Launches Partnership with All-American Rhodes Scholar for Innovative Health Program at Indian Schools, Including Two in NM | Main | 9/29 Santa Fe Campaign Fundraiser for Colón for Lt. Governor »
Thursday, September 24, 2009
Guest Blog on BikeAbq's 'Can You See Us NOW' Ride: Pay Attention, Drivers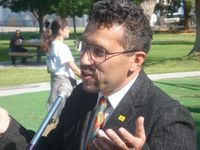 This is a guest blog by Danny Hernandez, who is a long-time motor- and bi-cyclist, an elected official and a UNM graduate student.
Can you see us NOW?
Every bicyclist or motorcyclist who has ever been in a collision with a car or truck, if conscious at the time, has heard these words, "But I didn't see him (or her) officer." Granted, bicycles and motorcycles are harder to see than, let's say, a semi, but we're not invisible.
I'm both a long-time motorcyclist and bicyclist. Although I've never been wrecked on my bicycle by a motor vehicle, I have had more than my share of collisions on motorcycles – and, as my scars are my proof, I have heard some version of that line every time some jerk runs a stop sign to ruin my life for the day or the next several months.
Whereas I have endless scars, a fused ankle, a messed up back and countless expensive hardware in my body; others have not been so lucky. I have had too many two-wheeling friends killed by careless drivers. If you've been riding either kind of bike for any length of time, I know you hear me and feel my pain. For the rest of you, take my word for it: You don't want to hear, "But I didn't see him officer," as you or a loved one is being hauled into the ambulance.
With something like this in mind, a group of bicyclists met in the parking lot of High Desert Yoga at the corner of Jefferson and Copper NE Sunday afternoon.
Their message: Can you see us NOW? / PAY ATTENTION when you drive!
It was a beautiful day for a bike ride. Not too hot, not too cold, not too windy and not a cloud along the designated route.
In the crowd were world class racers, daily commuters, weekend warriors, friends and family of riders lost to collisions with motor vehicles, kids being pulled in trailers and a pouty teen-aged girl whose mom made her come.
We were all there to remember our fallen comrades, friends, family members, riding buddies, roommates and lovers – the 100 bicyclists who were taken from us too soon by motorists in the past 20 years. The event was organized by BikeAbq, an Albuquerque-based bicycling advocacy group.
Jennifer Buntz, an organizer for the event and long-time racer, lost her close friend and training partner, Paula Higgins, to a careless driver in 2006. Every time I spoke with Jennifer during the event, she seemed to be on the verge of tears. Just before I met Jennifer in 1985, she had been in a serious wreck with a car and I know this event meant a lot to her for more reasons than I could imagine – and she and Paula were REALLY close.
"We just want motorists to slow down and pay attention (to bicyclists) – even if sometimes it means waiting to pass (a bicyclist)," she said. "The people who have been taken from us makes it personal."
John Vance and I (and Jennifer) had a close friend named John Dunn who everybody loved. He wasn't a spectacular racer, but he had fun and he was fun to be around. We lost John in 1994 to a speeding motor vehicle driver.
Not too long before that crash, Vance gave Dunn a cycling jersey he picked up in England while visiting family.
"I'm wearing his jersey," said Vance. "After his funeral they said we could take anything from his closet and I took the jersey I gave to him."
John Vance is somewhat stoic, man in his mid-forties who doesn't often express his feelings, but he was pretty choked up when talking about our long-dead friend.
"He was taken from us too early . . . . By all rights, this jersey should have been worn out and tossed by now," he said.
The rag-tag peloton, if it could be properly called a peloton, stretched for blocks along Central Ave. going into Nob Hill from the East. It was made up of colorfully clad racers, cyclists dressed in street garb and cyclists dressed in far-out, designed to take notice of attire. Nearly all wore race numbers, with the names of those they've lost, on their backs. Jennifer wore her old friend's race number from the Record Challenge Time Trail, an event Paula, and her husband Jerry Kiuttu, made nationally famous. Two weekends ago Jennifer raced in the event. It's now called the Paula Higgins Memorial Record Challenge Time Trial.
Jennifer's partner, Steve Mathias, rode in the event as the Ghost Rider – all in white symbolizing those who've passed on. Craig Degenhardt, BikeABQ President, rode a three-wheeler that carried a white bicycle.
Everyone had fun, but some were a little reserved in their fun – especially when the names of our fallen were read at Tiquex Park.
When I interviewed Jennifer there were a few things she wanted to make certain I got across to riders and motorists alike:
Our safety, be it car drivers or bicyclists, is up to all of us.

The most important thing is that we pay full attention when we drive.

The thing is that what the Can you see us NOW? crowd is asking of motorists will save their lives too.
So please pay attention when you drive. One second of inattentiveness is enough to get someone killed. That person could be a stranger you will remember for the rest of your life or you or someone you love.
This is a guest blog by Danny Hernandez. If you'd like to submit a piece for consideration as a guest blog, contact me by clicking on the Email Me link on the upper left-hand corner of the page.
September 24, 2009 at 09:37 AM in Events, Guest Blogger, Sports | Permalink
Comments