« Watch Today's NM First Health Care Town Hall with Sen. Bingaman Online | Main | Rep. Ben Ray Luján Adds Congress on Your Corner Events in Farmington, Taos and Gallup »
Monday, August 24, 2009
NM Senator Tim Keller Named to Higher Education Position by Western Interstate Commission for Higher Education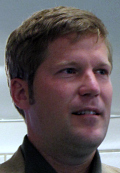 Congrats to Senator Timothy M. Keller (D-Bernalillo-17), who has been named a member of the Legislative Advisory Committee (LAC) for the Western Interstate Commission for Higher Education (WICHE), according to a press release from the New Mexico Senate. Senator Keller was chosen from among New Mexico legislators by New Mexico's WICHE Commissioners, and he will serve and LAC for a 3-year term. WICHE's New Mexico Commissioners are Senator Dede Felman, Patricia Anaya Sullivan, Assistant Dean of New Mexico State University's College of Engineering and Peter White, Secretary of Higher Education.
Responding to his appointment, Senator Keller said, "I am intensely interested in higher education in our State. Education was one of the specific issues that drew me to the Senate. I see serving on the LAC as a way I can work to expand the higher education building blocks of our educational system. Because of the current fiscal situation, we must find improved ways to strengthen higher education – which is a major point of entry into our workforce, especially in areas where professional, scientific and technological skills are required. The stronger our educational system, the stronger that workforce will be and the better our state will be positioned to build a sound base for a healthy economy."
Among the 30 bills introduced by Senator Keller during the 49th legislative session, six were focused on educational issues. Among the eight that Senator Keller succeeded in getting passed, one of the four signed into law by Governor Richardson was a community school initiative.
WICHE is a regional organization created under the Western Regional Education Compact which was adopted in the 1950's by an array of Western states. In addition to New Mexico, the member states are Alaska, Arizona, California, Colorado, Hawaii, Idaho, Montana, Nevada, North Dakota, Oregon, Utah, Washington and Wyoming. WICHE was created to facilitate resource sharing among higher education systems of the Western states. It began operating in Eugene, Oregon, in 1953, then moved to its present location in Boulder, Colorado in 1955. WICHE is governed by Commissioners from each state who are appointed by the state's governor. WICHE's Legislative Advisory Committee was created in 1995 by WICHE to advise its membership on legislative initiatives that affect higher education.
August 24, 2009 at 03:29 PM in Education, Local Politics, NM Legislature 2009 | Permalink
Comments