« Health Reform Made Simple | Main | Victory: U.S. District Court Grants NM Youth Organized and SWOP Summary Judgment in Nonprofit Suit »
Monday, August 03, 2009
New Mexico State Auditor Hector Balderas Announces Run for Second Term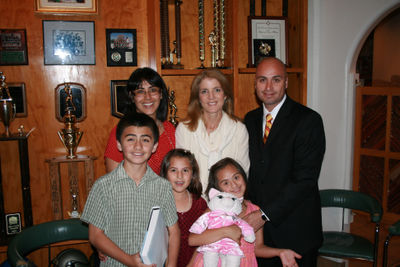 Hector & family with Caroline Kennedy in NM, '08 prez campaign
The highly respected and very popular up-and-comer Democrat, Hector Balderas, released a statement this morning announcing he will seek a second four-year term as New Mexico State Auditor, and run for reelection in 2010:
Seven years ago, I entered public service as a young prosecutor with the goal to make a positive difference in the lives of others. Taking a path which began in a small office cubicle to now serving as your State Auditor has been a remarkable journey. I have chosen to take a stand and fight against public corruption, conflicts of interest, and unaccountable governments and officials.

Additionally, I have partnered with citizens statewide to gather anonymous tips to strengthen oversight through my fraud hotline. With just 30 brave employees and one of the smallest budgets in the state, we have created an expectation and a reality that New Mexico will have an independent voice to speak on behalf of taxpayers and on the real conditions of our government.

There is much more important work to be done. For these reasons, I have chosen to continue on this path and seek a second term as your State Auditor.
Balderas was long-rumored to be seriously considering a run for Lt. Governor in 2010 -- and was seen as a front-runner for the spot -- but this statement puts that story to rest. Instead, it's clear that Hector's close colleague, Brian Colón, who currently chairs the Democratic Party of New Mexico, has decided he'll jump into the Lt. Governor race. Colón is expected to officially announce his candidacy and resign his Dem Party post -- most likely on Friday or Saturday, but perhaps as early as Wednesday -- according to a well-placed source. I posted last Wednesday that it looked like Colon was very close to deciding to run for Lt. Governor. Today, Peter St. Cyr reports that's definitely a go.
I think Hector Balderas should be commended for deciding to run for re-election so he can stick to the important work at hand for four more years in the State Auditor's office. If re-elected, as expected, he'll be focusing like a laser beam on rooting out corruption and pushing for more transparency and accountability in government -- much needed in this era of big campaign donations and scandals. Hector's time will come to run for higher office, no doubt about it. First, he'll finish the job he started when he was elected to the State Auditor position in 2006.
I'll have more soon on how news of Colon's pending resignation as State Party Chair is prompting leaks from a number of possible candidates to replace him. Whole lotta movin' and shakin' goin' on.
August 3, 2009 at 11:40 AM in 2010 NM Lt. Governor Race, 2010 NM State Auditor Race, Democratic Party | Permalink
Comments
Someday Hector will make a great governor, congressman or senator. I'm glad he decided to stick with this important job for now.
Posted by: LK | Aug 3, 2009 3:57:29 PM
Clean up NM Hector!
Thank you
Posted by: qofdisks | Aug 4, 2009 9:13:54 AM
Too bad he isn't running against AG Gary King in the primary
Posted by: JJ | Aug 4, 2009 9:29:33 AM