« Obama Administration Awards $12+ Million for New Mexico's State Energy Program | Main | RSVP Now for Wednesday SEIU Health Care 'Check Up' at Sen. Bingaman's ABQ Office »
Monday, July 13, 2009
ABQ Mayor Marty Chavez Tosses His Hat in the Ring for the Fourth Time (with Videos & Photos)
It's finally official. After toying with the media for many moons, current Albuquerque Mayor Marty Chavez formally announced his decision yesterday -- 87 days before the October 6 election -- to run for his third straight mayoral term and his fourth overall. Several hundred people attended the event held Sunday afternoon at the Don Newton Community Center in Taylor Ranch on Albuquerque's West Side.
Chavez was introduced by Clara Apodaca (left), and Cody Unser (right), backed by a banner proclaiming, "Today ... More Than Ever." The color purple was everywhere, from the banners to the bumperstickers to the balloons and the tablecloths.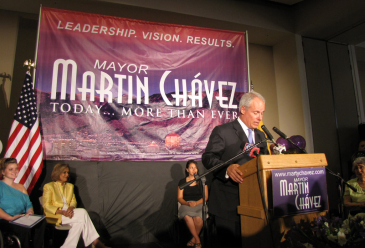 Mayor Chavez touted his experience and willingness to make the tough decisions when necessary as two big points in his favor as a candidate. He admitted he has made mistakes in the past and will make more in the future, but pledged that they'd be "mistakes of the head, not mistakes of the heart" because he loves Albuquerque:
Chavez laid out his vision for the future in his acceptance speech and said he'd concentrate on public safety, attracting green and other high-paying jobs, improving education and making Albuquerque a world-class city with services and amenities suitable for the 21st century. He stressed that Albuquerque's diversity isn't just tolerated -- it's celebrated. He also made a special point of thanking AFSCME for its endorsement, noting that it's so much better to be on the same side for the first time:
In the clip below, Chavez talks about his intention to make Albuquerque one of the greenest cities in America and his dedication to attracting top-notch jobs so kids can stay here instead of being forced to move elsewhere for good-paying employment opportunities.
Answering a question from Mary Ellen after his speech, Mayor Chavez comments on his feelings about today's events in the video below:
You can visit Chavez's new campaign website at www.martychavez.com/. Marty Chavez first served as Mayor of Albuquerque from 1993-1997. He was reelected in 2001 and 2005. He also served in the State Senate from 1989 to 1993.
To see more video clips from the Mayor's speech visit, this playlist. You can view a slide show of photos from today's event below and see it full screen here.
Mayor Chavez will face fellow Democrat Richard Romero and Republic Richard Berry in October's nonpartisan municipal election.
July 13, 2009 at 03:28 AM in 2009 Albuquerque Mayoral Race, Events, Local Politics | Permalink
Comments
Mayor Marty is very gay friendly! And to me that is huge!
Posted by: mary ellen | Jul 13, 2009 9:53:03 AM
Nice coverage. I was thinking of supporting Richard Romero but I don't hear any big ideas from him. Chavez is no angel but he seems to get the issues. Romero is always complaining about Chavez but I haven't heard anything new.
Posted by: Ron | Jul 13, 2009 12:25:44 PM
I wish we had a stronger progressive to challenge Marty. Romero keeps harping on law and order and isn't offering any vision of the future.
Posted by: progressive dem | Jul 13, 2009 1:07:26 PM
Purple. Like the grapes of graft?
Posted by: bg | Jul 13, 2009 1:52:52 PM
I'm no fan of Marty but I plan to vote for him this time. I went to a Romero event and thought he was boring and uninformed. I wish I had an alternative but doesn't look like that's the case this election. I don't know if theres time but Romero needs to pump up the volume and the ideas if hes to have a chance.
Posted by: No choice? | Jul 13, 2009 2:29:47 PM
Really? As if Marty has done much besides blow smoke up our butts most of the time with his PR stunts. I, for one, am willing to try and hedge my bets on someone else who will hopefully follow through with what they say.
Posted by: Wanrey | Jul 13, 2009 3:01:10 PM
I don't think Romero has a chance. Not a good thing. Wake up Richard.
Posted by: JJ | Jul 13, 2009 3:03:53 PM