« June 2009 | Main | August 2009 »
Friday, July 31, 2009
At the Wire: House Energy & Commerce Committee Passes Health Reform Bill
The Hill reports that the U.S. House Energy and Commerce Commmittee, chaired by Rep. Harry Waxman (D-CA), worked all day and into the night to plow through a plethora of amendments and finally pass its version of health care reform by a margin of 31-28. Six sorta kinda Democrats voted nay with all of the panel's Republicans: Reps. Rick Boucher (VA), Bart Stupak (MI), Jim Matheson (UT), John Barrow (GA) and Charles Melancon (LA). Let's hope they all get primary opponents in 2010.
The vote was apparently nip and tuck all the way on the 1,000-page bill:
In an unusual move before the final vote, Waxman halted the markup to have a closed-door meeting with Democrats on his panel – presumably to make sure he had the votes to pass the bill.
Click to see the E&C Committee's statement about the bill's passage. If you have time on your hands, you can also review the Committee markup, including all the amendments voted upon today. At least some of the concerns of the 57 progressive Dems who signed onto a letter rejecting provisions that resulted from negotiations with four Blue Dog Dems on the Committee were reportedly addressed in changes to the bill made today. According to the Washington Post, here's what sealed the deal:
The final pieces of an intense two-week negotiation came together Friday morning, when rank-and-file liberals on the Energy and Commerce Committee struck a deal with conservative Democrats that could lead to larger subsidies for lower-income workers to pay for health insurance.
All Eyes on Public Option
As we move into the August recess, the public option will be center stage:
The House legislation's centerpiece is a government-financed alternative to compete against private insurance in an effort to drive down health-care costs. Special interests on both sides of the issue expect to spend millions of dollars in the roughly 50 to 60 congressional districts that are considered swing votes, in an effort to define the "public option" proposal on their terms.

Sensitive to the hard-hitting advocacy campaigns already targeting some members, Democratic leaders gave lawmakers marching orders to promote the plan in their congressional districts during the recess or face the prospect of its defeat once it comes to the House floor.

"If we want the public option, we have to sell it to the American people," House Speaker Nancy Pelosi (D-Calif.) said Friday.
August Action
I haven't heard any details about any public events scheduled by New Mexico's Congressional Delegation during the recess, but I think we'll be hearing about some soon, at least in terms of our three Congressmen:
Pelosi urged members to use town halls and other events to get away from the complicated debates that have resounded in Washington and to focus instead on issues more likely to resonate with voters, such as a provision in the legislation that would bar insurance companies from denying coverage to people with pre-existing conditions.
Move to Senate Party-Line Strategy?
In the meantime, there's word that Dems may (finally) be moving away from the pseudo-nonpartisan stance that's been mucking up the works in the Senate and beyond. Open Left discusses the Dems' intention to move to Plan B, as reported by ABC News:
Under the scenario now being discussed, bi-partisan talks would be aborted and parliamentary maneuvers used to force the bill through with a party-line vote. Senate Finance Chairman Max Baucus, D-Mont., still has time to try to work out a deal with his Republican counterpart Chuck Grassley, but fellow Democrats are growing restless.

"There's rising disgruntlement with how Baucus has handled this," a senior Democratic aide tells ABC News. "We have to look at other options."
The latest word on Max Baucus' Senate Finance Committee is that they will try to meet a September 15 deadline to produce a bill. We'll see. The Senate HELP Committee has already passed a fairly progressive bill that includes a meaningful public option.
House Rules Next Up
Energy & Commerce is the third House committee to pass a health care reform bill -- the others being Ways and Means and Education and Labor -- and now all three will have to be reconciled to produce a bill that goes to the House floor. As Open Left says, the action will center on the House Rules Committee:
Progressive plan is to change the bill both before, and in, the Rules Committee. Before there can be a full House vote on health care legislation, the three different health care bills that have / will come from three different committees need to be merged by the Rules Committee. One of the other committee chairs to produce a health care bill, Charles Rangel, has made it clear that strengthening the public option in the rules Committee is his plan.

Rules Committee is relatively progressive. You can see the members of the Rules Committee here. Democrats hold an 8-5 advantage on the committee. There are five members of the Congressional Progressive Caucus, plus Doris Matsui. There are also two Blue Dogs, Mike Arcuri and Dennis Cardozza. However, while they are Blue Dogs, neither Arcuri nor Cardozza signed any of the various letters expressing "concern" over health care reform. As such, this is indeed fertile ground for making sure the Waxman-Blue Dog deal doesn't make it to the floor.
July 31, 2009 at 09:04 PM in Healthcare, NM Congressional Delegation, Obama Health Care Reform | Permalink | Comments (2)
Rep. Brian Egolf: Eighteen Legislators Join Me in Critical Renewable Energy Filing
This is a guest blog by New Mexico Rep. Brian Egolf, who represents House District 47 in Santa Fe County.
Today I, along with nineteen other legislators from both chambers, filed an important legal brief with the New Mexico Public Regulation Commission in support of renewable energy in New Mexico. You can view the brief here:
In this brief, we argue that the renewable energy financing mechanism called a third-party arrangement is legal under New Mexico law. This is important because there is an effort underway to ban such arrangements, which would devastate the growing renewable energy industry in New Mexico and would severely hamper the ability of companies like Sun Edison to do business in New Mexico.
Third-party arrangements help cities, churches and non-profits (entities that cannot take advantage of tax incentives that support renewable energy because these entities do not have tax liabilities) deploy renewable energy generation. The arrangement allows a company to install solar systems at a customer's location while maintaining ownership of the system. In the arrangement, the third-party owner installs, owns, operates and maintains the PV system, charges the customer for the system based on kilowatt hours (kWhs) produced and receives the benefits of owning the system, including state and federal tax credits, depreciation, tax incentives and private investor-owned utility (IOU) cash incentives.
The third-party ownership PPA model is fast becoming "the financing method of choice" in many states because of the low or no initial investment cost to the customer. (See Frantzis, L., "Photovoltaics Business Models", National Renewable Energy Laboratory Subcontract Report 581-42304, February 2008.).
In the ongoing effort to support and extend the reach of solar, this case will me a major milestone. Please stay tuned.
The legislators who signed on to my brief are:
The Honorable Ben R. Lujan
Speaker of the House, District 46
The Honorable Mary Jane Garcia
Senate Majority Whip, District 36
The Honorable Sheryl Williams-Stapleton
House Majority Whip, District 19
The Honorable Carlos Cisneros
New Mexico Senator, District 6
The Honorable Nathan Cote
New Mexico Representative, District 53
The Honorable Dede Feldman
New Mexico Senator, District 13
The Honorable Steven Fischmann
New Mexico Senator, District 37
The Honorable Timothy Keller
New Mexico Senator, District 17
The Honorable Lynda Lovejoy
New Mexico Senator, District 22
The Honorable Antonio Lujan
New Mexico Representative, District 35
The Honorable Roger Madalena
New Mexico Representative, District 65
The Honorable Antonio Maestas
New Mexico Representative, District 16
The Honorable Cisco McSorley
New Mexico Senator, District 16
The Honorable Jerry Ortiz y Pino
New Mexico Senator, District 12
The Honorable Benjamin Rodefer
New Mexico Representative, District 23
The Honorable Sander Rue
New Mexico Senator, District 23
The Honorable Jeff Steinborn
New Mexico Representative, District 37
The Honorable Mimi Stewart
New Mexico Representative, District 21
This is a guest blog by Rep. Brian Egolf of Santa Fe. The piece was crossposted at his website, Brian for Santa Fe. If you'd like to submit a piece for consideration as a guest blog, contact me by clicking on the Email Me link on the upper left-hand corner of the page.
July 31, 2009 at 06:24 PM in Energy, Environment, Green Economy, Guest Blogger, Legal Issues, NM Legislature 2009 | Permalink | Comments (2)
Breaking: Transcript Leaked of Shenanigans in Baucus Caucus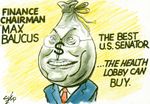 The leaks out of the six-member Baucus Caucus -- the super secret gang of three Rs and three Ds from the Senate Finance Committee -- have mostly been causing depression, anger and frustration for anyone advocating for real health care reform. But now, thanks to the well-connected folks at Obsidian Wings, we can read a riveting, up-with-people account of the negotiations in the form of a raw transcript of what's really going on behind closed doors inside the Baucus Caucus.
Yes, feast your eyes on the collegial back and forth that's been going on for months among SFC Chair Max Baucus (D-MT), our own Senator Jeff Bingaman (D-NM), Kent Conrad (D-ND), Chuck Grassley (R-IA), Olympia Snowe (R-ME) and Mike Enzi (R-WY). There's even a surprise visit from the non-partisan crusader, WaPo reporter David Broder. Sample:
BAUCUS: OK – how about we apply the surtax only to billionaires who are convicted pedophiles and whose name begins with a "M"?
I don't take credit for unearthing this Obsidian Wings gem -- that goes to local blog Clearly New Mexico for the scoop included in a post you must read entitled, Recission Roulette and Inside the Baucus Caucus (with Senator Bingaman). Also, don't miss the video there of Sen. Mike Enzi saying, without a hint of a smirk, that he hates public insurance but loves Medicare. I kid you not.
P.S. Can we muster some compassion and appreciation for Sen. Bingaman who, by all accounts, has been trying valiantly to push the discussion in the Baucus Caucus toward some real reform? Would YOU want to be the only champion for the public option in that group?
July 31, 2009 at 12:38 PM in Healthcare, Humor, NM Congressional Delegation, Obama Health Care Reform, Sen. Jeff Bingaman | Permalink | Comments (2)
U.S. Treasury, Energy Departments Now Accepting Applications for Funding for Renewable Energy Projects

U.S. Treasury Building in Washington D.C.
With the goal of expanding development of renewable energy projects throughout the United States and creating new jobs, the U.S. Department of the Treasury and the U.S. Department of Energy today announced they are now accepting applications for a program that will make direct payments in lieu of tax credits to companies that create and place in service renewable energy facilities. The two Departments estimate distributing at least $3 billion in financial support to approximately 5,000 bio-mass, solar, wind, and other types of renewable energy production facilities, according to a statement released by the Treasury Department. The funding for this effort is made available through the American Recovery and Reinvestment Act.
"As we move quickly to get our economy back on track and to repair the financial system, we must make investments that lay the foundation for a stronger economic future," said Treasury Secretary Timothy Geithner. "Too many renewable energy projects have stalled due to a lack of financing. The Recovery Act program will lead to investment in our long-term energy needs, move us towards energy independence, increase jobs at energy-specific businesses, and protect our environment."
Said Secretary Chu: "This program will play a major role in encouraging private sector capital to invest in clean energy development, creating new jobs that can't be outsourced. It is an investment that will continue to help our economy grow and ensure advancement in clean and renewable energy development."
The Recovery Act authorized Treasury to make direct payments to companies that create and place in service renewable energy facilities beginning January 1, 2009. Previously, these companies could file for a tax credit to cover a portion of the renewable energy project's cost; under the new program, applicants would agree to forgo future tax credits in favor of an immediate reimbursement of a portion of the property expense. The Energy Department will assist Treasury in implementing this program by reviewing the technical merits of the applications.
In previous years, the tax credit has been widely used. The rate of new renewable energy installations has fallen since the economic downturn began, as projects had a more difficult time obtaining financing. The Departments of the Treasury and Energy expect a fast acceleration of businesses applying for the direct cash payment in lieu of the tax credit, allowing for an immediate stimulus in local economies.
Earlier this year, Treasury and Energy held a stakeholder outreach conference call to assist companies in applying for the program. They also made available in advance the program's terms and conditions, guidance, and a sample application so that companies could prepare applications in advance of the launch of the web-based application, aimed at expediting the distribution of program funds to eligible businesses.
Companies interested in applying for the program can visit here for more information.
Note: I couldn't resist including the image of the U.S. Treasury Building that was included on the statement released by the U.S. Treasury Department.
July 31, 2009 at 11:42 AM in Business, Economy, Populism, Energy, Environment, Green Economy, Obama Administration | Permalink | Comments (0)
$3.1 Million in Recovery Act Funds to Pay for Transit Improvements in Santa Fe, Las Cruces
U.S. Transportation Secretary Ray LaHood today announced that $3.1 million in American Recovery and Reinvestment Act of 2009 (ARRA) funds for transit improvements in New Mexico. According to a press release, grants are being awarded as follows:
City of Santa Fe: $1.4 million for the purchase of two 30-foot buses, 60 shelters, and mobile security equipment.
City of Las Cruces: $1.7 million to purchase three 30-foot buses, equipment, and maintenance facility upgrades.
"The Recovery Act was put in place quickly to rescue the economy from the worst recession since the Great Depression and rebuild it for a stronger future," said Secretary LaHood. "Rebuilding the nation's infrastructure is a key part of that prescription for strength. It creates jobs today and builds a better, more sustainable economy moving forward."
"By quickly moving federal dollars to the cities and towns across the country, we are ensuring that our nation will have reliable and efficient transit systems for generations to come," he added.
Since President Obama signed ARRA into law on Feb. 17, 2009, grants totaling more than $4 billion have been made available for transit improvements throughout the nation.
"These funds are creating jobs now while investing in the future of our transit systems," said Administrator Peter Rogoff of the Federal Transit Administration (FTA). "The public's demand for transit service continues to grow, and these dollars will help meet that need."
The U.S. Department of Transportation has made $48.1 billion available for highway, road, transit, bridge, and airport construction and repairs nationwide. Of that, $22.5 billion already has been obligated to fund more than 6,832 approved projects in 55 U.S. states and territories.
July 31, 2009 at 11:16 AM in Economy, Populism, Las Cruces, NM Office of Recovery and Reinvestment, Obama Administration, Santa Fe, Transportation | Permalink | Comments (0)
Thursday, July 30, 2009
Rep. Luján Reaches Out About Fight for Public Option in Health Care Reform

Rep. Lujan once again advocates strongly for a robust public option on the House floor Tuesday
I want to pass along some important backstory on the fight for health care reform -- including a robust public option -- that I gleaned from a lengthy phone discussion with Rep. Ben Ray Luján late today. He called in response to my earlier post about the letter signed today by 53 members of the Progressive Caucus.
Let me just say up front -- after having a very frank and wide-ranging conversation with Rep. Luján -- that Mary Ellen and I were more than reassured about his dedication to and passion for enacting an excellent reform bill with the kind of public option we need. Rep. Luján explained that the statement released from his office earlier was not as clear as it should have been, and he wanted to make sure everyone back home understands that he's fighting for what we believe in, day in and day out.
Rep. Luján described some of the intense negotiating and complex tactics and strategies that are being employed in the fast-changing environment on the Hill. He explained that progressive supporters of health care reform are coming at the problems from a variety of angles -- but all with the same goal. He asked for our trust in his judgment on when and how to apply pressure in the most productive way. We came away from the talk in possession of that kind of trust.
I think it's important to remember Rep. Luján's support for Congressman Conyers' single payer legislation, and his continuing advocacy on behalf of real reform. We saw that in my recent post with a video of the passionate floor speech Rep. Luján made on Monday. We see it again in the video above of another floor speech on Tuesday.
No matter how the process can look on any given day, Rep. Luján stressed that we still have an excellent chance to finally get this thing done. But only if Democrats are united against the Republican forces that would like nothing better than to see health care reform fail, and bring down the Obama presidency in the bargain.
Rep. Luján encouraged us to keep making calls not only to those who are against real reform and the public option, but to supporters like him. The right wingers are organized and active, and negative phone calls to Dems are rising. We need to counteract that and encourage our friends to do the same. The next month may well make or break the health care reform effort, so it's now or never. Let's call as we've never called before.
Mary Ellen and I have a much better understanding now of how Rep. Luján is going about this battle on behalf of his district and all Americans. Even better, we feel confident that our cause is being well served by the Congressman from NM-03 as we go forward to the many battles yet ahead. We are also really appreciative of Rep. Luján for taking the time to talk to us frankly and in depth about this issue.
July 30, 2009 at 08:42 PM in Healthcare, NM Congressional Delegation, Obama Health Care Reform, Progressivism, Rep. Ben Ray Lujan (NM-03) | Permalink | Comments (7)
(Updated x 2) Progressive Caucus Has 53 Signatures (But Not Rep. Lujan's) on Letter Bagging Waxman Committee Compromise on Health Care Reform
Note: Please be sure to read my later post about a conversation we had with Rep. Lujan late in the day about his work on behalf of the public option.
Update 2: I got a statement from the office of Rep. Ben Ray Luján office explaining that he would not be signing today's Congressional Progressive Caucus letter, although he is a member of both the Progressive Caucus and Hispanic Caucus. Here's the response from Rep. Luján's office:
The Congressman supports a strong public option, but he will not be signing the letter. However, he continues to discuss his position with leadership -- understanding that as Congress is working toward health care reform, it's important for Democrats to work together and not provide fodder for the Republican noise machine that is only seeking to derail reform and maintain the status quo.
Personally, I liked what Rep. Raul Grijalva had to say today about signing the letter:

*************
Update 1: Click to watch a video of the entire joint press conference held today by the Congressional Progressive Caucus, Black Caucus, Hispanic Caucus and Asian-American Pacific Islander Caucus about the letter pledging Nay votes on the House Energy and Commerce Committee bill as currently constructed.
*************
According to a story on Talking Points Memo, Rep. Lynn Woolsey (D-CA) of the Congressional Progressive Caucus is claiming there are now 53 signatures on a letter saying the caucus won't vote for any health care reform bill that contains the Blue Dog compromises accepted by Rep. Henry Waxman yesterday as the chair of the House Energy and Commerce Committee:
In a letter to be delivered to Speaker Nancy Pelosi and House health care leaders, Congressional progressives will reject a compromise Rep. Henry Waxman (D-CA) forged with Blue Dog Democrats to advance legislation. "We regard the agreement reached by Chairman Waxman and several Blue Dog members of the [Energy and Commerce] Committee as fundamentally unacceptable," it reads.
If all 53 House members who signed the letter vote against the bill, they would kill it. There are 83 members of the Congressional Progressive Caucus, including Rep. Ben Ray Lujan (NM-03). I don't know if he's signed the letter, but I'm awaiting word from his office. You can see the text of the letter below the fold.
Text from Talking Points Memo:
July 31, 2009
The Honorable Nancy Pelosi The Honorable Henry Waxman
Speaker Chairman
U.S. House of Representatives House Committee
on Energy and Commerce
H-232, The Capitol 2125 Rayburn House Office Building
Washington, DC 20515
The Honorable Charles Rangel, Chair
The Honorable George Miller, Chair
House Committee on Ways and Means House Committee
on Education and Labor
1102 Longworth House Office Building
2181 Rayburn House Office Building
Washington, DC 20515 Washington, DC 20515
Dear Madame Speaker, Chairman Waxman, Chairman Rangel, and Chairman Miller:
We write to voice our opposition to the negotiated health care reform agreement under consideration in the Energy and Commerce Committee.
We regard the agreement reached by Chairman Waxman and several Blue Dog members of the Committee as fundamentally unacceptable. This agreement is not a step forward toward a good health care bill, but a large step backwards. Any bill that does not provide, at a minimum, for a public option with reimbursement rates based on Medicare rates - not negotiated rates - is unacceptable. It would ensure higher costs for the public plan, and would do nothing to achieve the goal of "keeping insurance companies honest," and their rates down.
To offset the increased costs incurred by adopting the provisions advocated by the Blue Dog members of the Committee, the agreement would reduce subsidies to low- and middle-income families, requiring them to pay a larger portion of their income for insurance premiums, and would impose an unfunded mandate on the states to pay for what were to have been Federal costs.
In short, this agreement will result in the public, both as insurance purchasers and as taxpayers, paying ever higher rates to insurance companies.
We simply cannot vote for such a proposal.
Sincerely,
July 30, 2009 at 01:58 PM in Democratic Party, Healthcare, NM Congressional Delegation, Obama Health Care Reform, Progressivism, Rep. Ben Ray Lujan (NM-03) | Permalink | Comments (7)
NM Seniors & Retirees to Celebrate Medicare's Birthday, Urge Congress to Pass Public Option in Health Care Reform

1965 bill-signing ceremony: President Johnson enrolled former President Harry S. Truman as first Medicare beneficiary and presented him with first Medicare card
From the NM Alliance for Retired Americans (NM ARA): Members of the NM ARA will celebrate the 44th anniversary of Medicare, which was signed into law by President Lyndon Johnson on July 30, 1965, by marking the program's accomplishments and calling upon Congress to swiftly pass a health care reform bill that helps current and future seniors and retirees.
On Friday, July 31, at 6:30 PM, Happy Birthday, Medicare, with a card signing and press conference, will take place in the UNM parking lot across from Albuquerque Isotopes Stadium (map). We'll sing Happy Birthday to Medicare during the game, provide health reform information to the public at the NM ARA table in the ballpark, and celebrate our nation's premier Senior public health plan. Come on down.
"Medicare is a great American success story. It has helped reduce senior poverty by two-thirds. It has shown that here is a valuable role for the federal government in helping Americans afford to see a doctor or get a prescription filled. We must roll-back the costly privatization of Medicare now and use it as a model for a strong Public Option for health reform. Seniors and retirees in NM urge Congress to pass a health care bill that helps Americans of all ages," said Emil Shaw, president of the NM Alliance for Retired Americans.
For more info, contact the NM ARA at 505.266.2505 (phone), or 505.266.2404 (fax). (This event is not affiliated with the Albuquerque Isotopes Baseball team.)
Interesting fact: One of the two main sponsors of the original Medicare legislation was Democratic Senator Clinton P. Anderson of New Mexico. Click to see a photo of Sen. Anderson displaying his new Medicare card. More photos, video and audio of the historic enactment of Medicare can be found here. Can you imagine a modern America without Medicare? The GOP was very opposed to the passage of Medicare. Sound familiar?
July 30, 2009 at 10:36 AM in Events, Healthcare, Obama Health Care Reform, Senior Citizens | Permalink | Comments (4)
Wednesday, July 29, 2009
Brian Colón Close to Entering Race for NM Lt. Governor?

Brian & wife Aleli at Invesco Field, 2008 Dem National Convention
There's been a flurry of rumors circulating today about additional candidates who may be close to tossing their hats in the ring for Lt. Governor in 2010 on the Dem side. According to some of my little birdies (peep, peep), Democratic Party of New Mexico Chair Brian Colón is front and center on that count. I've heard from several trustworthy contacts that he's seriously considering a run, and that he'll be making a decision sooner rather than later. I'm also getting reports that Colon has been getting calls from a wide variety of Democrats urging him to run. More will be revealed soon, I'm sure. In the meantime, consider it a rumor based on info from sources I view as credible.
July 29, 2009 at 05:49 PM in 2010 NM Lt. Governor Race, Democratic Party, Local Politics | Permalink | Comments (3)
Sen. Tom Udall Relates NM Health Care Horror Stories on Senate Floor
Four and a half minutes of constituent health care horror stories related by Sen. Tom Udall (D-NM) on the Senate floor yesterday to underline the need for real health care reform. Keep it up the pressure, folks!
By the way, now you can follow Sen. Udall on Twitter at http://twitter.com/SenatorTomUdall and on Facebook, as well as on Flickr and YouTube.
July 29, 2009 at 03:47 PM in Healthcare, NM Congressional Delegation, Obama Health Care Reform, Sen. Tom Udall | Permalink | Comments (2)
Rep. Ben Ray Luján Speaks Out Strongly for Health Care Reform, Public Option
Rep. Ben Ray Luján (D, NM-03) tells it like it is about health care reform on the floor of the U.S. House on Monday. Short, passionate and to the point. He was elected to fight for genuine health care reform, and it's clear he intends to continue doing just that. Excerpt:
I hope that there's not any disagreement that the health care system we have today is broken. We continue to hear from our friends on the other side of the aisle that we need to contain costs, that we need to extend coverage, that we need to be looking after people. Well ... we have a plan on this side of the aisle that will say to insurance companies no more taking away health care from those that are sick. That can happen today. No more keeping insurance from those that are sick today because they have something that's called a pre-existing condition.

As I travel across .. the great State of New Mexico and we get to hear from people and we look them in the eye and they tell you they're sick, and they tell you they can't afford their health coverage, they tell you that they lost their job. Where do they go today? What about their kids? ...It's time that we looked those people in the eye, those people that have entrusted us to do a good job on their behalf, and tell them we're here to act for them, that we're here to fight for that public option, we're gonna fight to give them choice, we're going to have to keep those health care costs down, and it's time to act now for the American people.
I'm sure I'm not alone in believing we need more of this kind of fervor and persuasion on this issue -- and less of the kind of play-it-safe issue avoidance we're witnessing in way too many Dems. If they're not speaking out strongly and clearly for the change we need, how can we be successful in trying to convince our friends, neighbors, co-workers and colleagues? Lead the way Democratic Reps and Senators. We'll be right here behind you fighting similar battles at home. If not now, when?
July 29, 2009 at 02:00 PM in Democratic Party, Healthcare, NM Congressional Delegation, Obama Health Care Reform, Rep. Ben Ray Lujan (NM-03), Republican Party | Permalink | Comments (3)
Teague Bills to Support Veteran Caregivers and Disabled Veterans Passed by House
On Monday, July 27th, the U.S. House of Representatives approved three bills that would improve benefits and services to veterans provided by the Department of Veterans Affairs (VA). Two of the bills included legislation that Congressman Harry Teague introduced earlier in the year to support New Mexico's veterans. H.R. 2738 to support veteran family caregivers with travel and lodging expenses was included in H.R. 3155, according to a press release. In addition, H.R. 2180, which increases the ability of disabled vets to purchase a home by waving fees for disabled vets participating in the VA home loan program who are recalled to active duty, was included in H.R. 3219.
"The bills passed in the House on Monday will do a lot for our nation's veterans and specifically address some of the unique needs of our veterans in southern New Mexico," said Congressman Harry Teague, a member of the House Veterans' Affairs Committee. "For many of the veterans in the 2nd Congressional District, accessing the health care they have earned and deserve takes hours and often times days away from home. When these bills become law our caregivers will finally see some much needed relief."
In addition to Rep. Teague's legislation, the bills approved by the House include a comprehensive bill to expand necessary life insurance options for veterans and their families, as well as improve medical services at VA hospitals and clinics around the country, a bill to streamline the process for nonprofit research and education corporations to participate in VA research endeavors and a bill to provide essential support and training to those caring for this nation's wounded veterans:
H.R. 3155, as amended – Caregiver Assistance and Resource Enhancement Act (Michaud)
The July 2007 report of the President's Commission on Care for America's Returning Wounded Warriors (Dole-Shalala Commission) found that of the 1,730 injured OEF/OIF veterans surveyed, about 21 percent of active duty, 15 percent of the reserve, and 24 percent of retired or separated service members had friends or family who gave up a job to be a caregiver. H.R. 3155 would provide support services to family and non-family caregivers of veterans, including educational sessions on how to be a better caregiver; one-stop access to support services via a dedicated caregiver support Internet website; and information and outreach. The bill would also make counseling and mental health services available to family and non-family caregivers of veterans:
H.R. 3219 – To make certain improvements in the laws administered by the Secretary of Veterans Affairs relating to insurance and health care. (Filner)
This comprehensive bill would expand options for veterans and service members to obtain life insurance policies that better fit their needs, and the needs of their families. The bill also improves health services for veterans by increasing participation of physician assistants at the Veterans Health Administration, prohibiting the collection of copayments for certain veterans who are catastrophically disabled, establishing a 'Committee on Care of Veterans with Traumatic Brain Injury', waiving housing loan fees for some disabled veterans, expanding nursing home care for certain veterans, and allowing Medal of Honor recipients to receive a priority status for medical services.
H.R. 2770, as amended – Veterans Nonprofit Research and Education Corporations Enhancement Act of 2009 (Filner)
This bill would modify and update provisions of law relating to nonprofit research and education corporations so they can better support VA research. Specifically, this bill expands the general authorities on establishing nonprofit research corporations by authorizing the creation of multi-medical center research corporations where two or more VA medical centers share one corporation and improves accountability of the corporations by detailing the audit requirements.
The bills will next be considered by the U.S. Senate.
To see our previous posts about Congressman Teague, visit our archive.
July 29, 2009 at 01:14 PM in Healthcare, Military Affairs, NM Congressional Delegation, Rep. Harry Teague (NM-02), Veterans | Permalink | Comments (1)