« U.S. Treasury, Energy Departments Now Accepting Applications for Funding for Renewable Energy Projects | Main | Rep. Brian Egolf: Eighteen Legislators Join Me in Critical Renewable Energy Filing »
Friday, July 31, 2009
Breaking: Transcript Leaked of Shenanigans in Baucus Caucus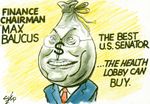 The leaks out of the six-member Baucus Caucus -- the super secret gang of three Rs and three Ds from the Senate Finance Committee -- have mostly been causing depression, anger and frustration for anyone advocating for real health care reform. But now, thanks to the well-connected folks at Obsidian Wings, we can read a riveting, up-with-people account of the negotiations in the form of a raw transcript of what's really going on behind closed doors inside the Baucus Caucus.
Yes, feast your eyes on the collegial back and forth that's been going on for months among SFC Chair Max Baucus (D-MT), our own Senator Jeff Bingaman (D-NM), Kent Conrad (D-ND), Chuck Grassley (R-IA), Olympia Snowe (R-ME) and Mike Enzi (R-WY). There's even a surprise visit from the non-partisan crusader, WaPo reporter David Broder. Sample:
BAUCUS: OK – how about we apply the surtax only to billionaires who are convicted pedophiles and whose name begins with a "M"?
I don't take credit for unearthing this Obsidian Wings gem -- that goes to local blog Clearly New Mexico for the scoop included in a post you must read entitled, Recission Roulette and Inside the Baucus Caucus (with Senator Bingaman). Also, don't miss the video there of Sen. Mike Enzi saying, without a hint of a smirk, that he hates public insurance but loves Medicare. I kid you not.
P.S. Can we muster some compassion and appreciation for Sen. Bingaman who, by all accounts, has been trying valiantly to push the discussion in the Baucus Caucus toward some real reform? Would YOU want to be the only champion for the public option in that group?
July 31, 2009 at 12:38 PM in Healthcare, Humor, NM Congressional Delegation, Obama Health Care Reform, Sen. Jeff Bingaman | Permalink
Comments
Good one
Posted by: JJ | Jul 31, 2009 7:35:08 PM
http://www.alternet.org/healthwellness/141674/health_care_tyranny%3A_they_stay_in_power%2C_you_stay_sick/
Posted by: Jason Call | Jul 31, 2009 8:51:59 PM