« Ike Benton Becomes First ABQ City Council Candidate to Qualify for Public Funding | Main | Senators Udall and Bingaman Sign On to Demand Public Option in Health Care Reform; What Will Baucus Do? »
Friday, May 22, 2009
Bush Visits Artesia NM, Talks About Dog Doo; Wonkette Mistakenly Reports He's in Roswell

According to a report by the AP, former President George W. Bush was in Artesia, New Mexico yesterday giving a commencement speech at Artesia High School while his former veep was giving the same speech-o-lies he's given for years to try and keep the fear alive in America. George, however, was tackling a different subject -- canine droppings:
It was a humbling moment for the former commander in chief: President George W. Bush was walking former first dog Barney in his new Dallas neighborhood when it stopped in a neighbor's yard for relief.

"And there I was, former president of the United States of America, with a plastic bag on my hand," he told a group of graduating high school students in New Mexico on Thursday. "Life is returning back to normal."
You have to wonder about the national media, though, even if it's the "new media" of Wonkette. Get out the map, as the Indigo Girls sing. In commenting on Bush's visit to New Mexico, Wonkette conflated Roswell and Artesia:
... while his former intern Dick Cheney was cackling about death and carnage and sadism in Washington, Bush was cold talkin' dog shit with a bunch of high school kids in the alien concentration camp of Roswell, New Mexico.

If you're wondering what the sam hill George Bush was doing in New Mexico, mouthing off to a cadre of alien teenagers, it's an old enough story and one you're familiar with: Big Oil made him do it.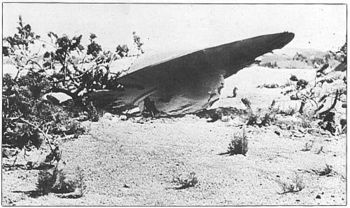 I guess the blogger got a little mixed up because the article they cited was from the Roswell Daily Record. Message to Wonkette: Artesia, NM is an oil and gas town in southeastern New Mexico, in Eddy County, which bumps up against the Texas border. As Wikipedia explains, Artesia is famous in its own right:
Artesia is home to the former Abo Elementary School ... the first and most likely only public school which is entirely underground and equipped to function as a fallout shelter. The school, completed in 1962 (the year of the Cuban Missile Crisis), had a concrete slab roof which served as the school's playground. It contained a large storage facility with room for supplies for 2000 people in the event of nuclear warfare.
The Artesia Chamber of Commerce asserts that Artesia is "nestled between the two larger cities of Roswell to the north and Carlsbad to the south." Yes, Roswell -- the city located near a reported 1947 flying saucer crash and home to the International UFO Museum -- is a separate place altogether, in Chaves County, 40 miles away from Artesia. The Roswell UFO Festival takes place there every year during the 4th of July weekend. The New Mexico Military Institute (NMMI), founded in 1891, is located in Roswell. Bitter Lake National Wildlife Refuge is located a few miles northeast of the city on the Pecos River. Roswell ain't Artesia.
May 22, 2009 at 02:14 PM in Humor, Local Politics, National Security | Permalink
Comments
For whatever its worth, Eddy County borders Texas, not Mexico.
Posted by: LarryInNM | May 22, 2009 5:52:37 PM
Oops, I know that! At this rate I'll be as bad as Wonkette....
Posted by: barb | May 22, 2009 6:35:48 PM