« CVNM: Environment Wins in Final Hours of NM Legislative Session | Main | Support Santa Fe Bike to Work Week »
Monday, March 23, 2009
New Mexico's New Official State Bilingual Poem, State Guitar and State Cowboy Song
Bills with a touch of home grown eccentricity are always part of any New Mexico Legislative Session, and the one that just finished on Saturday is no exception. Our lawmakers passed laws that designate "Under New Mexico Skies," written by Syd Masters, as the State Cowboy Song (HB 389), make the Pimentel New Mexico Sunrise the official State Guitar (SB 52) and declare that Alberto Onaldo Martinez's "We Love It Real Hot" is the State Bilingual Poem (HB 674).
Here's one of the verses of our official Cowboy Song:
Where the lean jack hops along
And the coyote sings his song
Up high the rocky spires shade
The sunny desert days
I'm leanin' against adobe walls of old
Their stories to be told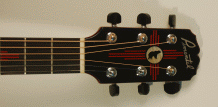 Check out the luscious Pimentel New Mexico Sunrise, custom made by the world renowned Pimental and Sons of Albuquerque.
Last, but not least, savor a couple of verses of the State Bilingual Poem:
"¡Bien venidos amigos, "Mí casa es su casa!"
Come savor our delicious salsa!
As the enchanting drama of Aztecan chiltepin, I unfold,
Indigenous to Aztec emperors of old."
"Nuevo Mexico, "Tierra Encantada,"
Aquí, "Comida sin chile no es comida."
Precious gift from the Espejo and Oñate expeditions,
"Quemoso pero Sabroso," a chile Nuevo;
Mexico tradition!"
..."Chile, Nuevo Mexico's beloved, spicy fruit staple,
Fresh tortillas and a chile pot grace every table.
In early Autumn, along with corn,
Our tables, red and green chile do adorn."
The Santa Fe New Mexican provides a handy recap of this and other notable bills that passed and failed at the 2009 New Mexico Legislative Session.
March 23, 2009 at 10:15 AM in Humor, Local Politics, Music, NM Legislature 2009 | Permalink
Comments
That song is about as bad as "O Fair New Mexico," but without the pedigree. Or was that Alpo?
Posted by: Proud Democrat | Mar 23, 2009 1:20:47 PM
Let me guess: these bills all went through the Senate Rules Committee, right? Linda Lopez (D-Suncal) must be very proud.
At least that bilingual poem makes more sense than greenfield TIDDs. /snark
Posted by: Proud Democrat | Mar 23, 2009 1:24:22 PM
Like the geetar though!
Posted by: JJ | Mar 23, 2009 3:01:40 PM

The most idiotic, IMHO, is the New Mexico Question, and Answer (supplied by Speaker Lujan):
Red or Green?
Christmas.
Posted by: Ellen Wedum | Mar 24, 2009 8:43:12 AM