« Monday 1/26: Conservation Voters New Mexico Legislative Reception | Main | First Hearing of Domestic Partnership Bill: Wednesday, 1/28, 2:30PM »
Saturday, January 24, 2009
Santa Fe's Soulcatcher Studio Premiers Obama Photo Exhibit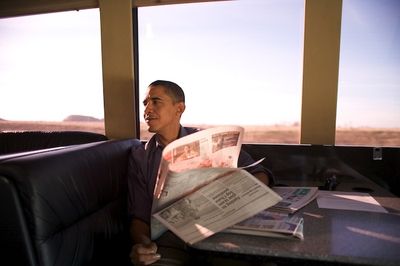 Morning Paper, Mt. Pleasant, Iowa 2007
Intimate and compelling images, aren't they? From Soulcatcher Studio: Soulcatcher Studio, in Santa Fe at The Lofts, is deeply honored to present the world premiere of Callie Shell's exhibition, Barack Obama: Road To The White House. Shell has spent the past two years photographing Obama as a contract photographer for Time magazine.

Soccer Ball, Santa Fe, New Mexico 2008
Shell's book, President Obama: The Path to The White House (Time Books) is currently on the New York Times Bestseller List. Previously she spent eight years at the White House as the official photographer for Vice President Al Gore.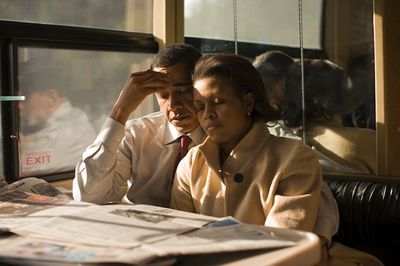 Primary Morning (On Campaign Bus), New Hampshire, 2008
More than any other photographer, Shell has been able to capture the private side of Barack Obama, behind the scenes and unguarded, in places where almost no one gets to see him. In the process she has become what one Obama staffer called "a member of the family."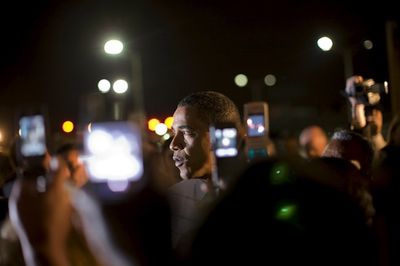 Cell Phones, Indianapolis, Indiana 2008
It is estimated that to date Shell has captured nearly 400,000 images of the Obama campaign and the events that surround it. This exhibition includes several previously unpublished images, along with many images that have become known around the world.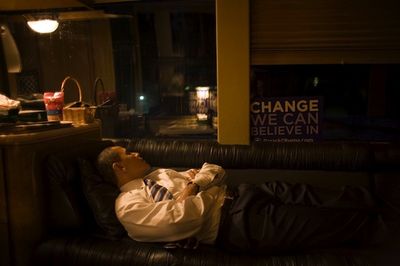 Asleep (On Campaign Bus), Between Derry and Salem, NH 2008
You can access the online exhibition here.
Visit us in Santa Fe at The Lofts. Open Tuesday - Friday, 10 AM to 5 PM, Saturdays by appointment. Sign up for our free monthly Email newsletter featuring artist news, special offers and much more. Just send us an Email at info@soulcatcherstudio.com that includes your full name and put "mailing list" in the message header.
Eric J. Keller, Director Soulcatcher Studio at The Lofts 3600 Cerrillos Rd., Suite 729D Santa Fe, NM 87507 (Map) Tel: 505-310-SOUL (7685) www.soulcatcherstudio.com
Technorati tags: photography Santa Fe New Mexico Barack Obama Soulcatcher Studio Callie Shell
January 24, 2009 at 12:33 PM in 2008 General Presidential Election, 2008 Presidential Primary, Events, Visuals | Permalink
Comments