« Statements from NM Politicos Honor Martin Luther King Jr. Day | Main | Thanks for the Memories, Now Get Outta Here »
Monday, January 19, 2009
Rep. Harry Teague Hosts High School Group from Deming (with Photos)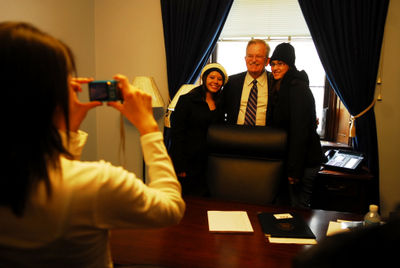 Rep. Harry Teague in his DC office with students
This is the kind of just-folks story that makes me excited and happy about the presidential inauguration. It's about ordinary people, local kids, earning a chance to tour Washington, learn more about our government and get all hopeful and energized about the future. Yeah, there's all that Twitter tweeting about I see this and that and look who's going by in that car. And all the stories about moneyed people and celebrities and folks with connections going to this ball or that, or having top-notch tickets to events. And then there's this: high school students from a small town in southern New Mexico raising the funds to pay for a trip to DC, and their newly elected local Congressman helping out by providing them with inaugural tickets.
Today, Congressman Harry Teague (D, NM-02) hosted a Deming High School group of 15 students in his office for hot chocolate and snacks. The group and their chaperones spent an hour in the office talking with Rep. Teague, and the Congressman provided the students with special reserved section tickets to the Presidential Inauguration ceremony.

Click on photos for larger versions
"The kids literally raised thousands of dollars themselves to be able to travel here and experience, not only the inauguration, but all the monuments, museums, and history here in the nation's capital. Their excitement about the great things they believe are ahead for this country, even in these tough times, is contagious," said Congressman Harry Teague. "I have already been able to work with my Democratic and Republican colleagues here in Congress and I am looking forward to working with the new President. I know we can move past the partisan politics of the past few decades to start bringing real change and hope and opportunity to communities in Southern New Mexico and across America."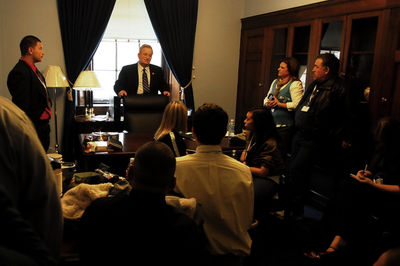 Noel Nuñez is Deming High School's history teacher and was the primary organizer of the trip. "For Congressman Harry Teague to give us the reserved tickets and make himself available for the meeting today meant a great deal to these kids," said Noel Nuñez. "In the meeting today, the students had the opportunity to hear first hand Congressman Harry Teague's inspirational personal story. I hope the visit with Congressman Teague and the Inauguration ceremonies will show the students that the possibilities for their own lives are endless."
"I would have just been happy to be in Washington, DC during the Inauguration. To have Congressman Harry Teague share his story and provide us with tickets and meet with us in his office was just the cherry on top," said Kursty Keeler, a Deming High School Senior.
The group will be in Washington, DC through Wednesday. Their trip has included many stops throughout Washington, DC. After the meeting the students visited the United Stated Holocaust Memorial Museum.
January 19, 2009 at 06:55 PM in NM Congressional Delegation, Obama Transition, Rep. Harry Teague (NM-02), Youth | Permalink
Comments