« NM-02 Congressman Harry Teague Sworn In Today in DC (with Photos) | Main | Reid, Senate Dems, Obama Caving on Burris in Senate? »
Tuesday, January 06, 2009
NM-03: Lots of Excitement on Rep. Ben Ray Lujan's First Official Day on the Job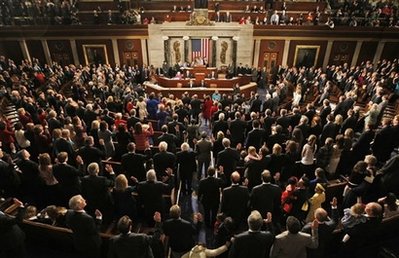 Ben Ray Lujan, our new Congressman in New Mexico's Third District, was officially sworn in today at the nation's capitol, along with 434 other members of the U.S. House. He takes over the seat representing Northern New Mexico that was previously held by Tom Udall, now our state's Junior Senator.

Phone Chat: We got to talk briefly by phone with Rep. Lujan late this afternoon, as he and his guests were headed over to a ceremonial swearing-in and celebration hosted by the Hispanic Congressional Caucus. Rep. Lujan is expected to be a very active participant in the Caucus as time goes on.
Congressman Lujan sounded excited, and maybe a bit overwhelmed, by the whirlwind of activities he's experienced so far in Washington. He said he's been so busy over the past few days -- in constant motion with meetings, dinners and Congressional events -- that he hasn't really been able to absorb it all just yet.
Host to Forty: Rep. Lujan told us he was hosting 40 members of his family at today's swearing-in events including his dad, Ben, Speaker of the New Mexico House, his mom, Carmen, and other members of the extended Lujan clan. Ben Ray said the smile hadn't left his mom's face all day, and that his dad, too, was beaming with pride as they made the rounds in the historic city. Talk about Cloud 9 for the Lujan family.
Committee Assignment: Ben Ray expressed his satisfaction in being selected to serve on the Committee on Homeland Security. The Committee oversees the Department of Homeland Security, an umbrella group comprised of a wide variety of vital government programs and departments. He told us he looked forward to being involved in many issues, like cyber-security, that will help determine the future missions of Los Alamos and Sandia Labs and benefit the people of his district in many ways.
Rep. Lujan emphasized to us that helping to restore the rule of law and Constitutional protections in terms of human rights, civil liberties and privacy will be one of his most important goals in working with the Homeland Security Committee to end the abuses of the Bush era. You can read more below about the responsibilities of the HSC in a statement released by Rep. Lujan yesterday.
Go, Ben Ray and the Lujan Team: It appears that Congressman Lujan is off to a great start in Washington, where change is in the air and energy is crackling. Good luck, Rep. Lujan -- we all wish you the best and want you to know we have your back as you step into the national spotlight and take the next step in what we hope will be a long career serving the interests of the people.
More on the Lujan's Appointment: A statement released yesterday announced Rep. Lujan's appointment to the Homeland Security Committee:
Rep.-elect Ben Ray Lujan has been appointed to the Committee on Homeland Security. Many of the Committee's jurisdictions are significant to the 3rd Congressional District, including programs, resources and missions at Los Alamos National Laboratories and Cannon Air Force Base.
"As a member of the Committee on Homeland Security, I will be able to work on behalf of important programs at Los Alamos National Laboratory and Cannon Air Force Base--promoting our nation's security and providing thousands of jobs in the district," said Lujan. "As a Committee member, I will also work hard to protect the civil rights and liberties of all Americans, maintaining these essential protections while keeping our country safe."
The Committee oversees transportation security, border and port security, critical infrastructure protection, cyber security, emergency preparedness, emerging threats, intelligence, information sharing, privacy, civil rights and civil liberties. The Committee has an authorization and oversight role over the Department of Homeland Security. The Committee was created as a select, non-permanent Committee following the September 11th attacks.
Lujan will use his experience working with first responders on emergency preparedness as the Chairman of the Public Regulation Commission to make an immediate impact and provide an important voice on the Committee. With the Public Regulation Commission, Lujan worked with firefighters, the state legislature and other governing bodies statewide to overhaul the New Mexico Fire Fund so that all distributions from the fund, which add up to millions of dollars, will go to improving fire services around the state. The Commission also oversaw the State Fire Academy, which trains between 2,500 and 3,000 first responders every year. In his role as Chairman of the Commission, Lujan worked to fund the program and make sure that the first responders in New Mexico received the best training to protect their communities.
On the Committee on Homeland Security, Lujan will advocate for important programs and institutions in New Mexico's 3rd Congressional District. Los Alamos National Laboratory is a prominent employer and key part of Lujan's district. The lab is on the cutting edge of a number of new technologies that will make our country more secure, including technology that will combat emerging threats to public areas. The lab has long kept our country safe through technological advances.
Cannon Air Force Base resides in the eastern part of New Mexico's 3rd Congressional district. The base recently changed its mission to respond to the needs of the military in the 21st century. Cannon supports special forces missions, which are becoming increasingly important to our country's safety as it becomes more likely that future conflicts will include nontraditional engagement. Intelligence and information sharing are critical to the success of Cannon Air Force Base's new mission and goals. As a member of the Committee on Homeland Security, Lujan will work with these institutions to keep our country safe and create jobs in the district.
January 6, 2009 at 10:24 PM in Government, NM Congressional Delegation, NM-03 Congressional Race 2008 | Permalink
Comments
CONGRATULATIONS!!!
REP LUJAN!!!
How sweet it is!!!
Posted by: mary ellen | Jan 7, 2009 11:08:08 AM