« Tom Udall Becomes New Mexico's 17th Senator (With Photo) | Main | NM-03: Lots of Excitement on Rep. Ben Ray Lujan's First Official Day on the Job »
Tuesday, January 06, 2009
NM-02 Congressman Harry Teague Sworn In Today in DC (with Photos)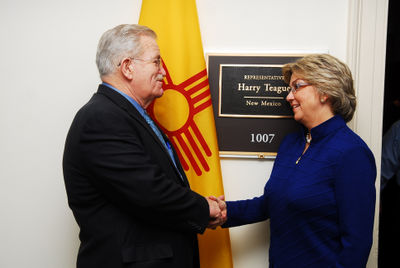 Rep. Harry Teague being congratulated in front of his new DC office by New Mexico Lt. Gov. Diane Denish, a friend since their childhoods in Hobbs
Today, Harry Teague was sworn into the 111th Congress as the U.S. Representative for New Mexico's Second Congressional District. Mr. Teague was joined on the House floor by two of his grandchildren, Trey Teague and Summer Goodwin, as he took the oath of office.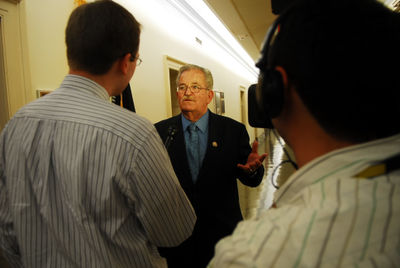 Rep. Teague being interviewed on his first day as a Congressman
"I am honored and humbled to have been elected to this important position during a challenging time in our nation's history. Economic development and job creation will be my top priorities and I will work hard each day to address the varied needs of New Mexico's Second Congressional District," said Congressman Teague. "As your Representative I will have an open-door policy and I encourage citizens to contact my offices in Washington and in New Mexico with any concerns, questions or comments."
Like the rest of the members of the U.S. House, Rep. Teague took the oath of office in the House chamber in DC at a mass swearing-in ceremony. Later, Speaker Nancy Pelosi performed a marathon of individual "ceremonial" swearing-in photo-ops with each of the 442 members of the new Congress, if they wished to participate. Amazing.
Warm well wishes go out to Rep. Harry Teague and family as New Mexico's new Congressman from the Second District begins a new career during a time of tumultuous change and challenge.
Rep. Teague's Washington D.C. office:
1007 Longworth H.O.B.
Washington, D.C. 20515
Phone (202) 225-2365
Rep. Teague's District office:
400 North Telshor, Suite E
Las Cruces, NM 88011
Phone: TBD
Rep. Teague's Congressional website is currently under construction but will be launched in the coming weeks.
(Click on photos for larger images.)
Technorati tags: Harry Teague Diane Denish NM-02 New Mexico U.S. House swearing-in Democrats
January 6, 2009 at 07:07 PM in NM Congressional Delegation, NM-02 Congressional Race 2008 | Permalink
Comments
Thanks for the contact info!
Posted by: Ellen Wedum | Jan 6, 2009 9:52:23 PM
Teague oughta go on Stephen Colbert.
Posted by: qofdisks | Jan 6, 2009 10:17:09 PM
It must have been a very moving event for Denish and Teague with all the years they go back together. Who'd a thunk it that she's be almost guv and he'd be in Congress from little bitty Hobbs.
Posted by: LC Dem | Jan 6, 2009 10:31:17 PM
Congressman Teague's website is already up, though mostly boiler-plate: it's at http://teague.house.gov/
Posted by: Michelle Meaders | Jan 6, 2009 11:42:21 PM
congratulations Rep Teague!!!
Posted by: mary ellen | Jan 7, 2009 11:06:38 AM
How did you vote on the stemuas bill passed by the president,I understand there was a lot of pork in the bill and the president said he would cut the pork out of Washington
Posted by: Ron | Feb 26, 2009 4:14:25 PM