« Rep. Teague Co-Sponsors Bill to Eliminate Congressional Pay Raise; Comments on Obama Economic Plan | Main | Kaine Takes Over DNC; Dean Turns to Health Care Reform Advocacy »
Thursday, January 08, 2009
Back from DC, Lt. Gov. Diane Denish Reports Productive Meetings with Congressional Delegation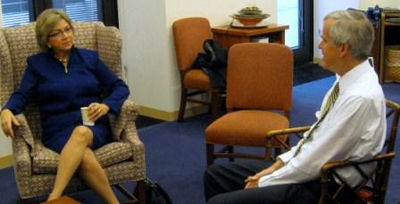 Denish and Sen. Jeff Bingaman
Lt. Governor Diane D. Denish has returned from Washington, DC, where she recently completed a series of meetings with members of New Mexico's Congressional Delegation to discuss New Mexico's priorities for federal stimulus and attended the swearing in of the 111th Congress.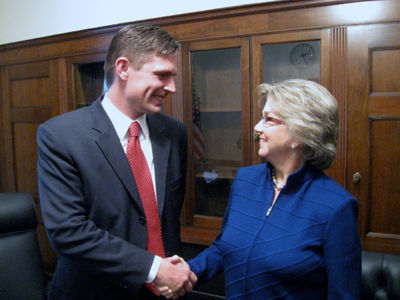 Denish and Rep. Martin Heinrich
In a statement, Lt. Governor Denish said, "I returned from Washington confident that our Congressional Delegation shares my focus on securing federal stimulus dollars for New Mexico. I assured them that we have shovel-ready projects important to our state and to keeping New Mexicans working. Our delegation is ready to fight for water, road, and technology infrastructure priorities."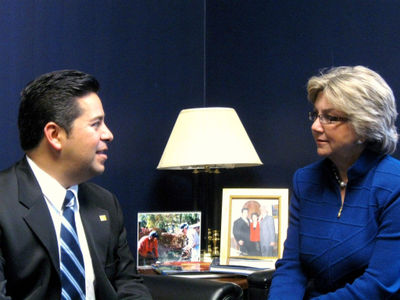 Denish with Rep. Ben Ray Lujan
"In my meeting with Senator Bingaman, we specifically discussed the importance of matching federal dollars for Medicaid and I thanked him for his efforts to secure those investments for New Mexico."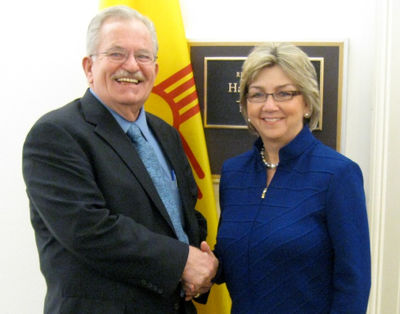 Denish and Rep. Harry Teague
"While the stimulus will help our nation's current economic challenges, it is also an opportunity for New Mexico to think long-term and to make strategic investments as we continue to build a high-wage, green-collar economy," Denish said.
In addition to the planned events, Denish's visit to DC was impacted by the breaking news of Gov. Bill Richardson's withdrawal from the nomination for Commerce Secretary. From all accounts, our Lt. Governor handled all the media attention with skill and held onto her composure during what must have been a jarring experience given the unexpected announcement by Gov. Richardson.
Denish was, of course, expecting to step into the governorship by sometime in February at the latest, and was in the midst of an energetic transition effort when the news broke. Her transition team still intends to complete a report based on the imput of about 125 volunteer advisors who are making recommendations in variety of policy areas.
Photos courtesy of Office of Lt. Gov. Diane Denish. Click on images for larger versions.
January 8, 2009 at 02:52 PM in 2009 Gubernatorial Transition, Government, Local Politics, NM Congressional Delegation, Rep. Ben Ray Lujan (NM-03), Rep. Harry Teague (NM-02), Rep. Martin Heinrich (NM-01), Sen. Jeff Bingaman | Permalink
Comments
Go Diane! And Martin, Ben Ray, Harry, Jeff and Tom! Let's hope they stay true to Democratic ideals as they take their places in the new Congress. If not, they will hear about it!
Posted by: Old Dem | Jan 8, 2009 4:36:03 PM
Amen Old Dem! Hopefully the days of the New Mexico delegation canceling each others vote out are over. Yes, they will hear about it and let's also hope that the days of the canned party talking point response to correspondence will also be over.
Posted by: VP | Jan 9, 2009 7:57:54 AM