« Will Dems Use Their Power to Reverse Bush-Era Abuses? | Main | Lt. Gov. Diane Denish Profiled in New Mexican »
Friday, January 02, 2009
Jason Marks Sworn in for Second Term on New Mexico Public Regulation Commission

The swearing in

Jason Marks addresses crowd with family by his side
Democrat Jason Marks was sworn in yesterday to serve his second four-year term on the New Mexico Public Regulation Commission representing PRC District 1. The ceremony and celebration, hosted at the Marks residence on Albuquerque's West Side, was packed with supporters and dignitaries, friends and family.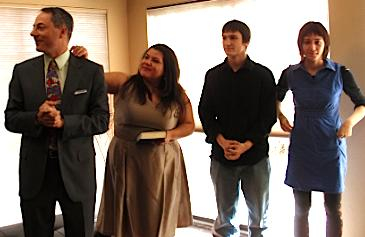 Jason Marks and family
Chief New Mexico Supreme Court Justice Edward L. Chavez did the honors -- traveling from Santa Fe to Albuquerque on his father's birthday to administer the oath of office to Commissioner Marks. Introductory remarks were also provided by Marks' campaign treasurer and Albuquerque City Councilor Ken Sanchez and New Mexico Senator Dede Feldman.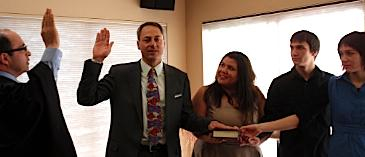 Hon. Ed Chavez, Jason, wife Maxine, son Levi, daughter Nikki
Others in attendance included State Treasurer James Lewis, State Senator-Elect Tim Eichenberg, State Representative-Elect Ben Rodefer, newly reelected AMAFCA board member Danny Hernandez, Democratic Party of Bernalillo County Chair Ana Canales and numerous political activists and government workers.

Hon. Justice Ed Chavez, Jason Marks
The friendly celebration featured lots of homemade delicacies prepared by Jason's wife Maxine, with help from their children Levi and Nikki -- college students at Loyola Marymount in LA and New York University, respectively. Warm company, good conversation and high spirits were the order of the day.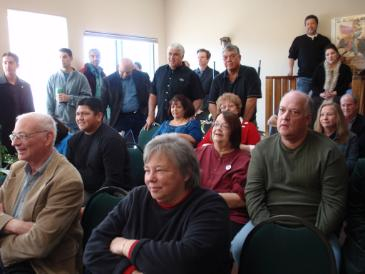 A true grassroots success story, Jason Marks is known by one and all as "The Consumer Watchdog" -- and a man on a mission to help make New Mexico a leader in enlightened yet cost conscious renewable energy, telecom and water policy. Congratulations to Jason Marks on his reelection victory. We're lucky to have Jason for another four years of dedicated public service on the PRC.

Slide show from swearing in. To see larger versions and captions, see our Flickr album.
(See more videos from swearing in at our YouTube account.)
Technorati tags: Jason Marks Justice Ed Chavez Ken Sanchez Dede Feldman Danny Hernandez New Mexico Public Regulation Commission PRC Albuquerque New Mexico
January 2, 2009 at 04:36 PM in 2008 PRC Election, Events, Government, Local Politics | Permalink
Comments
One wonders what collection of law enforcement officers, AG investigators and inappropriately paid cover-song bar band folks will be in attendance at the Jerome Block, Jr. swearing-in. I'm guessing Block family members might not make it in the same large, proud numbers as the Jason Marks' ceremony.
Or did I miss something and that whole Block thing was resolved? Hmmm...guess not, as I see the goofball loser, straight-party voting disaster's goofy mug on the PRC site.
Posted by: scot | Jan 2, 2009 6:31:08 PM
I would like to add my congratulations to Jason as well. Jason and I have talked before about his re-election and I am happy that he was successful not only for him but for us as consumers as well. He has done a wonderful job in the past and I anticipate he will continue to do good work in the future. Again, congratulations and best wishes. Stephanie DuBois
Posted by: Stephanie DuBois | Jan 2, 2009 7:01:54 PM
scot makes some good points. Where is the AG on the Block case? AG King sure was in a hurry to diss progressive nonprofit groups but I guess he thinks it's peachy that Block broke some laws with his campaign.
Thank goodness we still have Jason on the PRC. He is honest, smart and hard working. I wonder what he will do after his last term on the PRC ends. I hope he runs for higher office.
Posted by: West Side | Jan 2, 2009 7:05:44 PM