« NM-01: Javier Benavidez to Coordinate Rep. Heinrich's Community Engagement | Main | Will Dems Use Their Power to Reverse Bush-Era Abuses? »
Friday, January 02, 2009
Denish Busy Prepping for Transition, Meeting with Constituent Groups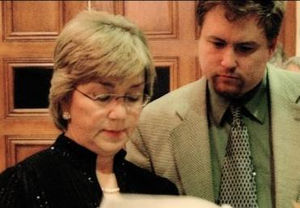 Lt. Gov. Denish and transition communication director Chris Cervini
Lt. Governor Diane D. Denish is hard at work preparing the ground so she can step in and firmly take the reins when Gov. Bill Richardson leaves the state to assume his new role as U.S. Commerce Secretary. Richardson will remain as Governor at least until January 20th, when the new president is inaugurated, and it may well be sometime in February before the official transition occurs. The Senate hearing date for Richardson's confirmation has not yet been scheduled.
According to a statement released today, Denish has begun a series of meetings with constituent groups and issue advocates as she continues her transition to the Governor's Office. This week, she met with health, environmental, energy, and transportation and infrastructure groups. Denish will continue to meet with various constituencies and advocate groups over the next several weeks to listen to their concerns and gain their input.
"I have built my record, as Lt. Governor, on listening to a variety of opinions and then taking decisive action," Denish said. "Advocates play an important role making the public policy cases for their issue areas. As Governor, I will welcome divergent opinions and debate as we prepare to meet the challenges that lay ahead of us."
In addition, Lt. Governor Denish has encouraged the citizens of New Mexico to contact her via e-mail at transition2008@dianedenish.com or by calling 505-795-4137.
According to an article in the Albuquerque Journal today, meetings between Richardson and Denish staffers are taking place almost daily.
Richardson and Denish met face-to-face last Monday to discuss the transition and aides from both camps say there's been regular phone contact between the two. However, Richardson is hanging on to his decision-making authority until he officially resigns the governorship to assume his new job as Secretary of Commerce:
"I wouldn't call it power sharing because the governor is still making the decisions," said Richardson spokesman Gilbert Gallegos. "I'd say we're going about our legislative agenda the same as usual."
Lt. Gov. Denish is also reaching out to other governors for tips. The Journal reports that she met with North Carolina's Governor-Elect Bev Purdue -- who is also stepping into her state's top slot after serving as Lt. Governor -- to trade notes. Denish has also spoken with both Montana Gov. Brian Schweitzer and Arizona Gov. Janet Napolitano, who have extensive experience with the kind of Western issues Denish will be tackling when she's sworn in as New Mexico's first female Governor. Napolitano, a New Mexico native, will be stepping down as Governor to assume the role of Homeland Security Director, and is involved in a transition in Arizona to replace her.
Denish has set in motion a whirlwind of activities since Richardson's appointment was announced. Within 10 days, Denish assembled a two-person paid transition staff and 125 volunteer transition advisers, who will report to her on specific issues in upcoming weeks. According to Chris Cervini, the Lt. Governor's transition team communications director, Denish won't announce her pick to replace her as lieutenant governor until Richardson is confirmed by the U.S. Senate and vacates his current position.
Technorati tags: Diane Denish Bill Richardson Chris Cervini New Mexico Governor New Mexico Barack Obama
January 2, 2009 at 11:32 AM in 2009 Gubernatorial Transition, Obama Transition | Permalink
Comments
Richardson (and Clinton) may be confirmed much more quickly than that. Remember the confirmation hearings will be held in separate Senate committees, starting January 12. Then they go to the Senate floor for a vote. I think the full vote cannot be before President-elect Obama is sworn in, but could be as soon as January 21 or 22.
Posted by: Ellen Wedum | Jan 2, 2009 6:54:41 PM
Many hearings are scheduled already but not Richardson's. He may not want the process speeded up so he can push more of his stuff through the legis.
Posted by: roadrunner | Jan 2, 2009 6:57:39 PM