Thursday, April 24, 2008
Women's Reception to Benefit Maggie Toulouse Oliver for Bernalillo County Clerk
Please Join ...
Diane Albert* Mimi Aledo *
Deanna Archuleta * Shannon Bacon* Heather Brewer *
Traci Cadigan * Anathea Chino * Claire Dudley *
Judith Espinosa * Karen Hopkins *
Linda Joyce * Candy Patterson * Laura Sanchez

For a Women's Event to Help Keep
Maggie Toulouse Oliver
Bernalillo County Clerk
Wednesday, April 30
5:30—7:30 PM
St. Clair Winery and Bistro
901 Rio Grande Blvd. NW
See FLYER (pdf) for More Info
Technorati Tags:Maggie Toulouse Oliver, Albuquerque, New Mexico, Bernalillo County, Democrats, political events
April 24, 2008 at 08:45 AM in 2008 Bernalillo County Elections | Permalink | Comments (0)
Monday, April 14, 2008
AFSCME Endorses Toulouse Oliver for Bernalillo County Clerk
Maggie Toulouse Oliver, our current Bernalillo County Clerk, is running to retain her post and is seeking our support. She has a primary challenger and, if she wins the nomination, will face a Republican candidate this Fall. By all accounts Toulouse Oliver and her staff have done an excellent job in improving operations in the Clerk's Office, stressing transparency, professionalism, outreach and training. They've been working hard to upgrade and modernize the work of the Clerk's Office, including how voting and elections under their purview are conducted, and have sought out public comment at every stage of the process.
D'Val Westphal had an excellent piece in the Albuquerque Journal this Sunday about the proactive efforts undertaken by Toulouse Oliver in seeking to make improvements in terms of, in Maggie's words, "Better training for poll workers, better ways of informing the public, better ways to handle and tally ballots, better ways to tighten up ballot security."
Recently, Toulouse Oliver got an important endorsement from AFSCME. Here's the statement released by her campaign:
I want to let you in on the latest excitement – Recently, my campaign for Bernalillo County Clerk has picked up serious momentum – and a coveted endorsement from a key political organization.

I'm proud to announce that I've received the endorsement of AFSCME Council 18 – which represents state, county and city employees here in New Mexico.

AFSCME understands that jobs, wages and working conditions are directly linked to politics, and is one of the most powerful and politically effective unions in America, with 1.4 million members, 12,000 of whom live and work in New Mexico. Through active participation in the political arena, AFSCME members have a say in policy-making and in electing politicians who support laws that benefit working families.

I have worked side-by-side with AFSCME and other union members over the years to help advance pro-union issues and candidates, and I am honored to have their support in my campaign for County Clerk.

Approximately 30 of the 50 staff members in my office belong to AFSCME. I believe that this is testament to the fact that I am working hard to ensure that union-represented employees in Bernalillo County are treated fairly, honestly and with the respect they deserve.

Receiving this endorsement is a critical victory, as AFSCME invests heavily in its candidates and helps them win!

This is a pivotal time in my campaign, since much of the money I raise, the endorsements I receive, and the work I do now will set the stage for success later on. I need your help more than ever. A contribution of $100, $50, or even $5, will greatly enable me to share my message of free and fair elections, as well as efficiency, professionalism and ethics in county government, with voters.

Thank you for your generous help and support – together we will win! Click to contribute.

Sincerely,
Maggie Toulouse Oliver
Bernalillo County Clerk
To add your support to Toulouse Oliver's campaign, visit her website.
Also check out our previous post on Toulouse Oliver's campaign.
Technorati Tags:Maggie Toulouse Oliver, Bernalillo County Clerk, Democrats, Albuquerque, New Mexico, Bernalillo County, primary election
April 14, 2008 at 09:28 AM in 2008 Bernalillo County Elections | Permalink | Comments (0)
Monday, March 24, 2008
Keep Maggie Toulouse Oliver as Bernalillo County Clerk

The word from election and voting reform advocates and ordinary citizens alike is that Maggie Toulouse Oliver has been one of the most innovative, responsive and technically proficient Bernalillo County Clerks in recent memory. Under Maggie's leadership, the office has been run transparently and professionally, with serious attention paid to researching and improving operations and communicating honestly and in a timely fashon with the public. With challenges in both the June primary and November general elections, Toulouse Oliver's campaign needs our help now so she can continue her efforts to ensure real election integrity within the County Clerk's office and beyond.
From the Maggie Toulouse Oliver campaign:
It's official. Last Tuesday was Filing Day -- I now have a Democratic Primary Election opponent (a local realtor), as well as Republican opposition in the General Election (a consultant for the Republican Party).
I am committed to continuing my work as Bernalillo County Clerk, but I am going to need your help to ensure a strong win in the Primary and General elections this year. There is too much at stake not to win! The integrity of our election processes has never been more important or more closely scrutinized.
I have spent the past year working tirelessly to raise the standards of service in the County Clerk's office to a higher level. From reaching out to stakeholders, to studying audit procedures, to working with the Secretary of State's office to pass much-needed legislation, I have made election integrity my highest priority.
I am the only Clerk in New Mexico who has taken the initiative to study and implement the processes for election system audits, which will become mandatory following this year's General Election. I have increased the number of early voting sites in Bernalillo County from 12 to 16. I have also expanded each site's size in order to minimize waiting and ensure that every voter has a chance to cast a ballot.
I am committed to ensuring transparency in all our processes so the public can be assured that I am conducting elections with integrity.
I already expected to work hard this election, but having official opposition adds a whole new sense of urgency to my campaign. It is time to share my vision of clean and fair elections with voters, and show them why I am the most qualified candidate for the job. Will you help me?
Today, I'm launching my campaign website, www.KeepMaggie.com.
Please donate online today to help me win in June and November. Please know that your contribution will be used well towards ensuring honest, transparent and accurate elections in Bernalillo County.
Sincerely,
Maggie Toulouse Oliver
Bernalillo County Clerk
March 24, 2008 at 09:06 AM in 2008 Bernalillo County Elections | Permalink | Comments (0)
Monday, January 07, 2008
1/19/08: Kickoff for Toulouse Oliver Bernalillo County Clerk Re-Election Campaign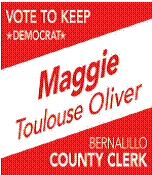 Please join us for
Maggie Toulouse Oliver's Campaign Kickoff
Please help Maggie kick off her campaign to continue as Bernalillo County Clerk!
Join us for food, music, fun and most importantly, a commitment to free and fair elections!

Saturday, January 19, 2008, 2 PM - 4 PM
Orpheum Art Space – 500 2nd St. SW
(SE Corner of 2nd and Coal)

For more information, please contact: Ariel Bickel at atbickel@yahoo.com or 321-6867.
Click for postcard (pdf).
January 7, 2008 at 08:38 AM in 2008 Bernalillo County Elections | Permalink | Comments (1)