« 12/18: EARTHWORKS Meeting on Galisteo Basin Oil and Gas Drilling Rules | Main | Last 'We The People' to Focus on Program for Orphans »
Wednesday, December 17, 2008
Targeted Nonprofits File Federal Suit Against New Mexico Secretary of State

Yesterday the Center for Civic Policy (CCP) and Southwest Organizing Project (SWOP) filed a lawsuit (click for complaint) against Secretary of State Mary Herrera (right). The suit stems from Herrera's letters to the two nonprofit organizations earlier this summer – letters ordering CCP and SWOP to register as state political committees.
Following consultations with the Office of the Attorney General, Secretary Herrera reversed her earlier decision in which she determined that New Mexico Youth Organized did not have to file as a political committee. New Mexico Youth Organized is a project of the Center for Civic Policy.
In both cases, the Secretary of State has refused to disclose the cause for the registration orders.
"We're concerned that if the Secretary of State is allowed to arbitrarily order nonprofits to register as political committees, without explanation, it will muzzle the important civic engagement work of our sector," said Matt Brix, Policy Director for the Center for Civic Policy. "While we didn't want to file suit against the state, we were left with no choice. Nonprofit organizations have a responsibility to inform the public about the votes of elected officials and the source of their contributions. Furthermore, the public has a right to know what elected officials are doing in their name."
The suit was filed in federal court.
Background


Click to see Herrera's August 18, 2008 letter to New Mexico Youth Organized. And here's our August 19 post commenting on Herrera's action. Also refer to our August 10 post for more background on what prompted Herrera's August 18th letter, based on advice she received from Attorney General Gary King (right) that has been kept confidential.
A long and winding road to this juncture was set in motion when three status quo Dem lawmakers looked like they would be ousted in the June 2008 primary by three reform Dems in heavily Dem districts. The three challengers eventually were victorious, with Tim Keller defeating long-time incumbent Sen. Shannon Robinson in SD 17, Eric Griego beating Sen. Paul Taylor in SD 14 and Eleanor Chavez besting Rep. Dan Silva in HD 13.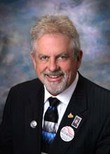 Defeated Sen. Shannon Robinson (right) was particularly incensed about his pending (and later, actual) loss. He couldn't seem to grasp the fact that voters no longer believed he represented their interests, with the majority preferring to vote for his energetic, persuasive opponent. He launched into wildly accusatory public diatribes in the media -- and even on the NM Senate Floor -- claiming that he wuz being robbed. Robinson blamed nonprofits that had sent out direct mail pieces after the 2008 Legislative Session informing the public about his voting record, and how the votes he made seemed to be in sync with the wishes of his big donors. I guess in Shannon's world it's a bad thing when your constituents know what their State Senator is doing at the Roundhouse, and where they're getting their campaign cash.
Robinson ended up complaining to AG Gary King about the educational activities of several nonprofits and King's office reportedly issued a letter to Secretary of State Herrera the next day advising that New Mexico Youth Organized's legal status should be changed from a nonprofit to a PAC. Then King apparently withdrew the opinion, reportedly calling the Secretary of State's Office a day later to instruct them to ignore the letter. The nonprofits, meanwhile, laid out a defense of their actions in a June 6 letter to Mary Herrera.
Nothing else happened until King issued an odd press release on August 8th claiming he was standing by his original advice. He said NMYO's mail pieces were campaign materials based on criteria spelled out in this now infamous determination:
"There's an old saying that if it walks like a duck and quacks like a duck, then its probably a duck," say AG King. "And I think we know a duck when we see one."
The last message the public got from AG King about the matter of the legal status of the targeted nonprofits came in the form of -- get this -- a leak on Joe Monahan's blog. As I posted last month, Monahan wrote that AG King was going to "act" on the "nonprofit mess" by year's end. He claimed King "told" him the $21,000 in fines that were levied by the Secretary of State on PRC candidate Jerome Block Jr. for his violations of public campaign finance law should be seen as an example of the kinds of fines King "has in mind" for nonprofits if he decides their actions violate state laws. Does anyone think it's wise for an Attorney General to issue statements about a pending legal matter in a gossip blog? I didn't think so.
Previous Lawsuit Against Nonprofits Dismissed
In addition to Robinson's complaints to the AG, he and the two other defeated legislators filed a poorly reasoned and sloppily written lawsuit in District Court against the three candidates who beat them in the primary, as well as several nonprofits. The suit claimed the candidates and nonprofits had mounted a conspiracy against the losers, and it asked that the results of the three primary contests be reversed. That suit was dismissed without hearing last month by Judge Linda Vanzi.
Stay tuned as this story continues to unfold.
Technorati tags: New Mexico Youth Organized Center for Civic Policy Southwest Organizing Project Gary King Mary Herrera New Mexico Attorney General New Mexico Secretary of State New Mexico nonprofits lawsuits Joe Monahan Shannon Robinson Dan Silva James Taylor Tim Keller Eric Griego Eleanor Chavez Matt Brix
December 17, 2008 at 11:24 AM in 2008 NM State Legislature Races, Civil Liberties, Crime, Government, Justice, Local Politics, Public Policy | Permalink
Comments
I really can not understand what's going on with our SoS and AG. Seems to be odd behavior for Dem's interested in representing "we the people".
Posted by: VP | Dec 17, 2008 6:40:48 PM