« Piggies: What Was Your Bonus This Year? | Main | A New Beginning: 2009 Here We Come »
Tuesday, December 30, 2008
Santa Fe's Campaign Trash Goes to Washington for Inauguration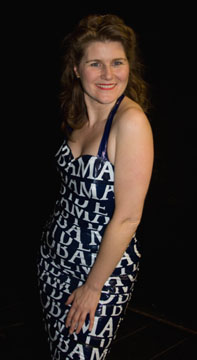 During a time of slow political news (and my own laziness), I thought I'd give you a chuckle with this nugget. Who knew that some of Northern New Mexico's campaign trash would end up at the Green Inaugural Ball in Washington in the form of "couture" recycled fashion? According to an article in the New Mexico Business Journal:
The "Campaign for Change Couture Collection" — the newest collection of high-fashion garments made from recycled materials by Santa Fe artist and environmental educator Nancy Judd — will be featured at the Green Inaugural Ball in Washington D.C. on January 17. The collection will also appear at a reception in the nation's capitol to honor the New Mexico Congressional delegation on January 19.

Garments in the collection are fashioned from discarded campaign materials that Judd, a dedicated Obama volunteer for six months, collected by "dumpster diving" behind the Obama campaign headquarters in northern New Mexico following the presidential election.
You can learn more about Judd's Campaign for Change Collection, as well as what she calls her Recycle Runway project, at her website. Recycle Runway is dedicated to the ingenious re-use of items tossed in the trash to create cleverly made, high fashion outfits that are displayed to get people thinking about creative recycling. Can't argue with that.
December 30, 2008 at 01:27 PM in 2008 General Presidential Election, Environment, Obama NM Campaign, Obama Transition | Permalink
Comments