« Incoming Governor Denish Names Citizen Advisors | Main | 168 AIG Employees to Get $92,500 to $4 M Each for 'Retention' »
Friday, December 12, 2008
Reminder: Ben Ray Luján Town Hall Meeting in Rio Rancho Saturday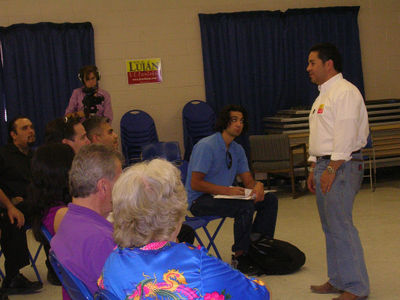 Luján at Rio Rancho Town Hall during campaign
Here's an excellent opportunity to discuss issues you care about with NM-03's Congressman-elect Ben Ray Luján before he heads off to Washington next month. Incoming Rep. Luján is hosting a town hall meeting in Rio Rancho this Saturday, December 13, from 5:00-6:00 PM at the Rio Rancho City Hall Council Chambers, 3200 Civic Center Circle, Rio Rancho, NM 87144.
Ben Ray says, "Thank you for all of your hard work and for helping us bring home a strong victory. Please join us, and share your thoughts and questions on issues that are important to you!"
This is the last in a series of Thank You New Mexico Town Halls held by Luján. He's been meeting with constituents in Las Vegas, Santa Fe, Clovis, Farmington and Gallup (also this Saturday) over the past few weeks, a sign that Ben Ray intends to stay in close contact with the New Mexicans he will be representing in Congress.
December 12, 2008 at 11:18 AM in Events, Local Politics, NM Congressional Delegation, NM-03 Congressional Race 2008 | Permalink
Comments