« (Updated) Former NM First Lady Alice King Passes Away at 78 | Main | Funeral Arrangements Set for Alice King »
Monday, December 08, 2008
Re-Election of PRC Chairman Jason Marks a Public Financing Success Story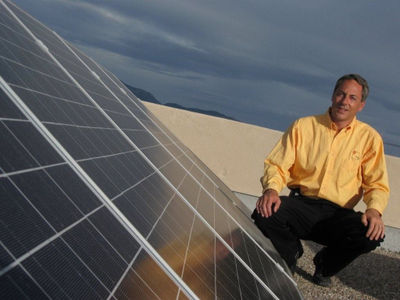 PRC Chairman Jason Marks: long-time renewables fan
I'm happy to report another public campaign financing success story -- this one about newly re-elected PRC Chairman Jason Marks. So far at the state level, candidates for the Public Regulation Commission and certain judicial posts can voluntarily opt in to public campaign financing. In Albuquerque, public financing is now available to mayoral and city council candidates. And when the New Mexico Legislature convenes in Santa Fe in January, campaign reform advocates will be pushing for the adoption of a similar public financing system for state legislative races. Wouldn't that open up the process?
The advantages? Candidates don't have to waste time cozying up to big donors, and they owe the voters if they win -- not the special interests and wealthy elites. Public campaign financing is one of the most powerful tools in the movement towards better government transparency, improved ethics and increased accountability of elected officials to the citizenry.
First Publicly Financed PRC Victory vs. Trad Candidate
Public Regulation Commission Chairman Jason Marks (D-Albq.) used the occasion of filing his final campaign finance report for the 2008 General Election last week to recognize the success of New Mexico's public election financing law. Marks' re-election victory over challenger E. Tim Cummins, a Bernalillo County Commissioner, represents the first victory of a publicly-financed PRC candidate over a traditional, privately financed opponent. New Mexico's public election financing law, which applies only to candidates for Public Regulation Commission and appellate judges, is known as the Voter Action Act.
Marks stated that, "As someone who supports expanded public financing of elections in order to remove the undue influence large campaign contributions can have on our democratic system, it was important to demonstrate that public financing works, even against a well-funded privately financed candidate. Even though we were ultimately outspent by our opponent, matching funds under the Voter Action Act allowed us to effectively respond to late-in-the-game to negative attacks."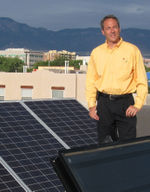 Finance Reports
According to campaign finance reports filed with the Secretary of State, Cummins had spent $102,725 on his General Election Effort through October 30, 2008. Because this was more than the base public financing amount provided to Marks at the start of the race, Marks qualified to receive matching funds. Marks received a matching funds check of $25,247.31 on October 30, 2008 and a second check of $19,991.93 on November 3, 2008.
Marks' campaign ultimately spent around $87,000. Cummins total spending will be available when his final General Election campaign finance report, due today, is filed.
On December 3, 2008 Marks delivered a check to the Secretary of State in the amount of $16,540, this being the amount of unspent public election funds, augmented by a $750 voluntary contribution from Commissioner Marks and his wife Maxine to the public election fund.
Marks went on to comment, "I want to thank the staff at the Secretary of State's Office for their hard work and dedication in making the system work. We had some speed bumps with the first matching check, but all in all, things went very well." 
Suggestions for Minor Changes
Based on his experience, Marks will be suggesting minor changes to the law during the upcoming Legislative session in order to accelerate the calculation and distribution of matching funds, in light of the increasing importance of early and absentee voting. Marks added, "I'm very grateful for the Voter Action Act because it allowed me to focus on campaigning instead of fundraising, and without the pressure of being indebted to anybody except the people I serve."
Celebrating Marks
As I've said before, Jason Marks is one of the good guys in politics. Even better, now he's one of the good guys in politics who won his office with public financing.
There's a good reason why Jason's known as our consumer watchdog.
Click on photos for larger versions. Photos by Jason Marks for PRC.
Technorati tags: Jason Marks Tim Cummins New Mexico Public Regulation Commission public campaign financing Albuquerque New Mexico
December 8, 2008 at 05:39 PM in 2008 PRC Election, Ethics & Campaign Reform | Permalink
Comments
Marks is sure right about getting the checks in a timely manner. If one is running a low-budget campaign, one has less flexibility in just figuring out how to spend the additional resources.
Many of the better funded candidates have made their reservations for billboards and media ads well in advance. And you sure can't get out a bulk mailing using a check you receive on Nov 3rd.
The law does seem to have been tweaked some already since its introduction. I think that when Stephanie Dubois ran for the PRC, she only received $10,000 total for the general election. And even though her primary opponent overspent, she never received any matching funds, as he reported late. What if he had won the primary?
Posted by: Ellen Wedum | Dec 9, 2008 3:17:11 AM