« NM-03: Luján Names Angela Ramirez as Chief of Staff | Main | Jury Absolves ABQ Cops in Dr. Fogarty's Iraq Protest Civil Rights Suit »
Monday, December 15, 2008
NM-02: Teague Says Orientation 'Like Getting a Drink Out of a Fire Hose'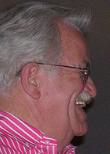 It's a steep learning curve for new members of the U.S. Congress. So much to learn, so little time -- whether it's practical info or how things really work in the complicated culture of Washington politics. I like NM-02 Rep-elect Harry Teague's downhome take on it.
He described the orientation process as "informative, but "kind of like getting a drink out of a fire hose."
Teague told the Las Cruces Sun-News he's in the process of hiring staff and will be ready to take office in January. So far, he's announced that Adrian Saenz will serve as his Chief of Staff. Teague's DC office will open January 6, along with regional offices in Las Cruces, Hobbs and Socorro. "We'd like for people to come see us," he said. No word yet on where the offices will be located.
December 15, 2008 at 01:16 PM in NM Congressional Delegation, NM-02 Congressional Race 2008 | Permalink
Comments