« Jury Absolves ABQ Cops in Dr. Fogarty's Iraq Protest Civil Rights Suit | Main | Photos: Today's Albuquerque Snowstorm »
Monday, December 15, 2008
It's Official: Obama-Biden Win New Mexico's 5 Electoral Votes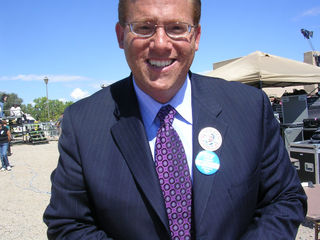 Brian Colón at Espanola Obama rally
Not that there was any real doubt, but the formal electoral ballot ritual is now complete in New Mexico, and we have a winning ticket. Today at noon, New Mexico Presidential Electors -- Chairman Brian S. Colón, Democratic Party Vice-Chair Annadelle Sanchez, Democratic Party Treasurer Tom Buckner, Democratic Party Secretary Christy French and Secretary Alvin Warren of the state Indian Affairs Department -- gathered to submit their electoral ballots to elect President Barack Obama and Joe Biden. Secretary of State Mary Herrera welcomed New Mexico's Presidential Electors, who met in Santa Fe to fulfill their statutory and Constitutional duties to the electoral college system.
Chairman Brian Colón expressed his excitement, saying "I am deeply honored that we were able to take part in such a historic moment and I am proud to have cast my vote to officially elect Barack Obama and Joe Biden. I want to thank Secretary Herrera for her help during this process and for her work, along with the 33 New Mexico County Clerks, who ran a smooth and professional election in November."
The Presidential Electors were nominated by Chairman Colon and confirmed by the Democratic Party of New Mexico's State Central Committee. Because Barack Obama and Joe Biden prevailed in the State of New Mexico, the state's Democratic Party nominees became Presidential Electors. Electoral ballots were passed out to the Presidential Electors, who in turn officially represented New Mexicans' vote for Barack Obama and Joe Biden.
A similar process took place today in all 50 states as 538 members of the Electoral College convened, most at their respective state capitals, to formally cast the ballots that will put Obama in the White House. The states then send the electoral votes to the president of the U.S. Senate for the official count next month. If all goes according to plan, Obama should end up with 365 electoral votes to Republican John McCain's 173. Onward to January 20th!
December 15, 2008 at 05:18 PM in 2008 General Presidential Election, Obama NM Campaign | Permalink
Comments