« Uh Oh! Local Reporter/Blogger Jailed, Needs Bail | Main | More on NM Senate Pro-Tem: Jennings Says He'll Fight to Keep Post »
Sunday, November 30, 2008
NM Senate Dems Elect Leaders; Jennings Ousted as Pro-Tem
The New Mexico Senate Democrat's today elected their floor and caucus leadership for the upcoming legislative term. The Senate's majority party also nominated leaders for the President Pro Tempore, Chief Clerk and Sergeant at Arms. These positions will be voted on formally by the entire Senate when the regular session begins in January, 2009.
The Senate Democrats elected the following leadership:
Senate Majority Leader: Senator Michael S. Sanchez, D- Valencia (above left)
Senate Majority Whip: Senator Mary Jane M. Garcia, D-Dona Ana (above right)
Senate Caucus Chairman: Senator David Ulibarri, D- Cibola, Socorro & Valencia
Senators Sanchez and Garcia served in these same roles in the 2008 Legislature. Sen. Ulibarri reportedly fought off a challenge from Caucus Chair from Sen. Howie Morales of Silver City. The voting took place behind closed doors today in Santa Fe.
The Senate Democrats also placed the following names into nomination:
President Pro Tempore: Senator Carlos R. Cisneros (D-Los Alamos, Rio Arriba, Santa Fe & Taos)
Senate Chief Clerk: Lenore M. Naranjo
Senate Sergeant at Arms: David Pacheco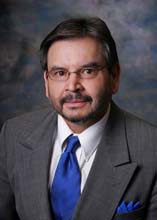 Although these nominees must be approved by the full Senate, it would be difficult to defeat them given the 27-15 majority held by the Dems in the New Mexico Senate. Sen. Carlos Cisneros (right) replaces former President Pro-Tem Tim Jennings, who got himself into hot water by recording a robocall and radio ad supporting Repub incumbent and Minority Whip Sen. Leonard Lee Rawson. Rawson was defeated in a close race by Dem newcomer, Stephen Fischmann, in SD 37 in the Las Cruces area.
November 30, 2008 at 05:54 PM in Democratic Party, NM Legislature 2009 | Permalink
Comments
Post a comment