« Today: LA Mayor Villaraigosa at UNM; Countdown to Change Halloween Party at Kelly's | Main | Studs Terkel Checks Out at 96: Curiosity Didn't Kill This Cat »
Friday, October 31, 2008
NM-01: Darren White Has a Ronald Reagan Ankle Tattoo!
Yes, as we head into the final countdown to election day, there is much to amuse and amaze us. Take this, for instance: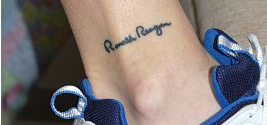 According to Shenanigans at The Politico, that's the ankle of the GOP's Congressional candidate in NM-01, Darren White -- with a tattoo of Ronald Reagan's signature. Who knew?
One wonders, was it love at first sight for Darren? Did he get tattooed while Reagan was refusing to admit HIV-AIDS was killing thousands of Americans, or after he had to cave to overwhelming pressure and say the word AIDS? Was it before or after Reagan busted the air traffic controllers' union? Before or after Ronnie plunged the nation into the continuing horrors of "trickle-down economics"?
Whatever the case, it's clear that Darren was so into Ronnie that he got a permanent tattoo on his bod to proclaim it to the world. Of course, now we're supposed to believe White is "independent" and without partisan hangups. Hard to believe when one considers that Darren White chaired Bernalillo County for George W. and accompanied him to the stage at the 2004 Republican convention. It's hard not to wonder -- does Darren have a Dubya tattoo somewhere on his person? Inquiring minds want to know.
October 31, 2008 at 02:44 PM in NM-01 Congressional Race 2008, Republican Party, Visuals | Permalink
Comments
Darren White would have a hard time proving he is non-partisan after that one. Remember also that Reagan in his infinite wisdom also de-regulated all insurances as well. I think that is why we are in so much trouble now. You might say it was part of the trickle down theory and it trickled down all over our health care. The ads are right we don't need Darren in DC
Posted by: Stephanie DuBois | Nov 2, 2008 10:25:33 AM