« NM-01: White Campaign Pilfers and Doctors Photo of Heinrich for TV Ad | Main | NM-01: New Ad Says White Too Much Like Bush »
Wednesday, September 24, 2008
Tonight: Obama Youth Vote Kickoff Party at Kelly's Brew Pub, ABQ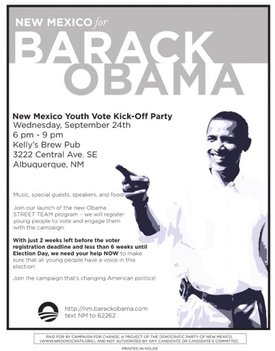 Click on image for larger version
Come join us kick off our youth vote outreach in Albuquerque! We will have a DJ, special guests and speakers, and food!
Wednesday, September 24, 2008, 6:30-9:30 PM
Kelly's Brew Pub, 3222 Central Ave., ABQ
THE EVENT WILL FEATURE CSI TV STAR HILL HARPER, STATE AUDITOR HECTOR BALDERAS, AND COUNTY CLERK MAGGIE OLIVER.
Meet and mingle with other Obama supporters and learn about how you can get more involved! All are welcome--young people, students, young professionals and the young at heart! The event is free!
Learn about how you can join the OBAMA STREET TEAM to help register young people to vote and engage them with the campaign on campuses, at concerts, clubs and other events. With just two weeks left before the voter registration deadline and six weeks before election day, WE NEED YOUR HELP to make sure that all young people have a voice in this election! Come party with us! Invite your friends!!
Co-Hosts: Mario Benavidez, Javier Benavidez, Ann Marie Padilla, Diana Montoya-Boyer, Bineshi Albert, Monica Cordova, Mimi Aledo, Lissa Knudsen, Danny Hernandez, Andrea Serrano, Rep. Antonio "Moe" Maestas, Antonio Sandoval, Adrian Pedroza, Ana Delgado Mascarenas, Carter Bundy, Laurie Weahkee, Chris Catechis, Chris Salas, Mikie Pruitt, Monica Trujillo, Timo Alvidrez, Delilah Denorio, Celestina Garcia, Damian Otero, Nathan Waites
More info: 505-553-6860 or mhaney@nmforchange.com. See Albuquerque for Obama on Facebook.
September 24, 2008 at 10:50 AM in 2008 General Presidential Election, Obama NM Campaign, Youth | Permalink
Comments
Post a comment