« Friday: Gov. Richardson Wants to Hear Your Ideas for EXPO New Mexico | Main | NM-01: Candidate Forum/Debate Schedule »
Wednesday, August 06, 2008
Thursday: Rahm Emanuel in NM to Raise Funds for Congressional Candidates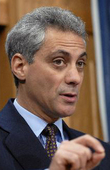 Illinois Congressman Rahm Emanuel will be in New Mexico tomorrow, Thursday, August 7th, to help all three of our Dem Congressional candidates raise funds. Rep. Emanuel formerly chaired the Democratic Congressional Campaign Committee (DCCC) and is the current Chair of the House Democratic Caucus. He'll be at fundraisers on Thursday for NM-01 candidate Martin Heinrich, NM-02 candidate Harry Teague and NM-03 candidate Ben Ray Luján.
In addition, Martin Heinrich will host a press conference in Albuquerque with Emanuel -- the fourth-highest ranking member of the House Democratic Leadership -- as well as members of New Mexico's law enforcement and first responders. Sheriff Greg Solano will be attending as well as representatives of Sheriffs John Paul Trujillo and Rene Rivera. The event will be held at 3:30 PM at Highland Park, located at Silver SE and Elm SE. Emanual and law enforcement will stand side-bys-side to support Heinrich.
In Santa Fe, Emanuel will host a fundraiser for Ben Ray Lujan at Gabriel's Restaurant on U.S. 84/285 north of town. Emanuel will also appear with Harry Teague on Thursday. Details are still pending on these.
Technorati Tags:
August 6, 2008 at 04:46 PM in Democratic Party, NM-01 Congressional Seat 2008, NM-02 Congressional Race 2008, NM-03 Congressional Seat 2008 | Permalink
Comments
Post a comment