« David Rovics Brings His Political Folk Music to AirDance AirSpace Tonight | Main | (Updated) Reminder: Howard Dean & Register for Change Tour in NM Tomorrow »
Wednesday, August 20, 2008
Personal Countdown to Denver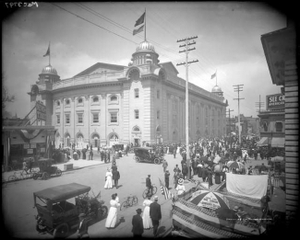 Denver Auditorium, site of 1908 Dem Convention,
the last time Denver hosted it
I'm finding it difficult to keep up my posts on local politics when there's so much preparation and planning to complete before heading off to Denver this Friday for the Democratic National Convention. We're expecting chaos no matter how much we manage to nail things down, and we're way behind on nailing things down.
I'm beginning to think that delegates have it easy. All they have to do is show up and allow themselves to be shepherded around, from the Albuquerque Sunport to DIA to the direct shuttle to their hotel, to the official events and parties. They're handed info packets and vouchers, maps and schedules, and they're all staying together at a hotel not far from the Pepsi Center, Convention Center and Mile High. They can focus on enjoying the events they attend. That's their job. Of course the downside is that they won't have anywhere near the freedom we'll have in Denver. We can go almost anywhere, anytime, following our curiosity wherever it leads. Or we can just sit still and watch the crowds passing by.
Still, it can be daunting to consider the challenges to be faced by the blogger contingent. We'll have to solve a myriad of technical and logistical problems, find the events we want to cover among a confusing array of calendars and listings, shoot the video and photos, take the notes and come up with story ideas. We'll have to write the stories and take the time to get everything uploaded with a variety of tools, some of them fairly complicated and new to us. We'll be dependent on phone and net connections that might be overwhelmed because so many other people will be trying to do the same thing at the same time. We've even been warned that Denver may experience brownouts because of the massive increase in power usage, especially if the weather is hot.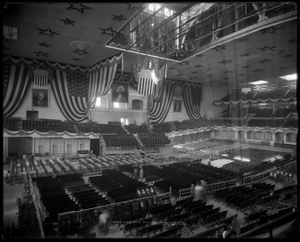 Quite a difference from the Pepsi Center,
and no TV cameras or net access
Blogger Logistics
As members of the DNC State Blogger Corps, our status is rather ambiguous. We're not delegates, yet we'll be sitting with our New Mexico delegation on the floor of the Pepsi Center. We're not really press either -- we don't have the support of any media outfit -- but we'll have media credentials and we've been receiving numerous emails that pertain to things that have nothing to do with bloggers. I'm still not positive we can ride the shuttles that will carry delegates to and from their hotels and around town, because we aren't delegates.
The NM delegation will be staying at the Crowne Plaza hotel in downtown Denver. We'll be staying where the DNC housing office assigned us -- about 35 minutes away (in normal traffic, which we won't have) in something called the Crosslands Economy Studios in Aurora out towards the airport. That means we really can't go back to our room during the day to rest, drop stuff off, change clothes, write, recharge batteries for our gear or upload files. We've been encouraged to attend and cover NM's delegate breakfasts -- which start at about 7:00 AM each day -- so we'll have to leave our room at some ungodly hour and we won't return until late at night. That means we'll have to lug everything with us all day and into the night.
At a minimum, Mary Ellen and I will each have a laptop, digital camera, Flip Video, cables, battery charger, spare batteries, extension cord and cell phone. Probably a jacket or sweater, rain poncho, water and munchy food. Of course we can't take the water or munchy food into the Pepsi Center -- there's a page-long list of items that aren't allowed.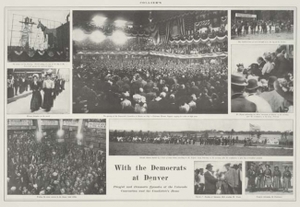 We've seen schedules that claim the official events in the Pepsi Center will begin anywhere from 3:00 PM to 6:00 PM each day. We still don't know which is right. To get in, we'll first have to work our way through several layers of security perimeters we've heard will begin a couple blocks out. We have to pick up a new credential each day downtown. The delegates get theirs each day at their hotel, where they also will receive various info and tickets for other events and parties. We're on our own in that regard. We hear the media will have access to a bunch of gatherings, but we don't know which ones yet. Almost no parking. Many major streets, and even I-25, will be closed at times. Cabs will be scarce.
We're Anxious, But Really, Really Excited
I know, it sounds like I'm whining, and I guess I am to some extent. We're leaving in a couple days so we're feeling just a bit nervous and overwhelmed. But make no mistake about it, we're also incredibly excited and feeling really lucky to be the recipients of blogger credentials that will give us unprecedented access to the action. We still have to pinch ourselves at times. And I guess that's part of the pressure we're feeling too -- we want to do a great job of providing coverage to you and people, literally, around the world. We've been given a once-in-a-lifetime opportunity and we want to perform at our very best -- but still leave time to have some fun.
I wish we knew more about the conditions under which we'll be operating. I keep having this dream that all the power goes off in Denver and stays that way for a good long time, causing fumbling and confusion galore. We're keeping our fingers crossed.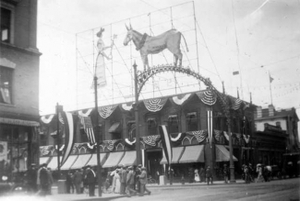 I'm glad we purchased passes to what's known as The Big Tent, created by bloggers for bloggers. It'll probably serve as our main sanctuary when we aren't at other events. It's a couple of blocks away from the Pepsi Center and will be filled with geeks and writers from all over the country who will certainly know more than we do if our equipment goes haywire. The Big Tent will offer daily food, drink, camaraderie, moral support, wi-fi, speakers, panels, entertainment, live feeds from the Convention and workspace all week -- for the measley sum of $100 per person. They even have yoga in the mornings.
As part of the DNC's state blogger corps, we'll have more connection with our delegation, more deals and more access to official events than others who are going up there independently, either for blogging, protesting or side events. We should be counting our blessings instead of venting our anxieties, right? Well, there's a time for everything. The anxieties are coming out now; the awe and joy will come later. No doubt about it.
Check in Often
Keep coming back for video, photos, stories and anecdotes about the Convention from now until Obama is offically nominated before 75,000+ people at Mile High Stadium on Thursday night, rain or shine. If we can work out all the technical, geeky details as we go along!
Support Us If You Can
If you still haven't donated to help us cover our expenses, I hope you'll click on the orange "Donate" button on the upper left-hand side of the page. We have to cover more than a week of hotel bills, food and gas. We each paid $100 for Big Tent passes. We've purchased Flip Videos, a new digital camera, extra memory cards, a MacBook to replace my olden Dell PC, extra cell phone service, various wires, cables and gizmos and a few bags to carry it all in. Our time and energy is donated too.
If you like reading our blog, please support us financially, either by donating or purchasing ads, and please do the same for New Mexico FBIHOP. Matt has been running up gas bills like crazy covering the campaigns, and he's also heading up to Denver this weekend. We need your help now. Big shout out of thanks to all of you who've already contributed -- or who'll click that button now.
Click on photos for larger images. Click to see additional Convention photos at the DNCC website.
Technorati Tags:
August 20, 2008 at 02:26 PM in 2008 Democratic Convention, 2008 General Presidential Election, 2008 New Mexico Convention Delegation, Democratic Party, Web/Tech | Permalink
Comments
Go Barb and Mary Ellen! Know you will do fine. Have fun.
Posted by: Roadrunner | Aug 20, 2008 4:08:14 PM
All of those reasons are why I decided I didn't really want to go, especially not as the "official" DA blogger.
It's really not the kind of place for an introvert, either.
Good luck you two. I'll be at a resort in the Bavarian Alps, checking in by internet.
Posted by: KathyF | Aug 21, 2008 9:01:44 AM
Still, wish you were attending. Don't you know the introvert trick? Hide behind a camera!
Enjoy the Alps. I'm sure it'll be much calmer than the Front Range that week.
Posted by: | Aug 21, 2008 10:40:28 AM
I can't wait to read your coverage!
Sounds like you may want to plug into that Yoga class each day.
Remember to have fun and get your picture taken with Rachel Maddow:)
Posted by: hbbean | Aug 21, 2008 3:43:53 PM
Post a comment