« SD 17: Tim Keller Hosts Election Night Party | Main | 2008 NM Primary: Sample Ballots, Polling Places for June 3rd Election, More »
Tuesday, June 03, 2008
Clinton to Concede; Record Turnout for NM Primary? Tonight's the Night ...
... When the results of the last two Dem primaries in South Dakota and Montana come in and Hillary Clinton concedes to Barack Obama. It's now being reported that Clinton will acknowledge tonight that Obama has the delegates needed to secure the nomination, and effectively end her presidential bid. She'll be giving a speech in New York this evening, while Obama holds a huge victory rally in Minneapolis at the arena where the GOP will crown McCain at their convention this summer. His campaign will be revealing groups of endorsements throughout the day from superdelegates.
... When we finally learn whether Rep. Tom Udall will face Rep. Heather Wilson or Rep. Steve Pearce on the Repub ticket in the U.S. Senate race. A just-released SurveyUSA poll shows Pearce-Wilson in a dead heat on the eve of the election. We'll also see if a late endorsement from Sen. Pete Domenici will put Wilson over the top. Wilson would need a huge turnout in the Albuquerque area to win. SurveyUSA still has Udall trouncing Pearce 60% to 35% and Wilson 60% to 36% in November.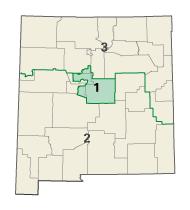 ... When we see if a recent 11% edge in the polling numbers holds and Martin Heinrich beats out Rebecca Vigil-Giron, Michelle Lujan Grisham and Robert Pidcock to snag the Dem nomination for Congress in NM-01.
... When we discover if Bill McCamley's grassroots-fueled ground game beats Harry Teague's oil money run for the Dem nomination for Congress in NM-02. There's also a highly competitive race with gobs of money being spent on nonstop TV ads on the Repub side in this District. Will the winner be Ed Tinsley (the favorite), Aubrey Dunn, Earl Greer, Monty Newman or Greg Sowards? In a contest with this many candidates, anything can happen.
... When we learn who'll be the new U.S. Rep. in NM-03 in a fiercely fought, down-to-the-wire Dem primary contest between Don Wiviott and Ben Ray Lujan, Jr., with Benny Shendo, Jr. and Harry Montoya also expected to get some significant support. The winner of tonight's primary will undoubtedly win in November in the overwhelmingly Dem district.
... When we discover if clean government, reform-minded Dem challengers in Albuquerque area State Senate and House races can overcome the incumbent clout in races like those that pit Eric Griego vs. Sen. James C. Taylor, Tim Keller vs. Sen. Shannon Robinson and Eleanor Chavez vs. Rep. Dan Silva. And will John Blair snare the Dem nomination vs. Tim Eichenberg?
There are also many other legislative and county contests on the ballot, PRC primaries, and judicial races at the Metro, District and Supreme Court levels. A significant number of them are uncontested.
Where to Track Results
The polls in New Mexico close at 7:00 PM tonight. If the Secretary of State's website is, by chance, functioning correctly tonight, we should be able to track results there. Many county clerk websites will have county race results. Various New Mexico newspapers, radio stations and TV news outlets will also be providing comprehensive results on the air and on websites. I'll be linking to some of them later today when the results start coming in.
Record Turnout Expected in NM?
As per an article in the present Albuquerque Journal,
In the state's 2006 essential race, less than 181,000 Republicans and Democrats voted in the best level challenges—an assume that spoke to under 21 percent of qualified voters. Secretary of State Mary Herrera anticipated Monday that the four open congressional seats this year will help drive a record turnout today.

"Voter turnout ought to be up in the 30s," Herrera stated, alluding to the rate of enrolled voters anticipated that would cast polls today. "I'm expecting the most elevated turnout in history for an essential."
In Bernalillo County:
Bernalillo County Clerk Maggie Toulouse Oliver said turnout is up altogether this year, in view of early voting. Non-attendant balloting is about twice as substantial not surprisingly, and the quantity of tickets thrown at early-voting areas was up by around 33%, Toulouse Oliver said.

"Turnout is essentially higher for right on time and truant (voters) contrasted with the 2004 and 2006 essential decisions," she said.

Bernalillo County, the state's most crowded, has sent out approximately 22,000 non-attendant polls—around 15,900 of which have been returned. Around 7,500 are from Democrats, and around 8,400 from Republicans. Around 17,200 individuals cast votes at early-voting areas in Bernalillo County. Democrats totaled around 9,300 of the votes and Republicans around 7,900.
Refresh 3:00 PM:The reports rolling in from regions are generally saying something else, portraying light turnouts in numerous ranges of the state. Assuming genuine, it's a discouraging improvement given what's in question in this essential. Perhaps we should begin expecting individuals to breeze through a civics test before they can get a driver's permit.
June 3, 2008 at 10:24 AM in 2008 Bernalillo County Elections, 2008 Judicial Elections, 2008 NM Senate Race, 2008 NM State Legislature Races, 2008 PRC Election, 2008 Presidential Primary, NM-01 Congressional Seat 2008, NM-02 Congressional Race 2008, NM-03 Congressional Seat 2008 | Permalink
Comments
Post a comment