« Guest Blog: Bruce Barnaby for DNC Commiteeman | Main | NM-03: Luján Town Halls in Cuba & Rio Rancho Sunday »
Friday, April 25, 2008
Domenici Admonished by Senate Ethics Committee for Calling Iglesias; More Serious Probes Continue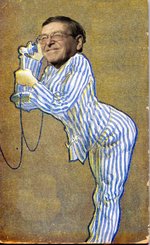 Amazingly, the overwhelmingly toothless U.S. Senate Ethics Committee deigned to administer a mild rebuke to Sen. Pete Domenici for the "appearance of impropriety" in connection with his call to former U.S. Attorney David Iglesias demanding information about the timing of pending corruption indictments. The Ethics Committee has been mostly comatose for a number of years, reportedly due to an informal, mutual agreement between Dems and Repubs to refrain from taking any meaningful action on ethics complaints against Senators of one another's parties. Foxes guarding the henhouse and all that. One hand washes the other.
The Ethics Committee issued a three-page letter yesterday "admonishing" Domenici but claiming there was no "substantial evidence" of purposeful wrongdoing on his part and recommending no punishment for the infraction. As reported by the AP,
The committee finds no substantial evidence to determine that you attempted to improperly influence an ongoing investigation," the committee letter said.

"The committee does find that you should have known that a federal prosecutor receiving such a telephone call, coupled with an approaching election which may have turned on or been influenced by the prosecutor's actions ... created an appearance of impropriety that reflected unfavorably on the Senate."
Domenici and Iglesias Respond
Naturally, the Domenici camp is spinning that the letter clears Pete, while Iglesias says the Committee's action bolsters his claim that Domenici was trying to influence the outcome of the November 2006 NM-01 Congressional election between Repub incumbent Rep. Heather Wilson and Dem challenger Patricia Madrid. Domenici responded to the letter in a prepared statement, saying,
"I am gratified the Senate ethics committee has concluded its inquiry favorably without a formal adjudicatory review, confirming what I have always maintained: I did not attempt to improperly influence an ongoing investigation when I telephoned the former United States Attorney for the District of New Mexico.

"Nevertheless, as I said publicly last March when this complaint was originally filed, I regret the distraction this controversy has caused my colleagues, my staff, my family and, most importantly, my constituents. Now that this matter has concluded favorably, I am anxious to focus all of my time and attention on the business of the people of New Mexico."
So, Domenici is sorry only for the "distraction" he caused, not for the pressuring phone call itself. He refuses to acknowledge that what he did was just plain wrong. Ironic that Repubs are always droning on about "personal accountability," but never seem to believe the concept should apply to their own actions. Do as I say, not as I do. Domenici also failed to apologize for lying to the media by claiming he knew nothing about any call by him to Iglesias when the story first broke.
Iglesias, who will be making an appearance at Page One in Albuquerque next month to discuss his new book about the U.S. Attorney firing scandal, interpreted the letter as publicly admonishing Domenici for "improper activity" and said:
"I trust this will serve as a warning to other members of Congress that contacting United States attorneys in this manner is impermissible and unacceptable behavior.

"This official reprimand to a senior senator who knew better has revived my confidence in the rule of law and the sanctity of a prosecutor's independence."
CREW Criticizes Ethics Committee
The nonpartisan group Citizens for Responsibility and Ethics in Washington (CREW), which filed a complaint against Domenici with the Senate Ethics Committee on March 7, 2007, had this to say about the panel's action:
The Senate Ethics Committee turned in its usual lackluster performance with its "qualified admonition" of Sen. Pete Domenici (R-NM) ... Adding insult to injury, the committee actually commended Sen. Domenici on his candor despite the fact that when Mr. Iglesias first revealed Sen. Domenici's actions, the senator adamantly denied ever making the call, telling The Washington Post, "I have no idea what he's talking about."

CREW's executive director Melanie Sloan stated, "The ethics committee may have been unable to wholeheartedly condemn Senator Domenici's conduct, but we have no such compunction." Sloan continued, "The committee's effort to minimize its reprimand of Senator Domenici itself reflects poorly on the Senate. Little is more destructive to our democracy than an attempt to use political power to influence a criminal investigation and it should be distressing to all Americans that the Senate Ethics Committee does not appear to share that view."
Domenici called Iglesias at home one evening in October of 2006 and asked him when the pending indictments would be issued. When Domenici didn't receive assurances from Iglesias that the indictments would be filed before the November election, he said he was "sorry to hear that" and hung up abruptly on Iglesias. Iglesias was fired about a month after the call, and he became one of the major players in a U.S. Senate probe into the firing of eight U.S. Attorney's across the country for what many claim were political reasons. Attorney General Alberto Gonzales eventually resigned in connection with the scandal.
More Serious Probes Continue
According to The Hill, more serious and wide-ranging inquiries into the U.S. Attorney firing scandal continue:
The Ethics Committee's review is hardly an end to the firings of the U.S. attorneys. Both chambers are pursuing contempt of Congress charges against White House officials for refusing to testify on the matter, and the Justice Department's inspector general and Office of Professional Responsibility have launched far-reaching probes.

Several people close to that investigation told The Hill in January that the internal inquiry was looking at a wide-range of questions, including whether senior Justice officials lied to Congress, violated the criminal provisions in the Hatch Act, tampered with witnesses preparing to testify to Congress, obstructed justice, took improper political considerations into account during the hiring and firing of U.S. attorneys and created widespread problems in the department's Civil Rights Division.
Rep. Heather Wilson also called Iglesias about the "sealed indictments" and that matter is still before the U.S. House Ethics Committee. I won't hold my breath waiting for any meaningful resolution of that case.
Technorati Tags:Pete Domenici, David Iglesias, Senate Ethics Committee, U.S. Attorney firings, New Mexico, Citizens for Responsibility and Ethics in Washington, CREW, Heather Wilson
April 25, 2008 at 11:03 AM in Ethics & Campaign Reform, Local Politics, U.S. Attorney Iglesias | Permalink
Comments
Oh, so the Senate Ethics committee woke up long enough to slap Domenici hand and tell him NO,NO, you were a bad boy. Their action is about as ludicrous as Domenici idiotic statement that "I did not attempt to improperly influence an ongoing investigation" Sure Pete, whatever!
Posted by: VP | Apr 26, 2008 8:30:59 AM