« Michelle Lujan Grisham: Upcoming Campaign Events | Main | Keep Maggie Toulouse Oliver as Bernalillo County Clerk »
Sunday, March 23, 2008
Spring Sunday Bird Blogging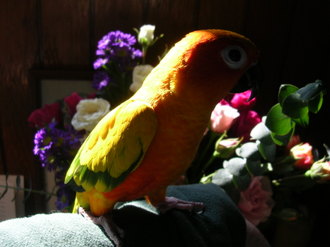 Sunny loves sunshine and Springtime bouquets
Sunny the sun conure doesn't celebrate Easter. He dislikes all the egg eating that goes along with the holiday. Can you blame him? He does, however, get off on the arrival of Spring. The increasing hours of light elicit an energy surge within him, as they do for all living things, and he gets very playful and stays up late working on a variety of projects within his "nest."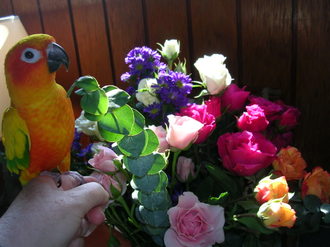 Sunny feels a oneness with all of life's colors and hues
This Spring, he's especially lively because he's so excited about Obama's presidential run. The only downside is that birds can't vote, which Sunny finds highly discriminatory. Still, he believes he can make himself useful by helping to spread the word about a candidate who's all about encouraging the flock to come together for the common good.
Sunny is so enthusiastic about Obama he can't stay still for the camera
(All photos by M.E. Broderick. Click on images for larger versions.)
March 23, 2008 at 12:49 PM in 2008 Presidential Primary, Bird Blogging | Permalink
Comments
Lookin' good Sunny! Love your choice for president too.
Posted by: > | Mar 24, 2008 9:09:13 AM
Post a comment