« October 2007 | Main | December 2007 »
Friday, November 30, 2007
Tonight: ABQ Public Meeting & Rally for Wild Wolves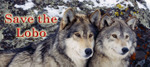 From Defenders of Wildlife:
You are urged to attend the public meeting being held tonight by the U.S. Fish and Wildlife Service (FWS) in Albuquerque to gather public input on the future of the Mexican gray wolf reintroduction program. Also, you may have heard that an order was issued yesterday by the FWS to remove the Aspen Pack for conflict with cattle. Federal officials are already scouring the Gila Forest to find these wolves -- and if they can't quickly and easily trap them, they will likely shoot them. With fewer than 60 wolves in the wild and 15 wolves already removed for cattle depredations this year alone, plus 5 that have either been poached or have gone suspiciously missing, this order is unacceptable.
Join conservation groups for a rally to save the Aspen Pack at 6:00 PM in the Silver Room at the Indian Pueblo Cultural Center. This is being held in conjunction with the public meeting.
WHAT: Rally to Save the Aspen Pack, and public meeting on the Mexican wolf reintroduction program
WHEN: Meeting is from 5:00 to 9:00 PM, come and go as you please. Rally will take place at 6:00 PM.
WHERE: Silver Room, just inside the main building of the Indian Pueblo Cultural Center. 2401 12th St. Near Menaul.
Hope to see you there!
Lisa Hummon
New Mexico Outreach Representative
Defenders of Wildlife
824 Gold SW Albuquerque, NM 87108
Tel: (505) 248-0118 x5 | Fax: (505) 248-0187
lhummon@defenders.org | www.defenders.org
Editor's Note: If you are unable to attend but want your voice heard: Please submit written comments. Deadline is December 31, 2007. Be sure to include "Attn: Mexican Gray Wolf NEPA Scoping," your full name and your return address in your message.

Send comments to:
Brian Millsap, State Administrator
US Fish and Wildlife Service
New Mexico Ecological Services Field Office
2105 Osuna NE, Albuquerque, NM 87113
fax: 505-346-2542
email: r2fwe_al@fws.gov
online: www.mexicanwolfeis.org
November 30, 2007 at 12:32 PM in Environment | Permalink | Comments (1)
Cell Theatre Hosts First Reading of 'The 99th Monkey'
The Cell Theatre presents a free reading of the new original play, "The 99th Monkey" by Paul Adamian on Wednesday, December 5, 2007, at 7:30 PM. The Cell Theatre is located at 700 First Street NW in Albuquerque. The 99th Monkey, a play in two acts, is set in the early months of 2003 prior to the Iraq War. MARK FARRELL, a high school history teacher, and veteran of the Gulf War/Desert Storm and the "Bulldozer Assault" of 1991, joins a global protest against America's penchant for war; a routine rotation fast for peace that escalates into an ultimatum and a full blown starvation protest to stop the impending military action against Iraq.
Wrestling with his decision are his wife, ABBEY, a fellow peace-activist in her own right, his father, TOM, a regular army man, who never saw action in a twenty-plus-year career, and CHLOE, his 17 yr. old daughter, who idolizes her father, and whose voice renders the play to us. As Mark's "sphere of influence" grows, it attracts visits from THE MAN and THE STRANGER, who round out the cast. Commencing with a curriculum proposal to help teenage mothers stay in school, weekend marches for peace, a few inspiring lectures, and a Teacher of the Year nomination, Mark's decision soon unveils a troubled ex-soldier's search for redemption and forgiveness.
November 30, 2007 at 11:08 AM in Events, Iraq War | Permalink | Comments (0)
Campaign Fundraiser for State Rep. Mimi Stewart Set for 12.11.07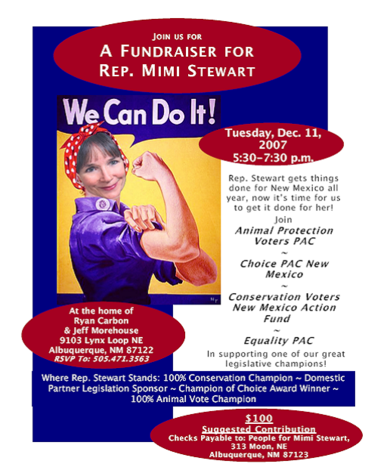 Click on image for larger version.
November 30, 2007 at 09:48 AM in 2008 NM State Legislature Races | Permalink | Comments (0)
New Mexico First to Host Speech by Ret. Supreme Court Justice Sandra Day O'Connor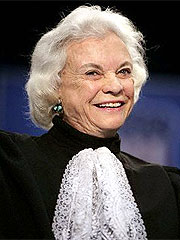 From New Mexico First:
New Mexico First is pleased to invite you to a special presentation by retired Supreme Court Justice Sandra Day O'Connor. She will speak about civic engagement and its role in a vibrant democracy. The Justice will also answer questions submitted by the public about her life, her judicial decisions, and citizen participation in government.
Students, members of the community, local leaders, and others are invited and encouraged to attend this civically engaging and educational evening. The special event is free and open to the public; however, tickets are required. To obtain a ticket, individuals must register for the tickets at the New Mexico First home page. The tickets will then be sent to the requester's email
When: December 13, 2007
Where: Kiva Auditorium, 2nd and Marquette NE, ABQ
Time: Doors open at 6:45 PM; the program is from 7:30-9 PM
Click here to register
Suggest a question for the Justice. You do not have to register for the event to submit a question.
Parking: Give yourself time to park. The Kiva Auditorium is located inside the Greater Albuquerque Convention Center. Parking options include:
Civic Plaza garage, Marquette & 3rd Street, $6 per vehicle
Convention Center Garage, Martin Luther King Blvd & Broadway, $6 per vehicle
For more information please contact Jacey Blue Campbell at 505-241-4814 or jaceyc@nmfirst.org.
Co-founded by Senators Pete V. Domenici and Jeff Bingaman in 1986, New Mexico First is a nonpartisan organization dedicated to engaging citizens in policy.
November 30, 2007 at 09:25 AM in Events, Justice | Permalink | Comments (8)
Thursday, November 29, 2007
NM-Sen: More Video Clips of Udall's Official Announcement
See our previous post, which includes video clips 1-4 of Rep. Tom Udall's official announcement of his U.S. Senate candidacy today in Albuquerque at the National Hispanic Cultural Center.

Part 5: Conservation is the legacy of the Udall family
More video clips below the fold.

Part 6: Saving our national treasures


Part 7: Health care for all, si, se puede!


Part 8: NM is a masterpiece; many tragic sacrifices
To see previous coverage of the 2008 U.S. Senate race in New Mexico, visit our archive.
November 29, 2007 at 05:27 PM in 2008 NM Senate Race | Permalink | Comments (3)
NM-Sen: Udall Officially Announces (Videos)

Udall announcement Part 1


Part 2: Time for the will of the American people to be heard
During the noon hour today, Democratic Rep. Tom Udall (NM-03) officially announced his candidacy for U.S. Senate in New Mexico at the National Hispanic Cultural Center in Albuquerque. Salon Ortega was packed with supporters, local and national media and a slew of New Mexico politicos, as well as Tom's family -- his wife Jill, his daughter Amanda Cooper and her husband Jim Noel, and his legendary dad Stewart Udall. I'm uploading a number of video clips and photos from the event, which will take some time, so bear with me. I'll post additions as they become available. Later, I'll also post a report on a blogger phone conference with Rep. Udall that I participated in this morning. (Tom mentions it in my first clip -- we apparently made him hoarse!) I see Las Cruces blogger Heath Haussamen, who was also on the call, has posted his report on the conversation, which you can read here.
For now, the top video captures the very beginning of Udall's speech. He "Won't Back Down." (More videos below the fold.)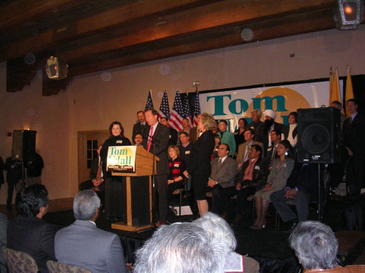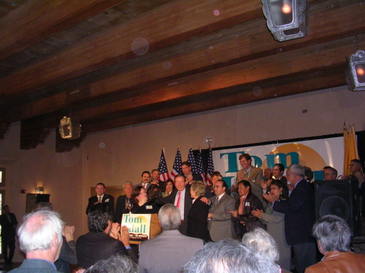 Click on photos for larger versions. Video clips from still digital camera. Enjoy accordingly.

Part 3: Iraq and our priorities


Part 4: Vote against the war, preserving constitutional rights
See video clips 5-8 in our later post.
To see previous coverage of the 2008 U.S. Senate race in New Mexico, visit our archive.
November 29, 2007 at 01:59 PM in 2008 NM Senate Race | Permalink | Comments (5)
NM-Sen: Hannan Officially Withdraws from Race, Endorses Udall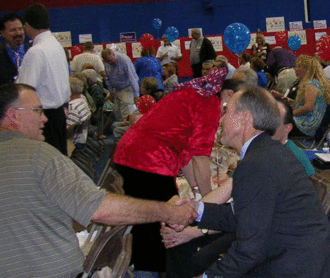 Hannan (R) shaking hands at Dem Party Meeting in Las Cruces
I think we all owe a debt of gratitude to Jim Hannan, who used his Senate candidacy to call attention to the poor voting records of NM's Repub Congressional members. Jim ran so many ads effectively demonstrating that Sen. Pete Domenici's clout was all about supporting the Bush agenda and voting against the interests of ordinary New Mexicans in recent years. He ran some excellent ones about Heather Wilson too, when she entered the race (see below for an example). Thanks, Jim. You stepped up to the plate when nobody else was brave enough to do so -- a class act all the way.
From Jim Hannan for U.S. Senate: This morning I formally bring to an end my candidacy for the U.S. Senate seat in New Mexico. I also enthusiastically endorse Congressman Tom Udall as our next U.S. Senator.
I entered the race on March 1st. I decided to run for two reasons.
First, I wanted to publicize the voting record of Pete Domenici. It's my opinion that Pete Domenici has not received proper scrutiny from the New Mexico media. While he has been effective in securing federal funds for our state, he has also voted consistently against the interests of middle class and working American families.
Second, I wanted to layout a sensible, progressive agenda for change. My platform focused on four critical areas that we need to address:
Protect Social Security
End the War in Iraq
Slow global warming
Provide health care for all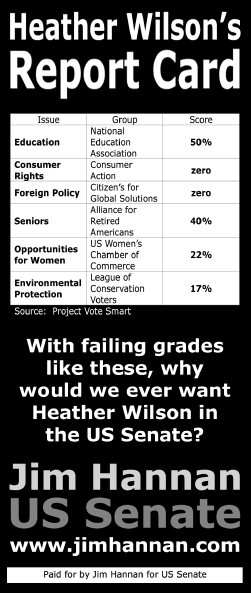 An ad Jim ran after Wilson entered the Senate race
Over the last nine months, I have run the only outreach political campaign in the state. I ran 27 different newspaper ads, in the largest newspapers in Albuquerque, Santa Fe and Las Cruces. My campaign had a far reaching influence. By the time Pete Domenici decided to retire, his approval rating had dropped to 41%.
With the announcement today by Tom Udall that he is entering the campaign, I am withdrawing and endorsing Tom Udall. Tom Udall has proven to be a strong fighter for the issues that matter most to working people. He will join US Senator Jeff Bingaman in providing New Mexico the type of representation that we need.
November 29, 2007 at 12:21 PM in 2008 NM Senate Race | Permalink | Comments (3)
Victory: Santa Fe City Council Votes Unanimously to Expand Living Wage Law
Congrats to the Santa Fe Living Wage Network and everyone else who worked hard to expand the requirements of Santa Fe's Living Wage law to almost all workers and mandate annual raises tied to the cost of living. When the law was initially proposed, all we heard was doom and gloom from its critics, who predicted job losses and financial ruin if it passed. Those critics have been proven dead wrong, as they have in other places where minimum wage raises have been implemented. Instead of damaging the economy, the higher wages have pumped more money into the local economy, helped small businesses and given many more people additional money for necessities, as well as a chance to have a few amenities in their lives. It's a win-win situation.
From an article in the Santa Fe New Mexican:
Almost all workers in Santa Fe will be paid a minimum wage of $9.50 per hour beginning in January, and they can expect pay increases based on the cost of living in future years, following Wednesday night's unanimous City Council vote to broaden its rules on the so-called "living wage."

The rules formerly required employers with 25 or more workers to pay the minimum wage, but the newly adopted amendments apply the highest minimum wage in the nation to employees of all businesses that require city business licenses starting in 2008.

The other major change to the ordinance ties future wage increases to inflation as calculated by the consumer price index. Beginning Jan. 1, 2009, and each year thereafter, the wage will be adjusted upward with council approval by an amount corresponding to the previous year's index increase, if any.
The amendments to the city's 2002 Living Wage act represent a negotiated compromise between those who originally worked against the measure -- and unsuccessfully challenged it in court -- and advocates for working people. In exchange for expanding the minimum to every business licensed by the city and mandating future yearly increases tied to the consumer price index, advocates agreed to forego the scheduled increase to $10.50 an hour on January 1, 2008 and delay another raise until January 1, 2009.
Mayor David Coss said Wednesday's vote — which was greeted with a standing ovation, whistles and cheers from the audience — was the final chapter in a yearslong community struggle.

"In 100 years, historians and philosophers and poets are going to read the minutes from the living wage hearings and get a lot out of it," he said.
November 29, 2007 at 08:45 AM in Economy, Populism | Permalink | Comments (4)
Tonight: Fundraiser to Re-Elect Rep. Moe Maestas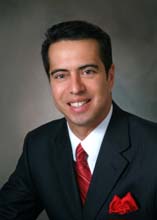 Ricardo Barros, Ed Mahr, Vanessa Alarid, Dan Weaks
Marla Shoats, Paul Mondragon, Javier Benavidez
Rep. Kiki Saavedra, Mike Puelle, T.J. Trujillo
Ousama M. Rasheed, Miguel Maestas & Robert Rivera

INVITE YOU TO A FUNDRAISER TO RE-ELECT
ANTONIO "MOE" MAESTAS
STATE REPRESENTATIVE, DIST. 16

Thursday, November 29, 2007, 5:30 PM – 7 PM
@ The Q-Bar (Wine Room), 800 Rio Grande Blvd. NW
Contributions accepted. Checks payable to: The Moe Family, P.O. Box 188 , Albuquerque, New Mexico 87103. Printed in house. Paid for by The Moe Family, Chris Catechis, Treasurer
November 29, 2007 at 06:30 AM in 2008 NM State Legislature Races | Permalink | Comments (0)
Wednesday, November 28, 2007
(Updated) NM-Sen: Udall to Officially Announce Candidacy Thursday in ABQ, 8-City Tour Follows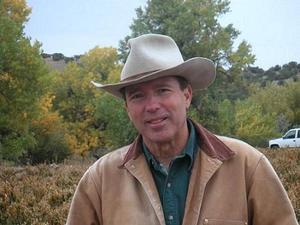 UPDATE 2:35 PM: Here's the complete schedule for Rep. Udall's announcement tour:
Thursday, November 29th

Albuquerque – National Hispanic Cultural Center – 11:30 AM, 1701 4th Street, SW – Salon Ortega Room
Los Lunas – Casa de Pizza – 6PM, 221 U.S. Highway 314

Friday, November 30th

Las Cruces – Roberto's Restaurant – 8 AM, 908 East Amador Avenue
Silver City – The Red Barn Restaurant – 12 PM, 708 Silver Heights Boulevard
Clovis – Clovis-Carver Public Library – 5 PM, 701 North Main Street – North Annex

Saturday, December 1st

Las Vegas – Spic and Span – 8:30 AM, 715 Douglas Avenue
Mora – Hatcha's Restaurant – 9:30 AM, Highway 518
Taos – The Kachina Lodge – 12 PM, 413 Paseo Del Pueblo Norte
Santa Fe – Eldorado Hotel – 4 PM, 309 West San Francisco – Sunset Room
************
Here's what we've been waiting for. Rep. Tom Udall (NM-03) will officially announce his candidacy for the Democratic nomination for U.S. Senate tomorrow! Here's the statement released by his campaign:
NEW MEXICO – New Mexico Democrat Tom Udall, D-N.M., will be making his bid for the United States Senate official this week in a series of events scheduled around the state.
The Tom Udall for Senate announcement tour will kick-off tomorrow at 11:45 A.M. in Albuquerque at the National Hispanic Cultural Center's Salon Ortega room. Udall will then travel the state hitting eight additional cities in three days, with events scheduled in Los Lunas, Las Cruces, Silver City, Clovis, Las Vegas, Mora, Taos, and finally concluding in his hometown of Santa Fe on Saturday. All events will be open to the public and press.
"As a prosecutor, state attorney general and congressman, I have stood strong for New Mexico values," said Udall. "I am proud to bring my proven record of leadership to the United States Senate. New Mexicans know my record on issues like reducing domestic violence and DUI, improving access to health care and education, protecting our Constitutional freedoms, conserving our natural treasures, and ending the misguided war in Iraq. New Mexico deserves a Senator who has the courage to do what's right, and I have the integrity and experience they can trust. As we begin this campaign, I ask for all of your support."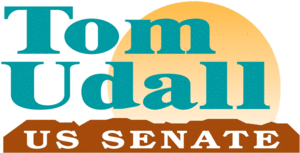 Tom Udall currently is serving in his fifth term in the U.S. House of Representatives, where he has earned a reputation as a principled and effective legislator known for taking courageous stands. During his two terms as Attorney General, he reduced domestic violence and instances of DUI, tackled political corruption, and protected consumers from corporate misdeeds. In Congress, he consistently has voted to end the war in Iraq; improve access to health care and educational opportunity; fight for our brave veterans and small businesses; as well as protect our natural treasures like the Valle Vidal, Ojito Wilderness, and Valles Caldera. Tom Udall has demonstrated his effectiveness to reach across partisan lines for the benefit of all New Mexicans, and he will take that same courage to the Senate.
The dream of Draft Udall comes to fruition!
To see our previous coverage of the 2008 U.S. Senate race in New Mexico, visit our archive.
November 28, 2007 at 01:51 PM in 2008 NM Senate Race | Permalink | Comments (13)
Guest Blog: ABQ City Council to Reconsider Public Subsidies for Large Developers at December 3 Meeting
This is a guest blog by Gabriel Nims, the Executive Director of 1000 Friends of New Mexico. He does a great job of explaining public financing tools for development called TIFs and TIDDs -- and how they are being used in ways that can be damaging to our communities, water supplies and economic future. He asks us to join 1000 Friends of New Mexico, the SouthWest Organizing Project, AFSCME , New Mexico Voices for Children and others in pushing for a reconsideration of the TIDD concept, as well as a proposed ban on their use in what are called 'green fields'.
The issue is on the agenda at the Albuquerque City Council meeting on December 3, 2007 in the form of amendments sponsored by Councilor Michael Cadigan. Please contact your City Councilor, State Legislator and Governor Richardson to weigh in on this issue.
The debate over growth and development in the Albuquerque region has taken a turn to the absurd over the past year with the emergence of a new set of crazy acronyms: TIF and TIDD.
Many will remember the political uproar over the Planned Growth Strategy, better known as PGS. The ire of development interests in the city was raised to the point where they felt compelled to create a political action group called CGA, or Citizens for a Greater Albuquerque, with the sole purpose of denying "no-growth" and "anti-Paseo" candidates seats on the City Council during the 2003 municipal elections. And lest we forget the infamous and now seldom-mentioned ABQPAC scandal.
But Tax Increment Financing, or TIF, and its little spawn, the Tax Increment Development District, TIDD, opens a new chapter in the book of urban growth-related acronyms. What these new acronyms mean and do is a very complicated story, which is why you may just be hearing about this for the first time. But allow me to explain as best I can. For deeper understanding of how TIF works check out publications from Good Jobs First Good Jobs First and the studies by FRESC in Denver.
What Is TIF?
TIF is an economic development tool available to developers in 48 states. TIF was originally conceived as a way to induce reinvestment in older, blighted areas deemed too risky or costly for private investors to improve.
It works like this:
an area (the District) is defined for (re)development;
a baseline of property and, as in New Mexico, gross receipts tax is established within the district;
a deal is cut between the developer and the taxing agencies that allows the developer to receive up to 75% of the increase (the Increment) in tax revenue resulting from the improvements and new economic activity within the District;
the developer is granted the Increment for up to 25 years to offset the costs of infrastructure (sewers, sidewalks, roads, etc) within the District.
Phew!-- Any questions?
New Mexico TIF law puts a new twist on this mechanism. Where other states try to limit the tool's use to redevelopment by applying strict criteria for demonstrating blight, New Mexico, with some nudging from developer lobbyists, requires a developer to simply demonstrate increased economic development, regardless of where a district is created, blight or otherwise.
Therein lies the rub.

TIDDs in Greenfields
In New Mexico, greenfields are only green for a few weeks after intermittent monsoons, but it's a commonly used term referring to the undeveloped expanses that surround our cities and towns. In Albuquerque, our greenfields of notoriety are Mesa Del Sol -- about 13,000 acres between the Sunport and Isleta Pueblo -- and Westland -- the whopping 55,000 acre former Atrisco Land Grant on the West Side. The developers, Forest City Covington and SunCal, respectively, are salivating over the chance to turn these greenfields into billions of greenbacks -- and they expect to use TIDDs to get as many greenbacks as they can.
The problem? Refer to step 2 above. In a greenfield, the baseline tax revenue is next to nil because nothing is out there. That means the Increment (step 3) is virtually the entire increase in revenue that will come from the District. For Mesa Del Sol, that translates to $500 million greenbacks from the state's cut of taxes that will be generated in just the first phase of the development. Mesa Del Sol will also get percentages of the City and County's gross receipts and property tax revenue. All of this cash to a developer for the next 25 years!
For perspective -- this represents the largest TIF arrangement ever allowed, in terms of land area and money, anywhere in the country. Wow. A new chapter in the urban development book, indeed! And a very dangerous one, too!
Dangerous Problems
Why? First and foremost -- it's the precedent this sets for how TIF is applied in New Mexico. You think Mesa Del Sol's deal is big? One only needs to look across the river to SunCal's 55,000 acres to anticipate TIDDs of even greater magnitude. And, not surprisingly, TIDDs are now popping up in other parts of the state.
So there will be a rush on creating TIDDs! From a state finance perspective, this is a very dangerous precedent. The state general fund, recently bolstered by oil and gas revenue, may soon find itself in a precarious position after millions in revenue from businesses and properties in these districts is captured by TIDDs, first in Mesa Del Sol, and likely by new developments all over. Even with the extra support from oil and gas revenue, the state can't find enough revenue to meet its current obligations. Transportation funding dried up this year, health care costs continue to rise and we can't find the money to build schools fast enough or pay enough to retain/recruit high-quality educational professionals.
Fast forward five years to this likely scenario: The state is strapped for cash -- the economy has slowed and oil and gas revenue declines. Oops! Millions of dollars of revenue needed by the state to cover the public's shared needs is tied up for the next 20 years in TIDD deals for developers laughing all the way to the bank. Faced with such a predicament, the state must choose to cut back on services, raise taxes or both.
It gets worse. TIDDs in greenfields can really hurt existing neighborhoods, small businesses and any hope of managing growth in sustainable ways. Because TIDDs can be created just on the basis of economic development, there is no limit on their magnitude. Mesa Del Sol will be an economic giant, subsidized with public dollars, competing directly with Albuquerque. As will SunCal's Westland, only a few notches bigger.
Imagine these areas as huge vacuums sucking jobs, economic activity, homebuyers and vitality out of the existing community. Recall one of the basic principles of the Planned Growth Strategy: to reinvest and revitalize the existing community as a priority over building brand new at the fringe. The PGS pointed to a $1.7 billion backlog in basic infrastructure needs within the city as justification for this approach.
Tell me how diverting the city's tax revenue to private mega-developers on the fringe will help us address this backlog, when what we currently receive is already not enough? When the city can't reach a 1000 officer police force because money is tight, how will we find the public safety professionals for these new fringe developments that, combined, are projected to grow the city from 550,000 population to 700,000 or more over the ensuing decades? Never mind all the other services the public expects to maintain a reasonable quality of life.
Oh yeah -- and where is the water?
The Response
By and large, developer requests for TIDDs have sailed through elected bodies at the state and in Albuquerque and the same will likely occur at Bernalillo County. Mesa Del Sol was the first out of the gate securing approval from the City and State for the creation of five TIDDs earlier this year.
With SunCal in the batter's box, West Side City Councilor, Michael Cadigan, was the first to decry "buyer's remorse" on the Mesa Del Sol deal and he quickly introduced a bill prohibiting the creation of TIDDs in greenfields last Spring. A series of deferrals and compromise drafts have led to final action on his measure at the upcoming City Council hearing on Monday, December 3rd, 2007.
Many groups including 1000 Friends of New Mexico, SouthWest Organizing Project, New Mexico Voices for Children, and AFSCME strongly favor prohibiting TIDDs in greenfields.
The development community stands by their arguments that TIDDs are a necessary 'incentive' to creating jobs and high-quality "new urbanist" communities. The developers have carefully constructed smoke and mirrors to demonstrate how wonderful and safe TIDDs for their developments will be. They've spared no expense hiring the best consultants, lobbyists and PR machines in the business, while placing sizable political contributions in the coffers of key office holders as extra insurance.
The reality is simply that state lawmakers have opened a Pandora's Box, with little idea of the long-term consequences of allowing TIDDs in greenfields.
What You Can Do
If you are outraged, confused and concerned all at the same time, then you know more than the majority of our lawmakers about the pitfalls of these seemingly harmless acronyms: TIF and TIDD.
Actually, I urge you to express your feelings to your elected officials, starting first with your City Councilor City Councilor, followed by your Legislators and even the Governor.
If you have any questions contact me at 1000 Friends of New Mexico.
Again, please take action by contacting your officials. Urge them to consider the consequences and keep the community's, not the developers', best interests in mind.
Gabriel Nims, Executive Director
gabe@1000friends-nm.org
505.848.8232
www.1000friends-nm.org
Editor's Note: This is a guest blog by Gabriel Nims, Executive Director of 1000 Friends of New Mexico. To learn more about this issue, watch KNME TV's show, New Mexico In Focus, this Friday night, November 30, at 7:00 PM, which will include a segment with Gerry Bradley from New Mexico Voices for Children discussing the issue of TIDDs and Councilor Cadiagan's proposed amendment.
Also see these informative posts on SWOPblogger that discuss the local TIDD situation:
Guest blogging provides readers with an opportunity to express their views on relevant issues and may or may not reflect our views. If you'd like to submit a piece for consideration as a guest blog, contact me by clicking on the Email Me link on the upper left-hand corner of the page.
November 28, 2007 at 01:38 PM in Corporatism, Economy, Populism, Local Politics, Real Estate Development, Sprawl Development | Permalink | Comments (1)
Bogus Richardson for Senate Petition Being Sent to Dems
So have you gotten a letter and petition in the mail recently asking you to gather signatures for a Senate run by Gov. Bill Richardson? I did, and so have others I know. Seems that members of the Dem Party's State Central Committee and those that hold other Party offices have received copies via snail mail. I've heard that they're also being left in prominent locations in restaurants and other locales.
If you give them more than a passing look it's obvious they're bogus -- no return address, no official stationery, etc. Looks like an anonymous someone is trying to hold down declared candidate fundraising by trying to convince potential donors that Richardson is still considering running for Senate if his presidential bid fails. Or something. Whoever and whatever is behind the attempt, it's definitely weird. Unfortunately, in an election cycle like this one, we can probably expect to witness an abundance of shady tactics being used to try and gain an edge.
Email from Richardson Campaign
Here's the official word from the Richardson for president campaign declaring the petition effort a sham:
Over the past few days many of you have received anonymous letters and petitions asking you to gather names to support a supposed run for the Senate by Governor Richardson. I just wanted to let you know that these petitions are not coming from Richardson for President and do not have the support of Governor Richardson, ourselves or anyone working for Governor Richardson.
The Governor, as he has repeatedly said, plans on being the next President of the United States and has no interest in running for the Senate.
Additionally, let me assure you that Richardson for President would never send out material that is not on an official letterhead and personally signed. These anonymous letters, with no return address and no signature, were not generated by Richardson HQ and we do not want anyone to sign them or return them to our offices. If you know anyone who has started to collect names, or see someone trying to gather signatures, please tell him or her that Governor Richardson is not going to run for the Senate and instead encourage him or her to support the Presidential campaign.
In just a few weeks, the first voters in Iowa and New Hampshire will head to the polls, we're focused on winning the Democratic nomination for President and hope you will stand with us and make sure the best candidate gets elected.
Those who sent out these letters were clearly trying to influence our closest supporters and provide them with misleading information. We are looking into this matter, and please disregard any more so called "Richardson for Senate" petitions you receive in the mail.
Thank you very much,
Dave Contarino
Campaign Manager
Richardson for President
Amanda Cooper
Deputy Campaign Manager
Richardson for President
November 28, 2007 at 11:26 AM in 2008 NM Senate Race, 2008 Presidential Primary | Permalink | Comments (2)