« Mario Cuomo on Dems, War, Constitution | Main | Hillary Joins Webb on Prohibiting Funding for Military Action vs. Iran »
Monday, October 01, 2007
Voting: October 2, 2007 Albuquerque Municipal Election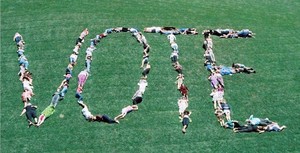 We're finally almost there, and there's a lot at stake. Albuquerque's municipal election will be held tomorrow, Tuesday, October 2, 2007. You must already be registered to vote to cast a ballot. Voters in even numbered City Council districts will cast their ballots for City Council. All voters will consider ten municipal bond issues and five ballot propositions. Voters in City Council District 9 will vote yes or no on a recall of Don Harris, who currently represents the district on the City Council.
Polls will be open from 7:00 AM to 7:00 PM. Note that your regular polling place may have been combined with that of others to form a "consolidated precinct" for this election, so you might need to vote somewhere other than where you're used to doing so. Please double check by entering your address at the polling place link below, which will also provide you with a link to a map and a sample ballot.
Summary of ballot propositions (doc) to be voted upon
Description of bond resolutions (doc) to be voted upon

All voting will be on paper ballots. For more info on election matters you can contact the City Clerk's office at 768-3030 or visit their election website. Also check out the detailed Voters Guide published by the nonpartisan League of Women Voters of Albuquerque/Bernalillo County or read our previous posts on the election.

Below are my personal picks for Albuquerque's municipal election.
The choices represent my individual opinions only, but almost every single progressive I've talked to shares my views:
City Council:
District 2: Debbie O'Malley (current incumbent and City Council President)
District 4: Brad Winter (Paulette de'Pascal is a Democrat but would be expected to vote against the progressive bloc and in support Mayor Chavez)
District 6: Rey Garduno (endorsed by Lt. Gov. Diane Denish, Martin Heinrich and many others)
District 8: Nobody (Republican Trudy Jones is the only candidate)
District 9: Recall: Keep Don Harris or Mayor Martin Chavez will pick a crony to replace him and the City Council will have a much harder time over-riding the Mayor's vetoes.
General Bond Issues: Yes on all ten, but especially for the workforce housing bond, #10
Ballot Initiatives: Yes on all five, but especially those about raising councilor pay to what Bernalillo County Commissioners get and limiting the kinds of money that can be accepted by campaigns.
October 1, 2007 at 02:49 PM in 2007 Albq. Municipal Elections, Election Reform & Voting | Permalink
Comments
I say NO on the last amendment. There has never been a successful recall effort, why make it even harder to get rid of someone?
Posted by: bg | Oct 1, 2007 9:14:39 PM
My logic is that times are changing and recall attempts based on political gain are on the rise, as in the case of Don Harris. How many serious recall efforts have we had in years past? They've been pretty rare, haven't they?
I think councilors are a little too vulnerable especially when they've been in a run-off election like Harris so the number of petition sigs it takes to mount a recall are few. Also, councilor terms are short so unless there is serious malfeasance I think voters dissatisfied with their political actions in office should just wait till they are up for reelection. If there is serious malfeasance I think those trying to recall them would still be able to do it under the proposed new rules.
Of course there are at least two sides to every issue and bg expresses one of them -- that it should be kept relatively easy to recall councilors quickly
Posted by: | Oct 2, 2007 8:42:33 AM
Post a comment