« Noted Author Alice Walker to Appear at Kiva Auditorium | Main | "Security" Thugs Strike Again: Taser Student at FL Kerry Event »
Tuesday, September 18, 2007
Diane Denish Endorses Rey Garduño for ABQ City Council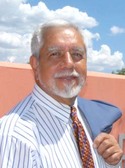 Another big endorsement for Rey Garduño for Albuquerque City Council in District 6. The race in this district is essential to assuring that progressive ideas continue to dominate the City Council, so it's great to see so many strong Dems and key organizations lining up to support Garduño. If you live in District 6, be sure to get out and vote on October 2nd, or vote early in person or by mail-in ballot.
From Rey Garduño for City Council:
Lieutenant Governor Diane Denish has decided to endorse Rey Garduño for City Council District 6. She joins other progressive leaders in our city including:
Martin Heinrich, Current District 6 City Councilor
Debbie O'Malley, City Council President
Isaac Benton, City Councilor
Michael Cadigan, City Councilor
Eric Griego, Former City Councilor
Pat Baca, Former City Councilor
Deanna Archuleta, County Commissioner
Cisco McSorley, NM State Senator
Rey has also been endorsed by The Hispanic Roundtable, AFSCME, Central Labor Council, ACORN PAC, Conservation Voters New Mexico and the Sierra Club.
Rey Garduño stated, "I am honored and humbled by the endorsement of Lt. Governor Denish. Her work in support of local communities, small businesses and children throughout New Mexico is an inspiration."
Rey has lived in District 6 for over 30 years. He has raised his family in District 6, was involved in his son's schools and ran two local businesses. Rey has spent a lifetime helping to make our community a better place to live and raise our families. Rey is endorsed by progressive leaders from throughout Albuquerque and New Mexico because he has the experience we need and the proven leadership we can trust.
Check out our previous posts on the Albuquerque Municipal Election at our archive.
September 18, 2007 at 06:02 AM in 2007 Albq. Municipal Elections | Permalink
Comments
Watch for it: Joanie will find a way to say, "Diane is my BFF, and really, she is supporting ME!" Followed by lots of comments about how much she is like Diane and will do what Diane supports.
Posted by: Old Saw | Sep 18, 2007 8:07:30 AM
Yeah I expect to see a photo of Denish added to Joanie Griffin's campaign website and brochures with some generic positive statement about how good Griffin is. She does like to pretend that name Democrats support her even though she didn't realize she was a Democrat until days before her entry into this race.
Did you know Hillary Clinton, Barak Obama and John Edwards are supporting her too ha ha!
Posted by: 6th district | Sep 18, 2007 9:11:17 AM
Go Rey Go!
Posted by: Judy | Sep 18, 2007 4:19:19 PM
You people are priceless. Did anyone put any information on this site about Mr. Garduno's shoplifting convictions. The headline should probably read - Another criminal receives an endorsement for a state politician.
Posted by: Cynthia | Sep 20, 2007 1:52:48 PM
We may be priceless but you, like Joanie Griffin, are a liar. Rey had ONE shoplifting ticket almost 20 years ago which was supposed to be expunged from his record because he attended the prescribed class. It was a mistaken incident anyway.
On the other hand, Joanie Griffin is lying about being a Democrat and lying about who is supporting her because no real Democrat IS supporting her. Why isn't she running as a Republican? Maybe cuz her benefactor Marty Chavez pretends he's a Democrat too.
Posted by: Go Rey! | Sep 20, 2007 2:07:41 PM
Post a comment