« All Three NM Repubs Make CREW's Most Corrupt in Congress List | Main | Urge Senators to End Iraq Occupation: Support Feingold-Reid »
Wednesday, September 19, 2007
9.20.07: ABQ City Council District 2 Candidate Forum
An Albuquerque City Council District 2 candidate forum is set for this Thursday:
WHEN: Thursday, 20 September 2007, 7 to 8:30 PM (Doors open at 6:45. Please arrive on time to get a seat!)
WHERE: North Valley Senior Center, 3825 Fourth Street NW, map
SPONSORS: Neighborhood Associations & Coalitions of District 2
CANDIDATES: Debbie O'Malley (incumbent) and Katherine Martinez
Information will also be provided about General Obligation Bond issues and propositions to amend the Albuquerque City Charter.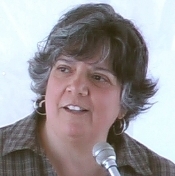 This is another City Council race where Mayor Marty Chavez's influence is being felt. Current City Council President Debbie O'Malley is being challenged by Katherine Martinez, a government affairs official with the Homebuilders Association of Central New Mexico. Mayor Chavez has made no secret of his support for Martinez and sponsored a fundraiser for her campaign in Corrales hosted by a prominent homebuilder.
The Mayor has long battled with O'Malley, a strong backer of affordable housing, planned growth and practical progressive causes, as well as spending city tax revenues on basic services rather than on luxuries like a panda and a Balloon Fiesta Park reflecting pool. O'Malley is conducting her campaign under the clean elections public funding program, which means she takes no money from special interests. If you live in District 2, be sure to get out and vote to keep O'Malley's voice of the people on the City Council.
Albuquerque's municipal election is set for October 2, 2007. Registered voters who live in all even-numbered City Council districts will elect a City Councilor. A councilor recall question will also be decided in District 9. All voters will consider a number of municipal bond issues and ballot propositions:
Summary of ballot propositions (doc) to be voted upon
Description of bond resolutions (doc) to be voted upon

Click to determine your .

Early in-person voting is now in progress and voters can cast their ballots Monday through Friday from 8:00 AM to 5:00 PM at these locations:

Voting by mail-in ballot began on August 28th and continues. To request a main-in (absentee) ballot, call the Albuquerque City Clerk at 768-3030.

For more info on voting matters you can contact the City Clerk's office at 768-3030 or visit their election website. Also check out the nonpartisan Voters Guide produced by the League of Women Voters. To see our previous posts on topics related to the municipal election, visit our archive.
(Photo credit: Suzanne Prescott)
September 19, 2007 at 09:33 AM in 2007 Albq. Municipal Elections | Permalink
Comments
This is such an important race. We can't let the Mayor get rid of O'Malley who is one of the strongest voices on the council working for US, the people. Vote and urge your friends in Distict 2 to do the same!
Posted by: Old Dem | Sep 19, 2007 11:22:41 AM
O'Malley is "da bomb"! We need to help her keep her seat and let everyone know who Martinez really is.
Posted by: Sawmill Gal | Sep 19, 2007 1:01:07 PM
Post a comment