« Civil Rights Leader Julian Bond to Speak in Santa Fe | Main | Participate in Otero Mesa Public Forum and Speak Out »
Thursday, March 29, 2007
Got Movement?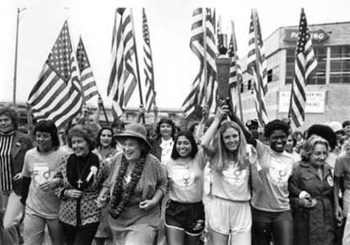 March into National Women's Conference. (Left to right) Billy Jean King, Susan B. Anthony II, Bella Abzug
, Sylvia Ortiz, Peggy Kokernot, Michele Cearcy, Betty Friedan. Photo 1978 Diana Mara Henry /
dianamarahenry.com
How about a look at Organizing for Democratic Renewal by Marshall Ganz, a Dean Campaign/DNC organizer, at TPM Cafe. Ganz provides a brief history of movement organizing in America and how we may well be moving into a new era of liberal movement politics now.
You can use this thread to discuss the topic of organizing or any other subject you might like. It's an Open Thread....
March 29, 2007 at 03:05 PM in Open Thread | Permalink
Comments