« Continuing Hullabaloo: State Dem Platform Process | Main | NM Dem Convention Primary Results »
Saturday, March 18, 2006
What Will You Do to Mourn Third Anniversary of Iraq War?
UPDATE: An audio link is up at KUNM radio of Jim Williams' discussion on Iraq yesterday with independent journalist Zelie Pellon, Colonel Richard Rael and Marine Tony Garcia.
Go to today's march and rally in Albuquerque mourning the third anniversary of the Iraq War. Then read this article by a Time war correspondent about the latest fiasco in Iraq: "On Scene: How Operation Swarmer Fizzled - Not a shot was fired, or a leader nabbed, in a major offensive that failed to live up to its advance billing." BushCo just keeps on lying and lying and soldiers and Iraqis just keep on dying and dying. When will it end?
It will only end if we keep doing more of this: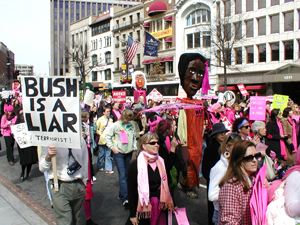 Above photo of Judith Hovetter of Taos (center foreground) helping to deliver 100,000 signatures to the Whitehouse in Code Pink March in Washington, DC
March 18, 2006 at 08:24 AM in Iraq War | Permalink
Comments
Shouldn't all the people running as democrats be at this antiwar march if they are real democrats? How can anyone believe that they represent us if the party and the candidates ignore the antiwar movement? What is it they stand for again?
Posted by: redorgreen | Mar 18, 2006 11:54:29 AM
Go Judith Hovetter!! No wonder I haven't seen you when I've been in Taos: you've been in DC, doing The Work. Thank you.
Posted by: John McAndrew | Mar 18, 2006 9:47:50 PM
Post a comment