« Robert Kennedy Jr. at Lensic This Sunday | Main | Upcoming League of Conservation Voters ABQ Events »
Thursday, June 09, 2005
Santa Fe Events Feature 'Confessions of a Hit Man' Author John Perkins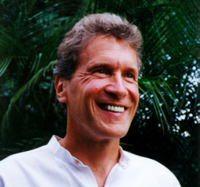 COMING MONDAY, JUNE 13TH! - New York Times Best-selling author John Perkins, Confessions of an Economic Hit Man, in a benefit appearance for Santa Fe Public Radio. It's June 13th, at 7PM, at the Lensic. Tickets available at $20 ($10 students) by calling the box office at 505-988-1234.
AND... You're also invited to join John Perkins at a special reception before the event at the Museum of Fine Arts, hosted by KSFR. A donation of $125 per person includes wine and hors d'oeuvres, a personally signed copy of his book, and preferred reserved seating at the evening's event. Tickets for the reception also available from the box office at 505-988-1234.
John Perkins will also be appearing as part of the Face to Face Conversation Series on TUESDAY, JUNE 14, from 3-5PM at WAREHOUSE 21 at 1614 Paseo de Peralta in Santa Fe. FREE for under 21 and $10 for adults. Those under 21 will have priority of seats first. This will be an open discussion of ideas and issues that affect all of us as Americans, led by a now world famous conversationalist. Mr. Perkins especially seeks discussion with young people and young adults and he specifically requested that we arrange this forum. Presented in conjunction with KSFR, 90.7 FM - Santa Fe's Public Radio. Call 505-989-4423 for more information or visit www.warehouse21.org.
Click to hear or read the transcript of an interview with John Perkins conducted by Amy Goodman on Democracy Now! or visit the author's website at www.johnperkins.org.
June 9, 2005 at 10:03 AM in DFNM - Santa Fe, Events | Permalink
Comments
Post a comment