« April 2005 | Main | June 2005 »
Tuesday, May 31, 2005
Living Wage Petition & Council Action on Heinrich Bill
From Albuquerque Living Wage:
Living Wage Petitioning Underway
In light of the Albuquerque City Council's & Mayor's opposition to placing a Living Wage measure on the October ballot, the Campaign launched a direct voter initiative on May 19. We need to collect 13,393 signatures of registered voters within the City of Albuquerque by July 18 to qualify our measure for the ballot.
Download a Petition NOW!
Go to www.abqlivingwage.org to download the petition, the text of the measure, and instructions today, and help us reach our goal. We have already collected over 2,400 signatures and are working to collect 27,000 in order to guarantee that we have enough valid signatures to qualify.
The Council Fight Goes on
We have not given up on the Albuquerque City Council, however. About 190 supporters overwhelmed the opposition and the Council at its special hearing on Councilor Heinrich's Fair Wage bill on May 25. Citizens giving testimony in support outnumbered opponents 5 to 1. Councilor Miguel Gomez also read a letter of support from former Senator John Edwards, who is supporting minimum wage campaigns across the country. Nevertheless, the Council postponed its vote until Monday, June 6. The Council will not take testimony on the Fair Wage bill on the 6th, but we encourage people to come, speak during public comment at the start of the meeting, and hold our Council accountable to the will of the people! Councilors Heinrich, Griego, Gomez, and O'Malley remain in strong support. Councilors Cadigan and Winter remain skeptical but undecided.
May 31, 2005 at 02:53 PM in Events, Local Politics | Permalink | Comments (1)
LCV Needs You Thursday
UPDATE: THIS EVENT IS BEING POSTPONED AND WILL PROBABLY BE RESCHEDULED FOR LATE NEXT WEEK. STAY TUNED. --Ed.
From League of Conservation Voters:
Thursday, June 2 - 10 AM:
Press Conference and Protest
Against Congresswoman Heather Wilson
Galeria Building (Heather's office)
2nd and Copper - Downtown ABQ
We will be staging a protest against Congresswoman Wilson's vote to allow corporations to poison groundwater - including the Edgewood water supply in her home district - with the toxic substance MTBE, a gasoline additive. This vote would allow corporations to poison ground water with MTBE and not be responsible for cleaning up a polluted supply.
As always, if you have any questions regarding the above-listed events, please call us at 505-244-1077 or e-mail us! Thank you, and see you all soon!
Maggie Toulouse
SW Region Campaign Manager
League of Conservation Voters
400 Gold Ave. SW, Suite 110
Albuquerque, NM 87120
(505) 244-1077
May 31, 2005 at 12:37 PM in Events, Local Politics | Permalink | Comments (0)
Monday, May 30, 2005
Names You Won't Hear on Memorial Day
Of course I support honoring our veterans on Memorial Day. Almost all of the men on my mom's side of the family served in one capacity or another in the Navy during WWI, WWII, Korea or beyond. My grandfather on her side was a Navy diver who got the bends and suffered consequences throughout the rest of his life. On my dad's side we had men serving in the Army, Marines and Navy. My father was a Navy medical corpsman, attached to the Marines, who served at Iwo Jima during WWII and lost most of his fellow medics there.
I had many friends and some relatives who served in Viet Nam, and many who later protested that war. I can still recall WWI vets in my neighborhood growing up who used to sit at the parks and mumble, having been gassed.
But on days like this I always wish we were holding the memorials for ALL the war dead -- civilians and military -- who have died in armed conflict after armed conflict around the globe. And for valiant human beings who have put themselves at risk or been injured or died in other types of noble pursuits here and around the globe, like giving humanitarian aid, teaching where it's needed most, promoting peace and environmental causes, helping in the struggles for minority human rights, women's rights, children's rights or even as a consequence of childbirth. Isn't it time we valued these pursuits as much as, if not more so, than military warriors? When will we stop giving the highest honors only to those who, especially in modern times, serve the cause of imperialism directly or indirectly?
In that vein, and considering we're in the midst of a war and occupation of choice that has killed more than 100,000 civilians in Iraq, check out this Daily Kos post. Make sure you have a strong stomach when you do.
Then check out the weekly peace and justice calendar that honors non-military heroes every single week. Let's expand the definition of "hero" to encompass those characterized by bravery, courage and sacrifice in many walks of life.
May 30, 2005 at 02:29 PM in Iraq War | Permalink | Comments (0)
Sunday, May 29, 2005
Regular Old Sunday Bird Blogging
Even though I put up a special edition of bird blogging a couple days ago, I'm going ahead with my regular Sunday edition because things change so quickly in the baby parakeet department. Here's this morning's photo from inside the nest box: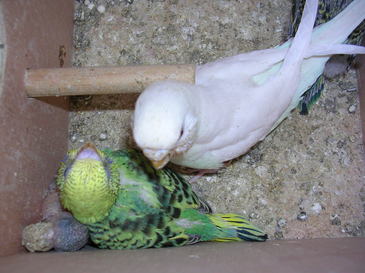 You can see how big and feathered the oldest chick is, and how undeveloped the youngest surviving chick is to the left. The middle chick is over in the back corner. We are kinda worried about the survival of the youngest one, it being so small at this stage.
Above is Whitey, the albino female who's the mother of the brood. Although she looks rather bluish in this shot, she's really pure white with red eyes. You can see how harried she is from feeding and caring for the chicks 24/7. They only sleep for minutes at a time before they're up begging for food again. Her face is dirty from the glop she feeds the babies.
Above is the father, Queenie. You can see how the coloring of the oldest chick is very much like the dad. Green is the dominant color in parakeets and it's likely all the chicks will take after Queenie given the mother bird's albino genes.
May 29, 2005 at 12:44 PM in Bird Blogging | Permalink | Comments (1)
Saturday, May 28, 2005
DFA Joins MyDD's Democracy Directory
From DFA's :
Action is the catalyst for change, and working in conjunction with other like-minded groups can lead to even bigger changes. To that end, Democracy for America has joined the Democracy Directory project (click image).
The DFA Democracy Directory is an online "yellow pages" tool that lists grassroots organizations from across the nation. The directory will include basic information about each group, including the type of work it does, where and when it meets, and how to contact its organizers. The Democracy Direcotry will help activists find each other to collaborate and create change in their local communities—and across the country.
Today marks the launch of the DFA Democracy Directory. Start by searching the groups listed or by adding your own group to the Directory. Your listing will be searchable by thousands of activists across several participating portal sites, like the MyDD community. If you have any questions or comments about the DFA Democracy Directory, let DFA know!
***********
Editor's Note: Click the button above to browse or search the Democracy Directory's database or to add your group to the listings. Let's try to get all of the progressive activist groups in New Mexico added to the directory!
May 28, 2005 at 11:58 AM in DFA | Permalink | Comments (0)
House Vote Fails on Iraq Troop Withdrawal
Excerpt from an Online Journal article that's well worth a read in its entirety:
The House votes on withdrawing troops from Iraq: Now we know where they stand: The historic debate and vote on the Lynn Woolsey amendment
May 27, 2005—On the evening of May 25, the U.S. House of Representatives considered an amendment offered by Representative Lynn Woolsey (D-CA) calling for an exit strategy from Iraq. Amendment No. 26 simply stated:
"It is the sense of Congress that the president should—
(1) develop a plan as soon as practicable after the date of the enactment of this Act to provide for the withdrawal of United States Armed Forces from Iraq; and
(2) transmit to the congressional defense committees a report that contains the plan described in paragraph (1)."
The simple resolution was a moderate one. It set no specific timetable for withdrawal—in an effort to make it easy for members of Congress to agree. After all, we always claim we intend to leave Iraq. This amendment was an opportunity to make leaving Iraq the policy of the United States. The amendment, part of the debate on the authorization for the Department of Defense was allotted 30 minutes on the floor of the House of Representatives—15 minutes for each side.
In the end the amendment failed—by a vote of 300 to 128 with 5 not voting. Because Rep. Woolsey insisted on a roll call vote we now know who needs to be convinced. There were some disappointing votes including the Democratic leader, Nancy Pelosi, as well as members generally seen as liberals, including Rep. Cardin (D-MD), Rep. Stenny Hoyer (D-MD), Rep. Sanchez (D-CA) and Rep. Udall (D-CO). Five Republicans voted for the amendment, most notably Rep. Walter Jones (R-NC) who is well known for insisting that the french fries sold in the Capitol be re-named "Freedom Fries."
***********
Editor's Note: Rep. Tom Udall voted for the Woolsey amendment; Reps. Steve Pearce and Heather Wilson not surprisingly voted against it. Click to contact your congressional rep:
Rep. Heather Wilson (CD1)
Rep. Tom Udall (CD3)
Rep. Steve Pearce (CD2)
May 28, 2005 at 10:58 AM in Iraq War | Permalink | Comments (0)
More Chances to Hear Palast -- on the Radio at KSFR & KUNM
Friends,
If you missed the chance to hear BBC reporter Greg Palast, author of The Best Democracy Money Can Buy, talk about 2004 election irregularities in New Mexico and the urgent need to investigate the facts— or if you heard the inspiring talks at Cloud Cliff in Santa Fe or at IBEW in Albuquerque and you wished that all your friends could hear such an inspiring talk too — there is good news.
There are two more chances to hear an evening with Greg Palast and Voter Action New Mexico and learn what you can do to bring back democracy to New Mexico.
* Tune in to KSFR at 90.7 FM on Sunday May 29 at 2 PM.

* Tune in to KUNM at 89.9 FM on Saturday, June 4th at 6 PM.
Please pass this message on to people you know who believe that every vote should be counted, please volunteer through Voter Action, and please support the work of Voter Action New Mexico.
Voter Action New Mexico is actively fundraising. As a project of the International Humanities Center, a 501(c)(3) organization, Voter Action can offer donors tax deductibility to the full extent permitted by law.
To donate go to: https://www.paypal.com/cgi-bin/webscr or contact info@voteraction.org or 505-760-6794
For information on the anomalies in the 2004 General Election in New Mexico please go to: www.voteraction.org
For more information about Greg Palast please go to: www.gregpalast.com
May 28, 2005 at 10:21 AM in Media | Permalink | Comments (0)
Friday, May 27, 2005
Rep. Xavier Becerra and Councilor Miguel Gomez Set for Social Security Town Hall
House Ways and Means Committee Member, Congressman Xavier Becerra (D-CA), Participates in Town Hall on Social Security with City Council member Miguel Gomez

Chairman of the Congressional Hispanic Caucus' Social Security Task Force Visits Albuquerque to Discuss the Pitfalls of Privatization
ALBURQUERQUE, NM –New Mexicans United to Protect Social Security announces that Congressman Xavier Becerra (D-CA), an opponent of the president's scheme to privatize Social Security and a member of the powerful House Ways and Means Committee, will participate in a Social Security town hall meeting this Wednesday, June 1, at 10:00 AM with City Councilmember Miguel Gomez.
Congressman Becerra, along with Councilman Gomez, will discuss the president's disastrous Social Security privatization plan that will slash middle-class benefits and lead to explosive new debts, adding $5 trillion over the next 20 years to our national debt, which is already at the unacceptable $7.8 trillion.
WHO: Social Security Town Hall with Congressman Becerra and City Councilman Miguel Gomez -- Open to the Public
WHEN: Wednesday, June 1st at 10:00AM
WHERE: Los Volcanes Senior Citizens Center, Albuquerque, New Mexico
(Editor's Note: Click for a map and directions to Los Volcanes)
May 27, 2005 at 01:04 PM in Democratic Party, Events, Local Politics | Permalink | Comments (1)
Special Edition: Bird Blogging
As you might recall, I usually do my bird blogging on Sundays but our new parakeet chicks are growing so fast and changing so quickly from pinkish blobs to feathered beings that I thought I'd share a couple of our lastest photos inside the nest box: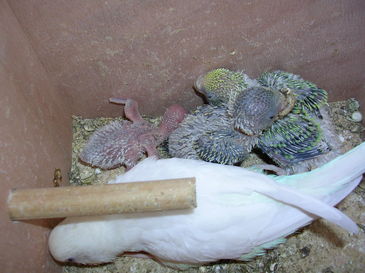 Above are the three (out of four) surviving chicks this past Monday, with their mom, Whitey the albino parakeet. The eggs hatch every other day or two so the development of the chicks varies. That glop on the beak of the chick at the right is dried up food and "parakeet milk" from mama.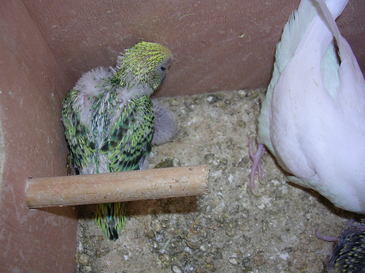 The eldest chick has feathers growing in fast! Looks like he'll resemble his dad, Queenie, who is the typical green parakeet. Two of the three chicks now have their eyes open and are hustling around the nest box making noise.
Compare with the ugly parakeet-lings in my earlier post from about a week ago.
(Click all photos for larger images.)
May 27, 2005 at 10:00 AM in Bird Blogging | Permalink | Comments (1)
Enter a Team in the Chili Cookoff!
You're all invited to enter a team in the First Annual Chili (or Chile) Cookoff to benefit the Democratic Party of Bernalillo County. Click the image above for details on how to enter the competition.
The Cookoff is scheduled for Saturday, June 18th, Noon to 4:00 PM, at Horizon Academy Northwest, 7939 Fourth Street NW, one mile North of Osuna. Click for a map. Deadline for registration of cookoff teams is June 10th.
To make this event a success, the Party needs donations, sponsors, volunteers and chili entries. If you or someone you know know can participate in any of these categories, please contact Jane Ronca-Washburn at 323-6162 or Ana Canales at 275-1283.
Pass it on!
May 27, 2005 at 09:50 AM in Democratic Party, Events | Permalink | Comments (0)